We've heard for a while about the significant benefits of marketing automation. And we all know that spending on marketing automation platforms will grow exponentially over the next few years.
The most important part? What really MATTERS for marketers is finding the BEST marketing automation platform.
But here's the thing. How do you find the right tool that aligns to your business strategies and fulfills your companies expectations?
Marketers are challenged with critical problems daily, and this can be overwhelming for them to decide on the most appropriate solution that best meets their needs.
First of all, most marketers are not able to use a platform to its fullest potential due to insufficient training or support they get from other solutions. This can be a troublesome issue, especially if they don't have enough time to learn how to use the platform in-depth before they go-live.
Second, users are overwhelmed by many solutions, some of them are fragmented, and others are cumbersome. This can lead to a digital disconnect between team members and loss of revenue to the business.
Third, marketers try to justify crazy prices with extras they will never take advantage of, and with limited features they might actually use, or they are either too complex and bulky that don't accomplish what they're looking to fulfill. Hence, they find themselves stacking together multiple systems in an attempt to make it all work together.
Last but not least is the lack of integration with other tools. According to Ascend2, 50% of CMOs cite that integration with their existing marketing technology is their top challenge.
So with these diversified problems, how can marketers find the best solution? In this article, we've highlighted 5 all-in-one marketing automation platforms that share some of their main characteristics to help you choose what may fit your digital marketing needs.
The comparison is based on the availability of the following marketing automation features, as well as pricing and onboarding.
Email Marketing
Automation
Social Media
Landing Pages
Analytics
VBOUT is an adaptive marketing automation platform that offers many tools and features to help business owners and marketing professionals centralize and automate their tasks smartly and straightforwardly. The platform is suitable for any business size and doesn't require consultancy or extensive training.
VBOUT is ranked as one of the top marketing automation platforms according to G2 Crowd.
VBOUT allows you to import and manage unlimited contacts. With drag and drop functionality, to easily automate ready-made templates for your email campaign in minutes.
The platform allows "high volume senders" to reduce spam by chunk sending, which allows a break down of their target lists into smaller subsets to mitigate their sending risk. It will enable them to monitor the performance of their campaign and pause or resume it as they see fit.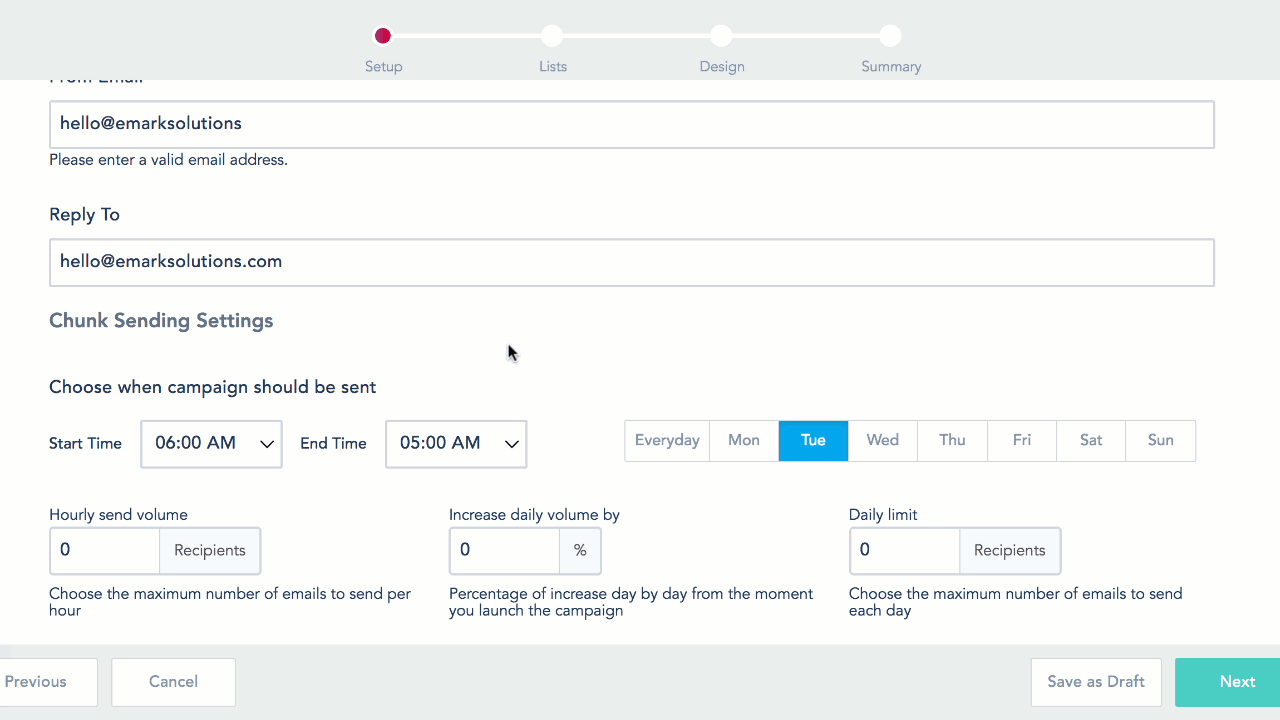 Beyond the unsubscribe button, VBOUT has given the option for contacts to update their communication preferences by choosing which lists they wish to subscribe to and the ones they want opted-out.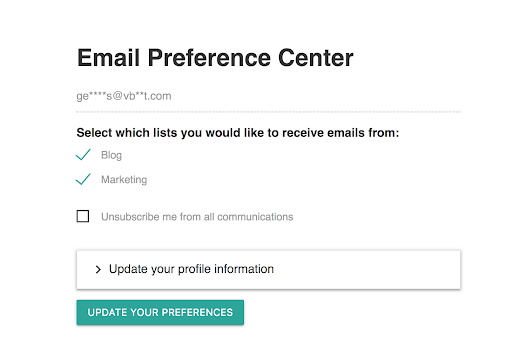 VBOUT's automation builder allows you to create different targeted messages such as emails, SMS and browser push notifications.
VBOUT has recently included the "add/remove contact tag" which enables you to add a contact to a specific automation workflow once it gets a particular tag and removes it to complete the automation. This capability enhances and personalizes the experience for your targeted customers.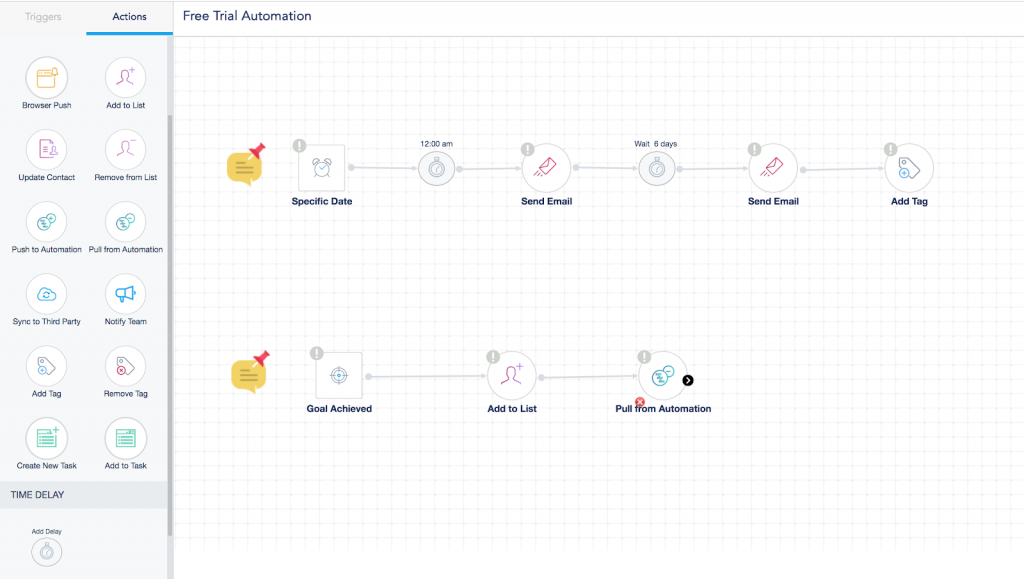 Another feature is the ability to create a new task to assign to team members if a user reached a specific stage throughout the journey but didn't complete a particular action so that they can follow up with him/her.
VBOUT lets you manage all your social media channels in one place, from composing and editing scheduled posts on the fly or using mass posting to reach a broader audience and custom posting to publish your social media on a regular repeated basis.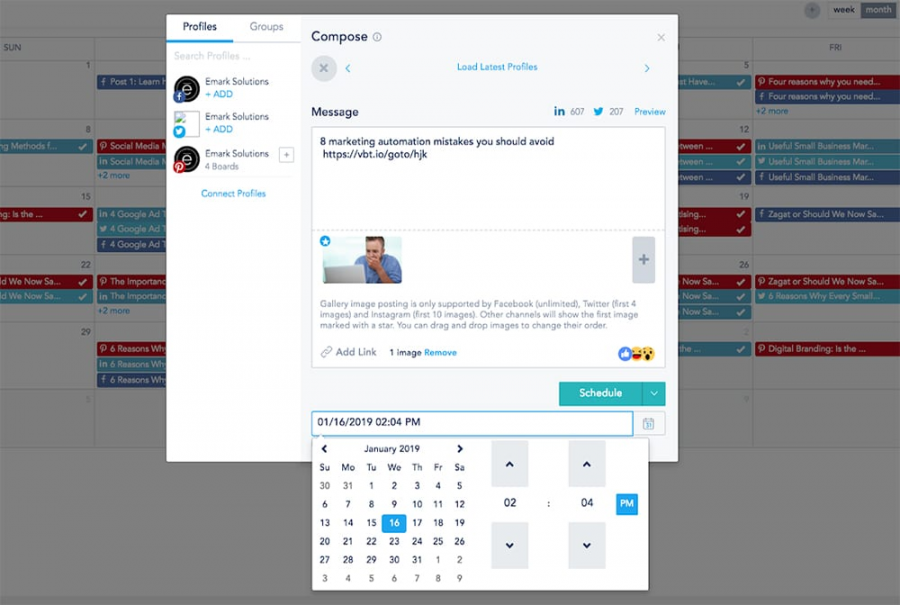 Social listening is another powerful feature which allows you to monitor your brand and industry mentions across Facebook, Twitter, Instagram, etc.
VBOUT has drag and drop, ready-made templates to help create your landing pages in minutes or build your own from scratch.
A useful feature that adds value to your landing pages is dynamic content as it allows you to provide a better-personalized experience for your leads and boost conversions.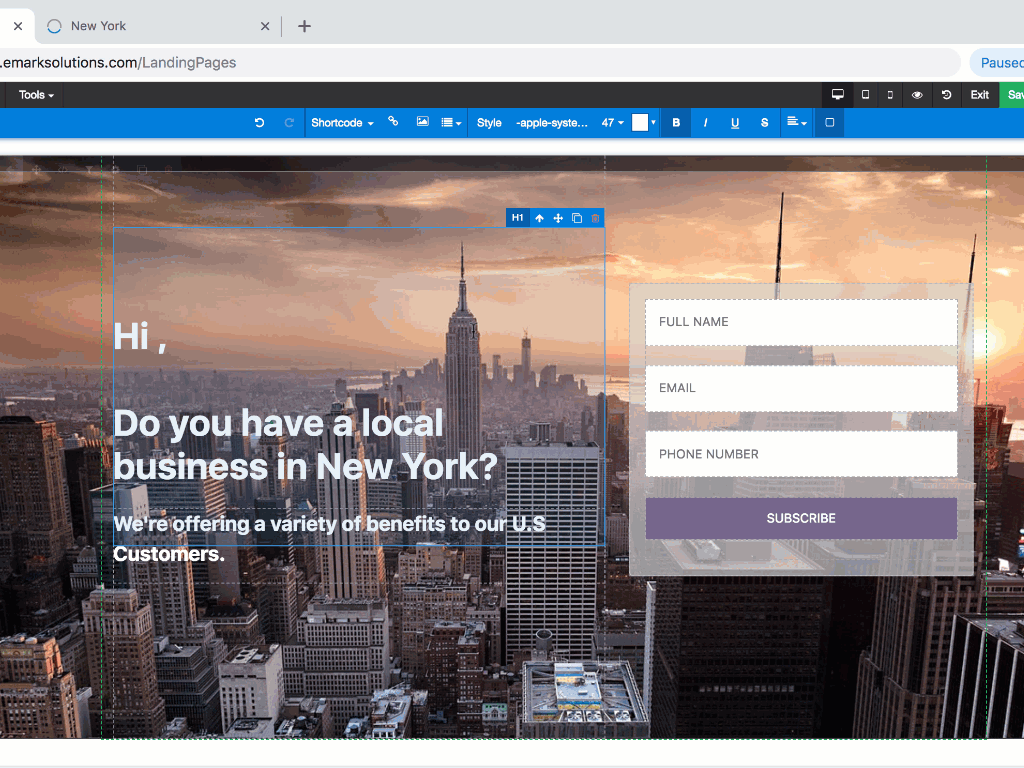 VBOUT's analytics feature enables you to customize multiple dashboards and monitor the performance of all your marketing channels in one place. You can measure your email marketing, automation, social media, lead scoring, goals and landing pages metrics which help you determine what needs to be improved.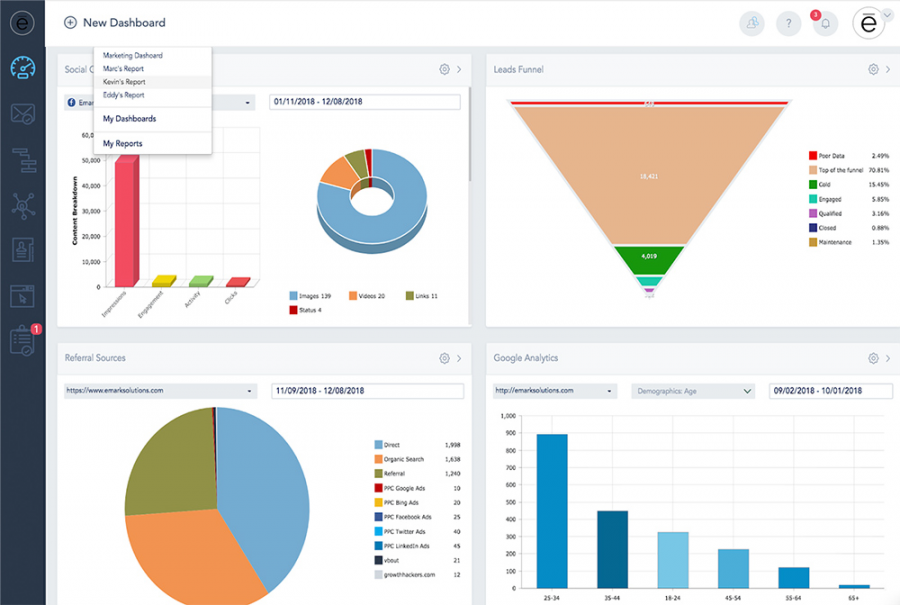 For reporting, you're allowed to schedule your reports or share them with your clients or other team members via a public URL.
VBOUT has flexible pricing, meaning that it adapts to your needs. Unlike other platforms, they only charge for the number of emails so you can manage unlimited contacts at your leisure.
Below are an example of VBOUT's different pricing modules:
Basic plan: $100/month – Unlimited contacts based on 5000 emails/month – Including all features – Month-to-Month
Intermediate plan: $150/month – Unlimited contacts based on 10K emails/month – Including all features – Month-to-Month
Advanced plan: $500/month – Unlimited contacts based on 100K emails/month – Including all features – Month-to-Month
VBOUT's onboarding provides personalized training from one of their experts to help you set up your account to get your marketing automation up and running quickly. You will get six 1-hour training sessions on how to use each area of the platform. They also provide tutorials, educational resources and help sections to complement your continued success.
The onboarding & setup starts at $995 and is negotiated based on the size and scope of your organization.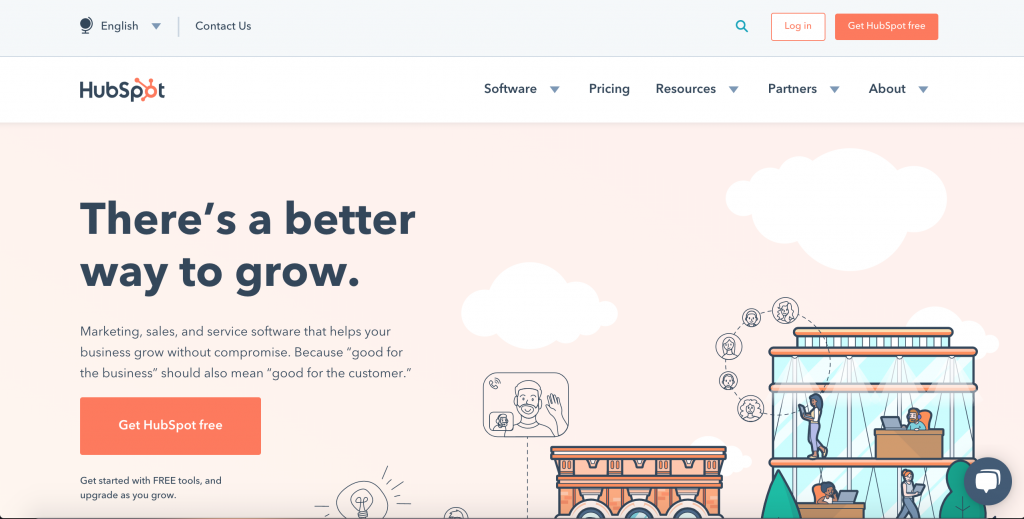 HubSpot's robust inbound marketing automation system offers different features and capabilities. Its platform includes marketing, sales, marketing, customer service and CRM software.
Based on G2 Crowd, the platform consistently ranks amongst the top 10 marketing automation platforms.
HubSpot allows you to import and manage a specific number of contacts. You can easily create emails using their drag and drop editor.
An impressive insight for their email marketing tool is the option to schedule email campaigns based on time zones not only regular scheduling.
Another great feature is the "Optimization Panel' which allows you to get a checklist of suggestions on how to improve your email's content, deliverability and send time.
HubSpot's visual automation builder allows you to build targeted workflows quickly.
Beyond email, you can automate a variety of tasks by setting up automation workflows that automatically score leads, assign members to the sales team and more!
Moreover, there's the internal team notification which permits you to notify your team members when a lead performs a specific action.
Aside from managing multiple social media profiles in one place, composing and scheduling posts, HubSpot's social media has suggestions for you about the best time you should publish a social media post to show your content to your followers at the appropriate time.
With HubSpot's easy-to-use landing page builder, you create your landing page in minutes without the need for a developer or designer.
Their inbox preview allows you to check how your page looks across different devices before publishing it.
They have dynamic blocks which allow you to show dynamic content based on the visitor's location and behaviour.
Hubspot's analytics allows you to customize your dashboards, track the metrics of all your marketing initiatives in one place and share insights with the rest of your team.
Moreover, you can analyze your website traffic performance by identifying which pages are getting the most sessions, leads and customers.
HubSpot has different pricing modules, ranging from starter, professional to enterprise level. Pricing varies according to the number of contacts that you want to manage.
Below are Hubspot's different pricing modules, taking both the professional and enterprise plans:
Basic plan: $1000/month – Max 5000 contacts – Excluding some features – Billed annually
Intermediate plan: $1250/month – Max 10K contacts – Excluding some features – Billed annually
Advanced plan: $4100/month – Max 100K contacts – Including all features – Billed annually (higher plans are also available).
HubSpot's onboarding consists of an implementation specialist who assists you with technical setup and guides you on how to integrate your existing CRM or other systems with the platform.
The onboarding fee ranges between $3000 and $6000.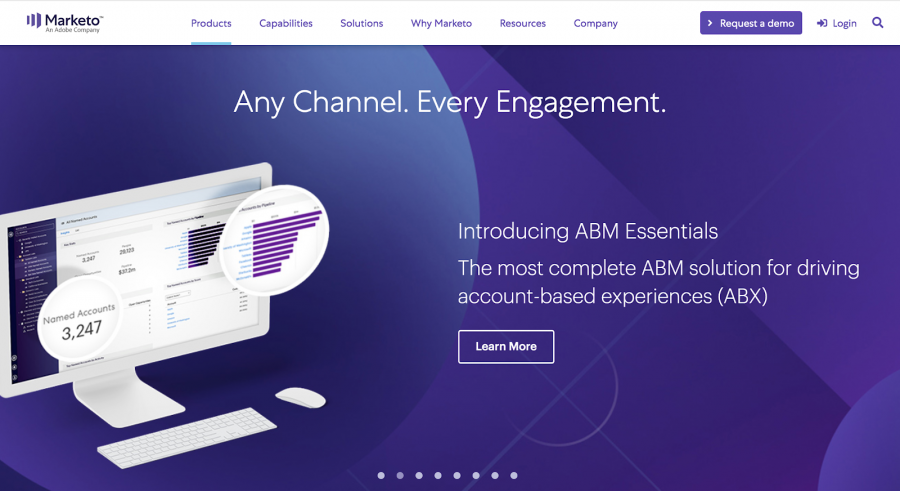 Marketo is a marketing automation tool whose primary emphasis is on account-based marketing, including email, mobile, social media, digital ads, web management and analytics. The platform helps B2B and B2C marketers implement automated and personalized marketing campaigns across multiple channels.
Marketo currently ranks in the top 10 best marketing automation software, based on G2 Crowd.
Email marketing and automation
Marketo has a robust lead management tool that provides a 360-degree view of each customer across different digital marketing channels (web, email, social and mobile channels.)
Then based on rich profiles for customers and their data in real-time, you can personalize the way you communicate with each one, all in one place.
Marketo's automation builder has a drag and drop functionality which you can use to create targeted messages in minutes.
With Marketo, you're able to engage with your customers across all channels and entice them to share your content with their friends using built-in social media buttons and shareable videos.
The platform offers digital advertising, which allows you to create personalized social media ads based on their behaviour, interests, engagement and other criteria.
Marketo allows you to create landing pages by browsing from their selected ready-made templates that are fully responsive across all devices.
You can also choose to import a template into your platform.
Using the marketing analytics of Marketo, you connect and unify all your data in one place to help spend less time on reporting.
The platform lets you determine which channels and campaigns are getting you the most sales and highest return on investment.
With Marketo's shareable pre-built dashboards and ad hoc reporting, you can get the actionable insights that you need without any headache.
Marketo's pricing is mainly based on the number of contacts you manage in your database.
Below are Marketo's different pricing plans:
Basic plan: $895/mo – Starts at 2500 contacts – Not including all features – Billed annually.
Intermediate plan: $1795/mo – Starts at 10K contacts – Not including all features – Billed annually
Advanced plan: $3195/mo – Starts at 10K contacts – Including all features – Billed annually
Marketo's onboarding consists of setup and configuration assistance, hands-on training, one-on-one consulting and creative services support, all in one convenient package. Upon upgrading, you will also benefit from an additional launch package.
Their onboarding costs $6000.
Act-On is a marketing automation platform that provides email marketing, automation, social media, landing pages and analytics.
The platform also allows businesses to integrate with a CRM tool that enables them to get a holistic view of their customer relationships and engagement levels.
Act-On has ranked as one of the top marketing automation platforms according to G2 Crowd.
Act-On has an adaptive email sending feature which allows you to deliver the most appropriate message to each of your customers at the right time by using your past engagement data.
Another essential feature is transactional sending which allows you to trigger purchase confirmations, system notifications, quarterly reports and more.
Also, for easy data compliance, you can use their EU local sending option to make sure your emails are being sent from European mail servers.
Act-On allows you to nurture your leads throughout their journey and convert them into customers using behavioural-based triggered messages.
You're able to target your users with different types of triggered email campaigns such as confirmation messages, event messages, shopping cart abandonment and personal messages like birthdays and holidays.
In addition to creating and scheduling posts on different social media channels, and measuring your performance metrics, Act-On has a built-in social media content curation engine, which helps you suggest the most recommended content based on your audience's engagement with your posts.
With Act-On, you can create, test and publish landing pages in minutes using their pre-designed templates.
They have progressive profiling, which enables you to collect new information with new fields that adapt based on your users' past data to help avoid collecting duplicate information.
Act-On allows you to take advantage of a variety of analytics features that you can use to optimize your marketing campaigns and deliver better results.
You can also integrate with Google Adwords to track the performance of your paid ads without going back and forth between both tools.
Act-On has two different pricing modules: professional and enterprise.
The pricing changes depending on the number of contacts for each of the plans mentioned below.
Below are Act-On's different pricing plans:
Basic plan: $900/mo – Starts at 2500 contacts – Not including all features – Billed annually.
Intermediate plan: $2000/mo – Starts at 2500 contacts – Including all features – Billed annually
Advanced plan: Custom pricing
Act-On has a fast-track onboarding fee, which costs $5000.

SharpSpring is a full blown marketing automation platform that helps businesses capture leads and optimize their return on investment
The platform provides email marketing, automation, social media, CRM, landing pages, analytics, and is suitable for small to mid-sized companies and digital agencies.
According to G2 Crowd, SharpSpring currently ranks amongst the top 10 social media platforms.
SharpSpring has a variety of pre-built email templates that allows you to build your own in minutes or create from scratch using their drag and drop template designer.
With no need for coding, you can choose from their intuitive interface to create personalized emails based on what you know about your contacts.
What's also good about SharpSpring is the capability of tracking the detailed behaviour of a recipient, after he clicks through from an email (i.e., every page visit, form submission, webinar signup, whitepaper download, etc…)
SharpSpring allows you to create powerful automation workflows that nurture your prospects throughout their journey and convert them into customers.
The platform gives you the ability to send targeted messages to your abandoned cart shoppers and turn them into buyers.
Their template builder has an option to create different buyer personas for your business and use dynamic emails and landing pages that fit each one to deliver personalized content that converts.
Sharpspring allows you to manage unlimited social media profiles in one place. You can publish a social media post across unlimited accounts.
You also have the ability to qualify leads based on their engagement with your social activities (likes, retweets and shares).
Another great feature is the ability to trigger automation workflows based on your follower's social activities and turn their interactions into hot leads or sales.
SharpSpring's marketing analytics enables you to track different KPIs for all your channels and website conversions without the need to create funnels from the first interaction of your visitor's journey through to the final sale.
Another exciting feature is the ability to integrate Google Adwords, which allows you to monitor your search engine marketing performance in one place.
As for lead's interaction, you can track each of their activities to create a custom automation to engage with them at a critical point in their buying process.
Last but not least, is the option to add group tags to your campaigns.
SharpSpring's pricing consists of 3 different pricing modules. The first module is composed of three plans that vary according to the number of contacts. The second and third modules are for agencies and enterprises.
Below are Sharpspring's different pricing plans:
Basic plan: $450/mo – 1500 contacts – Including all features
Intermediate plan: $650/mo – 10K emails – Including all features
Advanced plan: $875/mo – 20K emails – Including all features
SharpSpring's onboarding package costs $1800. The team provides intensive support during the first 60 days to help you succeed.
Finding the BEST platform doesn't necessarily apply to all businesses and agencies. One platform may be suitable for a company but not the right fit for another one. It depends on their pain points, objectives and budget requirements.
This article is to help you discover some of the main characteristics of each marketing automation tool and how they can align with your strategy.
If you are interested in a side-by-side marketing automation comparison of the above all-in-one platforms, check out the comparison chart.
Don't forget to share this article