While YouTube is a fun way to scour for the internet's most viral videos, it's also a powerful way to disseminate your brand's message. With over 1.5 billion monthly active users, the platform's reach is second only to Facebook. In regards to video, however, YouTube is still the reigning king of content.
While its business-oriented functions are less clear-cut than say, LinkedIn, YouTube has a variety of features that cater to your business needs beyond the simple tutorial or webinar. With over 30 million daily active YouTube users worldwide, now is the time to take advantage of a platform that has yet to realize its full sales potential.
The first (and arguably most vital) step of the YouTube lead generation process is to make your content shine. If you're not sure where to begin, here are three rules of thumb in mind: educate viewers, answer questions, and provide calls to action (CTA).
Focus on the keywords that are most popular in your industry and find ways to incorporate them into the titles of your videos, on in their descriptions. While YouTube is its own veritable search engine, others like Google and Bing will index your videos; so when you include the proper keywords, you have the potential to show up multiple times in a given search. Since YouTube videos will play in succession (a.k.a. "related" videos), optimizing your content is crucial to its overall performance.
Here's an example of a beautifully detailed description from the channel ASAPScience: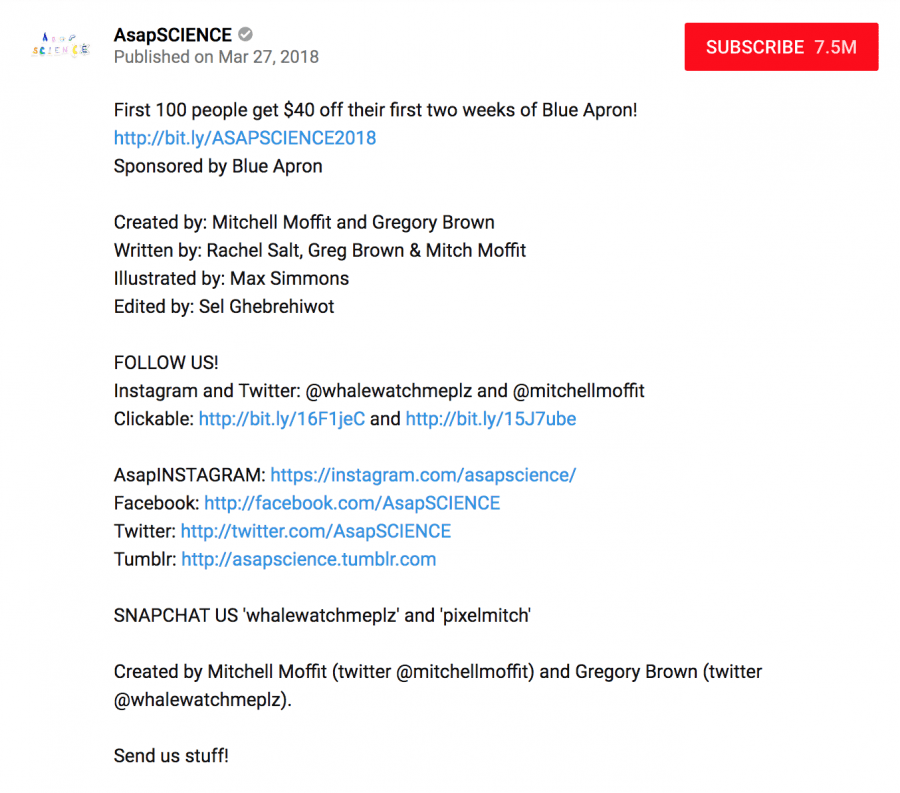 These are the interactive cards you see in YouTube videos (usually at the end) that let creators share clickable links to relevant content throughout a video. You can add up to five cards, throughout the course of the video, that promote a related content that can encourage viewers to take a poll, direct people to a specific landing page, or ask viewers to donate to a US-based charity.
Consider the card as a bonus call to action (CTA) that pushes viewers towards the direction you want. Here's an example from the popular review channel Unbox Therapy.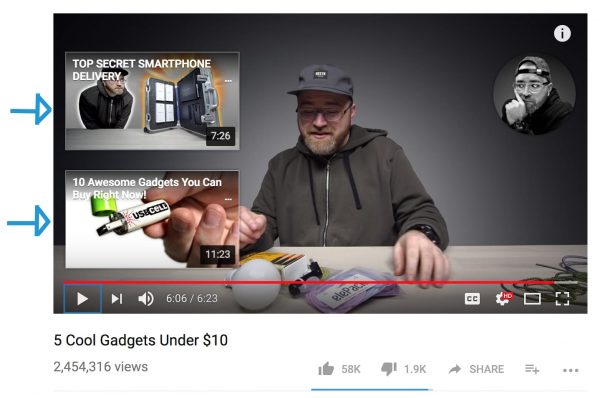 Similar to the standard YouTube cards, content cards appear as an icon, usually at the top right of the screen, throughout the entirety of a video. Once clicked, the icon will drop down and unveil added content that you can view from the same channel. Here's an example of beauty blogger Tina Yong below: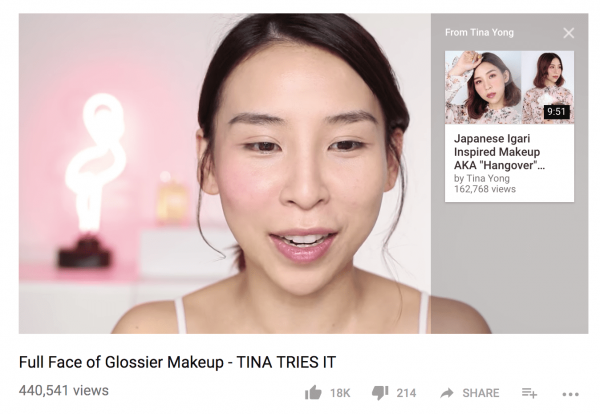 4. Promote landing pages with end screens
End screens are a mobile-friendly YouTube feature that let you end your videos with a CTA. While similar to cards, these ends screens can direct your audience to the all-important landing page, as well as to a subscribe button for your channel, newsletter, or even just standard social media promotion. As seen in the example below, blogger Tom Scott has all his social tags primed for a click. Adding a verbal cue as well to "follow" or "head to our website" is a great way to guide the viewer towards your goal.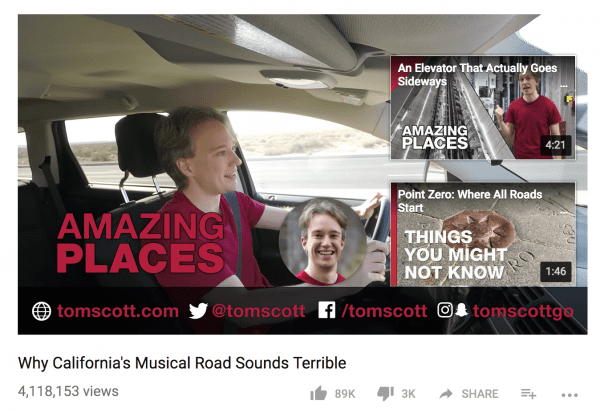 5. Organize your content into playlists
Grouping your videos into a single playlist is one of the best things you can do when it comes to nurturing leads. Each video will have an option to "add to playlist" once uploaded. This will make related content much easier to find. Here's an example below from the Stanford School of Business: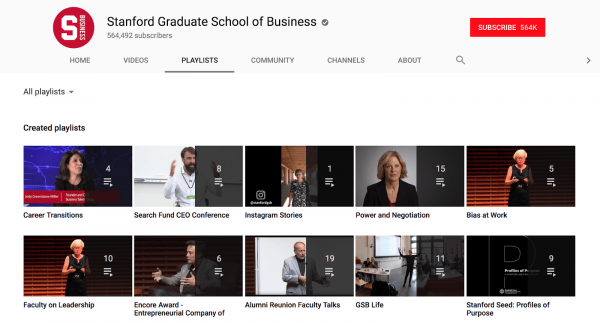 6. Respond to and encourage comments (in a timely manner)
Encouraging likes can happen long after the video is over. Scrolling down to the comment section of each video, you can see that you are able to reply, engage, and comment on others' comments. Again, timeliness shows that you are active and engaged with the content that you're offering, and genuinely care about those who take the time to view said content.
You can even pin your own, extra information to the top of the comments as seen with Unbox Therapy below: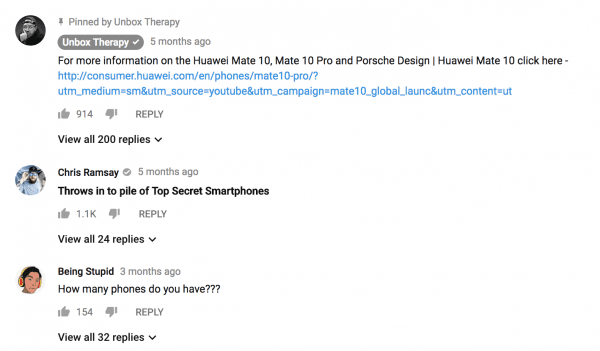 7. Partner with influencers
In this digital era, partnering with influencers has never been more important. These individuals are brand advocates and niche promoters who have an impressive engagement rate. Partnering with individuals with expertise in their field and a large following is a surefire way to get your content added reach.
8. Share your videos widely
While this goes without saying, it is easy to forget to repost your videos across a variety of channels. Once posted, share your video content across all of your channels in order to achieve the maximum level of reach. Encourage your followers to share your content as well, while tagging each business or brand that the content may be involved with—whether through influencer or affiliate marketing—to ensure that all bases are accounted for. In addition, use marketing automation to help you keep your calendar in order, and on schedule.
Creating and promoting ads is still an excellent way to generate leads on YouTube. While most generally appear at the beginning of a video before the content even begins rolling, agencies and brands are continually looking for innovating and creative ways to advertise without being overbearing.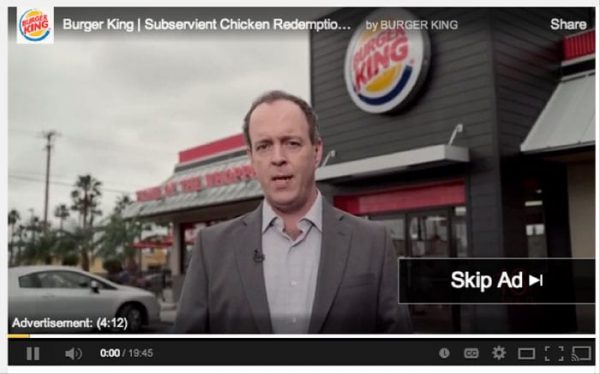 10. Post at the appropriate time
Timing is everything. And while the "right" time may vary according to your industry, location, and audience, there exist a set of general guidelines to abide by when scheduling your YouTube posts.
In this digital age, YouTube is a ubiquitous platform that has still yet to tap into its full, business-oriented marketing potential. Utilize all the features that the platform has taken time to develop in order to elevate, and optimize your social media business practices.
Don't forget to share this article