Marketo, a platform co-founded by Phil Fernandez, David Morandi, and Jon Miller in 2006, was originally designed to serve as an enterprise solution, tailored to meet the needs of marketing experts. The primary focus of Marketo has been on account-based marketing, covering a broad spectrum of marketing avenues such as email, mobile, social media, digital ads, web management, and analytics. Marketo aids both B2B and B2C marketers in implementing automated and personalized marketing campaigns across various channels, aimed at nurturing and converting leads.
In 2018, Marketo was acquired by Adobe Experience Cloud, marking a new chapter in its journey. Currently known as Adobe Marketo Engage, it stays true to its core essence while also bringing an added dimension of synergy between sales and marketing teams. Adobe's slogan for Marketo Engage, "Sizzling marketing automation and spicy leads. Let's set your pipeline on fire. Luke-warm leads? Not today," encapsulates this renewed focus. The platform aims at enabling sales and marketing teams to strategize and execute as a united, 'extra-hot' team.
While Marketo is among the most popular solutions in the market, there is no denying that the landscape of marketing automation tools has expanded. There are alternatives out there that are equally comprehensive, if not more so, and even easier to use. In this blog, we will explore five Marketo alternatives worth considering in 2023 to help you choose the tool that fits your marketing needs the best.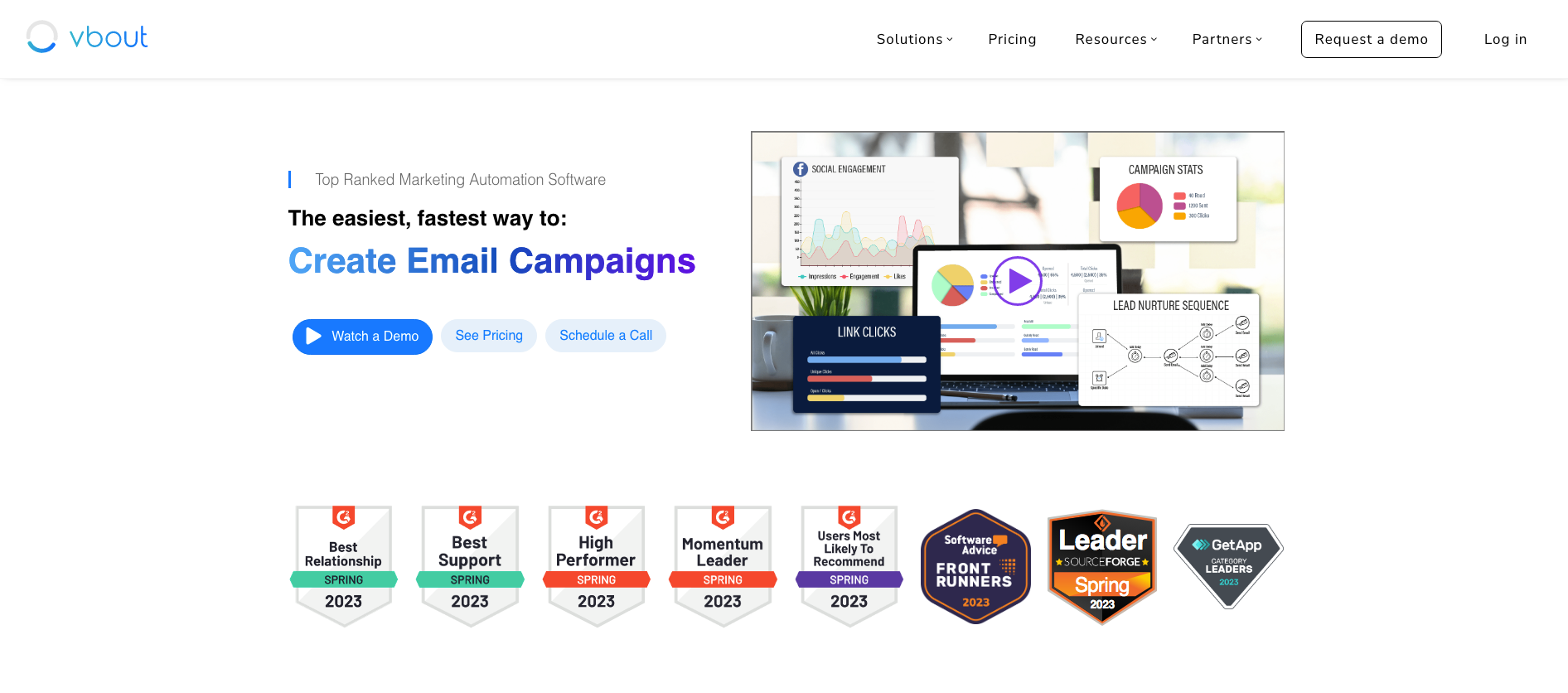 VBOUT is an AI-Powered marketing automation platform and a suitable alternative to Marketo. This platform provides tools and features to help business owners and marketing professionals centralize and automate their tasks in an intelligent and straightforward manner. Suitable for any business size, VBOUT does not require consultancy or extensive training and is ranked as one of the top marketing automation platforms according to G2 Crowd.
VBOUT permits unlimited import and management of contacts. Its drag-and-drop functionality enables you to automate ready-made templates for your email campaign within minutes.

VBOUT offers AI-Powered email marketing features such as predictive email sending, subject line analyzers, and email content generation.
The platform allows "high volume senders" to reduce spam through chunk sending, which lets them break down their target lists into smaller subsets to mitigate their sending risk.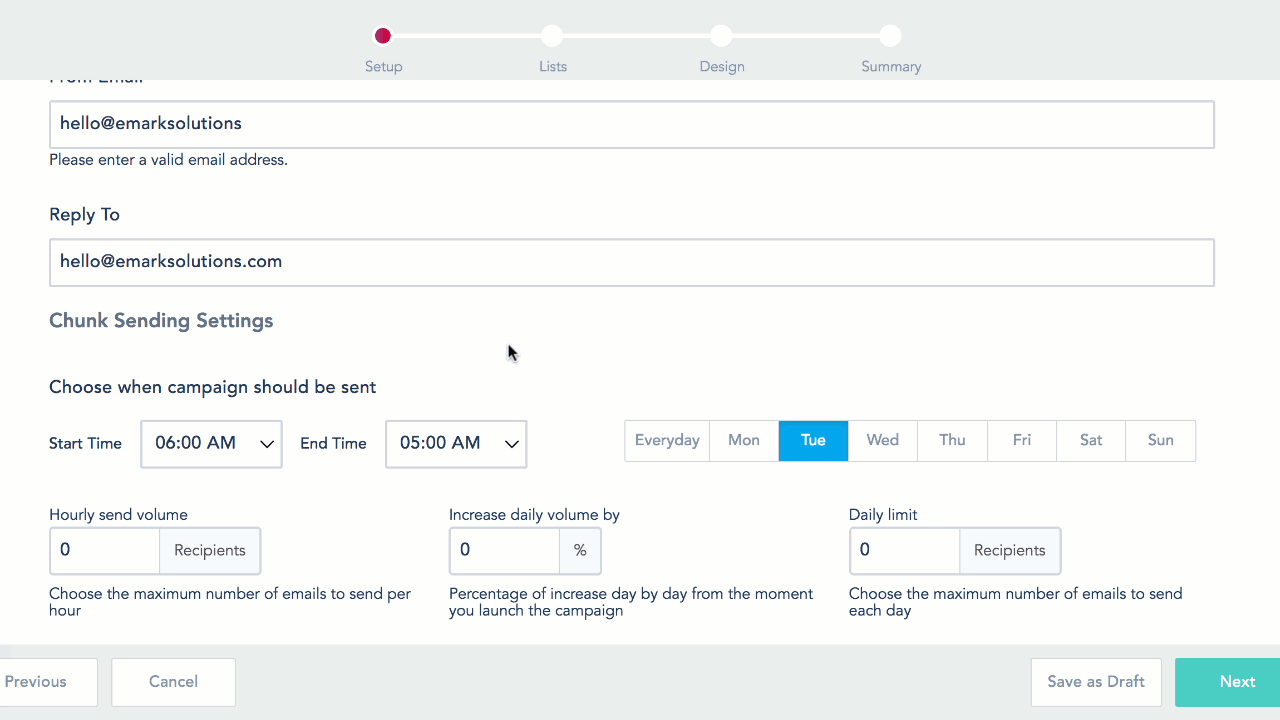 VBOUT's automation builder empowers you to create potent workflow automations. You have the flexibility to select from a range of ready-to-use automation templates or craft your own from scratch with their straightforward drag-and-drop interface.
Like with emails, you can leverage VBOUT's predictive sending for emails or SMS. This feature ensures messages are dispatched during times when your contacts are most likely to open them, enhancing engagement rates.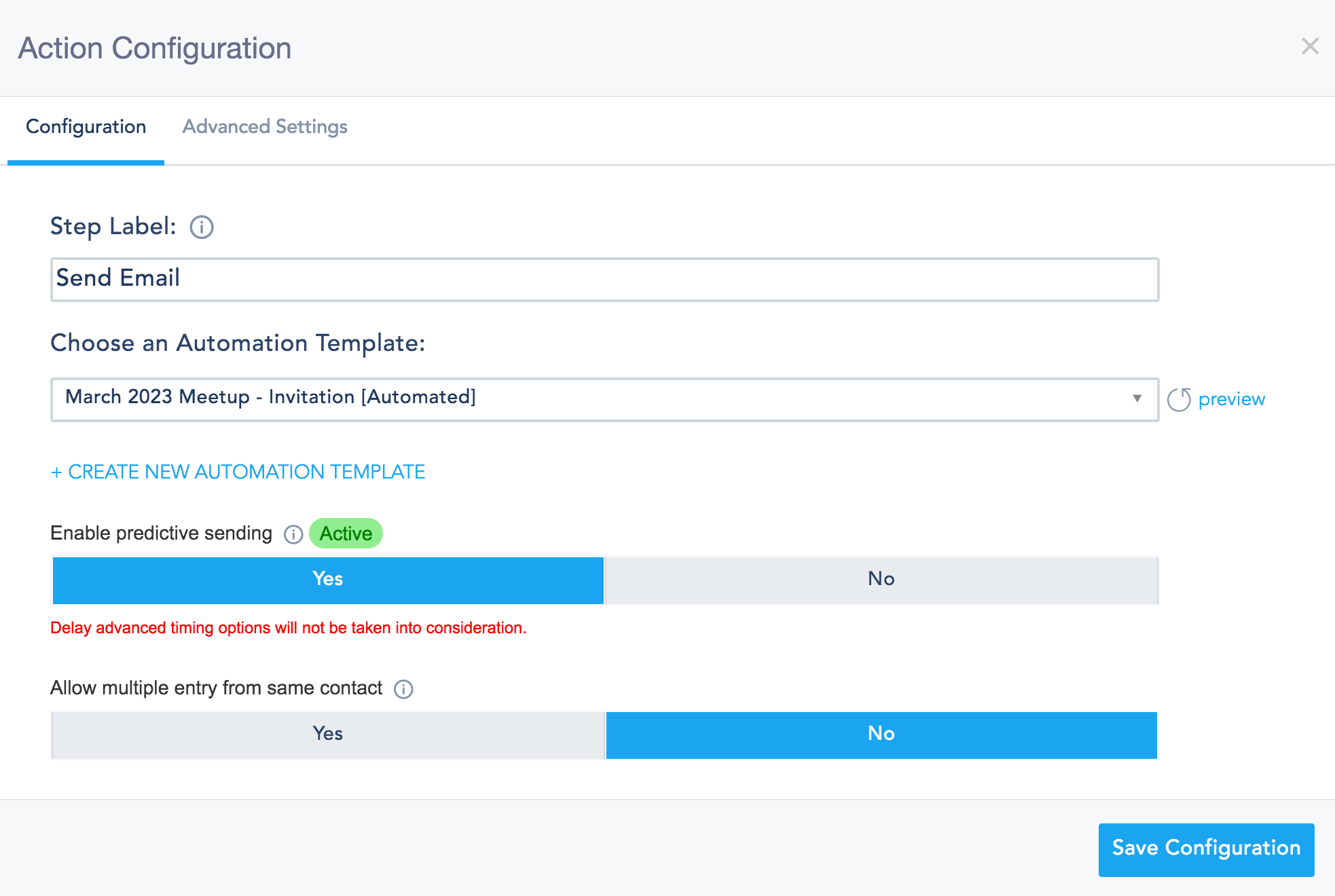 The AI capabilities of VBOUT's automation builder don't stop there. In addition to selecting from an array of triggers and actions and tailoring your workflows, you can make use of sentiment analysis. This advanced feature allows you to automate SMS responses based on the perceived intent (positive, negative, or neutral) of your recipient, allowing for more personalized, responsive communication.

VBOUT's comprehensive suite allows you to manage all your social media channels from one centralized location. Whether you're composing or editing posts on the fly, using mass posting to extend your reach, or utilizing custom posting to maintain a regular and consistent publishing schedule, VBOUT has you covered.

With VBOUT's Social Media AI Content Assistant, creating engaging posts for popular platforms like Facebook, Instagram, Twitter, LinkedIn, and Pinterest becomes a breeze, streamlining your social media marketing efforts. 
Additionally, VBOUT's powerful social listening feature lets you keep a vigilant eye on your brand and industry mentions across various social media platforms, providing valuable insights and aiding in proactive reputation management.
VBOUT simplifies the process of creating compelling landing pages with its user-friendly drag-and-drop interface. You can choose from ready-made templates to create your landing pages in minutes or build your own from scratch for more customization. 
A standout feature of VBOUT is dynamic content, which provides a personalized experience for your leads to boost conversions.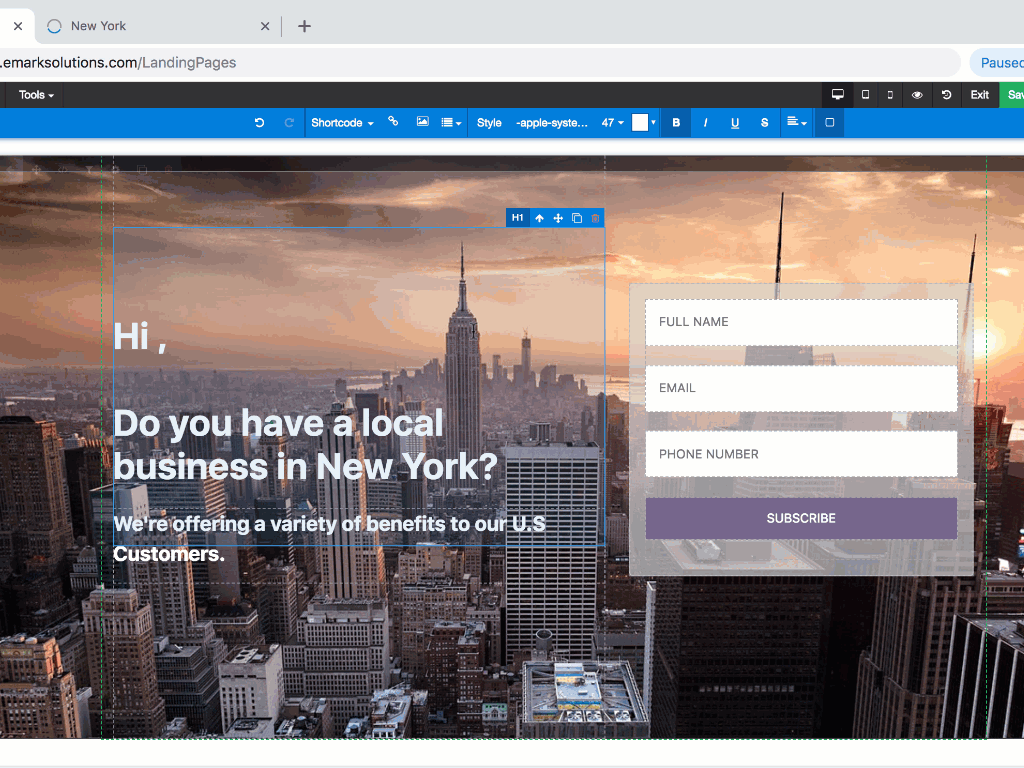 Furthermore, the option to use URL parameters enhances the personalization experience by letting you display personalized details such as the contact's first name, last name, and company on each landing page link.
VBOUT's robust analytics suite empowers you to monitor the performance of all your marketing channels from one unified dashboard. You can customize multiple dashboards and track metrics for your email marketing, automation, social media, lead scoring, goals, and landing pages, all of which can guide your decision-making process for future strategies.

In addition, the reporting feature in VBOUT is flexible, allowing you to schedule your reports or share them with your clients or other team members via a public URL, ensuring everyone stays informed about your marketing performance.
VBOUT offers a flexible pricing structure, tailored to fit your individual needs. Standing out from other platforms, VBOUT charges solely based on the number of emails you send, allowing you the freedom to manage an unlimited number of contacts without additional costs.
Below is a list of VBOUT's pricing tiers:
Basic Plan: For $100/month, you receive the capacity to send 5000 emails per month to unlimited contacts. This includes access to all features and operates on a month-to-month basis.

Intermediate Plan: At $200/month, you can send up to 10K emails per month to an unlimited contact base. This includes all features, and is also billed on a month-to-month basis.

Advanced Plan: For $600/month, you can send up to 100K emails per month to unlimited contacts. This plan, inclusive of all features, is available on a month-to-month basis.
VBOUT's onboarding process is designed to get your marketing automation up and running efficiently. This process includes personalized training provided by their in-house experts. With this, you'll receive six detailed one-hour training sessions, each focusing on a different area of the platform, empowering you to navigate and utilize the tool effectively.
Furthermore, VBOUT supplements your learning experience with a wide array of tutorials, educational resources, readily available help sections and AI-powered chatbot. This wealth of support ensures your ongoing success as you master the platform.
The cost of onboarding and setup starts at $3500. However, this fee is open to negotiation, depending on the size and scope of your organization, making the process as flexible as it is instructive.

As an alternative to Marketo, HubSpot offers a comprehensive inbound marketing automation system brimming with diverse features and capabilities. The platform is a complete suite encompassing marketing, sales, customer service, and CRM software. HubSpot consistently ranks among the top 10 marketing automation platforms according to G2 Crowd.
HubSpot enables you to import and manage a specific number of contacts and effortlessly design emails using their drag-and-drop editor.

One standout feature of their email marketing tool is the ability to schedule email campaigns based on different time zones, not merely regular scheduling.

Further enhancing its utility, HubSpot's AI content writer can generate copy for your emails, landing pages, website content, social media captions, and blog posts.
HubSpot's visual automation builder empowers you to build targeted workflows rapidly. Beyond just emails, you can automate a wide variety of tasks by setting up automation workflows. This allows for automatic lead scoring, sales team member assignment, and much more!

Plus, there's the handy feature of internal team notifications, keeping your team members informed when a lead performs a specific action.
HubSpot's social media management tool allows you to handle multiple social media profiles from one centralized location, simplifying post composition and scheduling.

A unique offering is its "best time to post" suggestions, helping you optimize content visibility. Integration with the HubSpot blog ensures each new post is automatically shared across your social media channels.
Creating effective landing pages is a breeze with HubSpot's easy-to-use landing page builder. You won't need a developer or designer.

With features like inbox preview, dynamic blocks, and landing page analytics, you can ensure your page looks fantastic across devices, show dynamic content based on visitor behavior, and identify the most effective pages.

HubSpot even provides customized SEO recommendations for optimizing your pages.
HubSpot's analytics feature allows for dashboard customization, enabling you to monitor all your marketing initiatives in one place and share these valuable insights with your team.

Moreover, you can analyze your website traffic performance, identifying which pages are generating the most sessions, leads, and customers.
HubSpot offers several pricing modules, each designed to cater to different levels of demand, ranging from starter to professional and enterprise. The cost varies based on the number of contacts you wish to manage. Here's an example of HubSpot's pricing:
Basic plan: $1025/month – 7000 contacts – Excluding some features – Billed annually

Intermediate plan: $1250/month – 12K contacts – Excluding some features – Billed annually

Advanced plan: $4450/month – 100K contacts – Including all features – Billed annually. Higher plans are also available.
HubSpot's onboarding process includes assistance from an implementation specialist who guides you through the technical setup and helps you integrate existing CRM or other systems with the platform. The onboarding fee ranges between $3000 and $6000, a worthy investment to ensure smooth platform integration.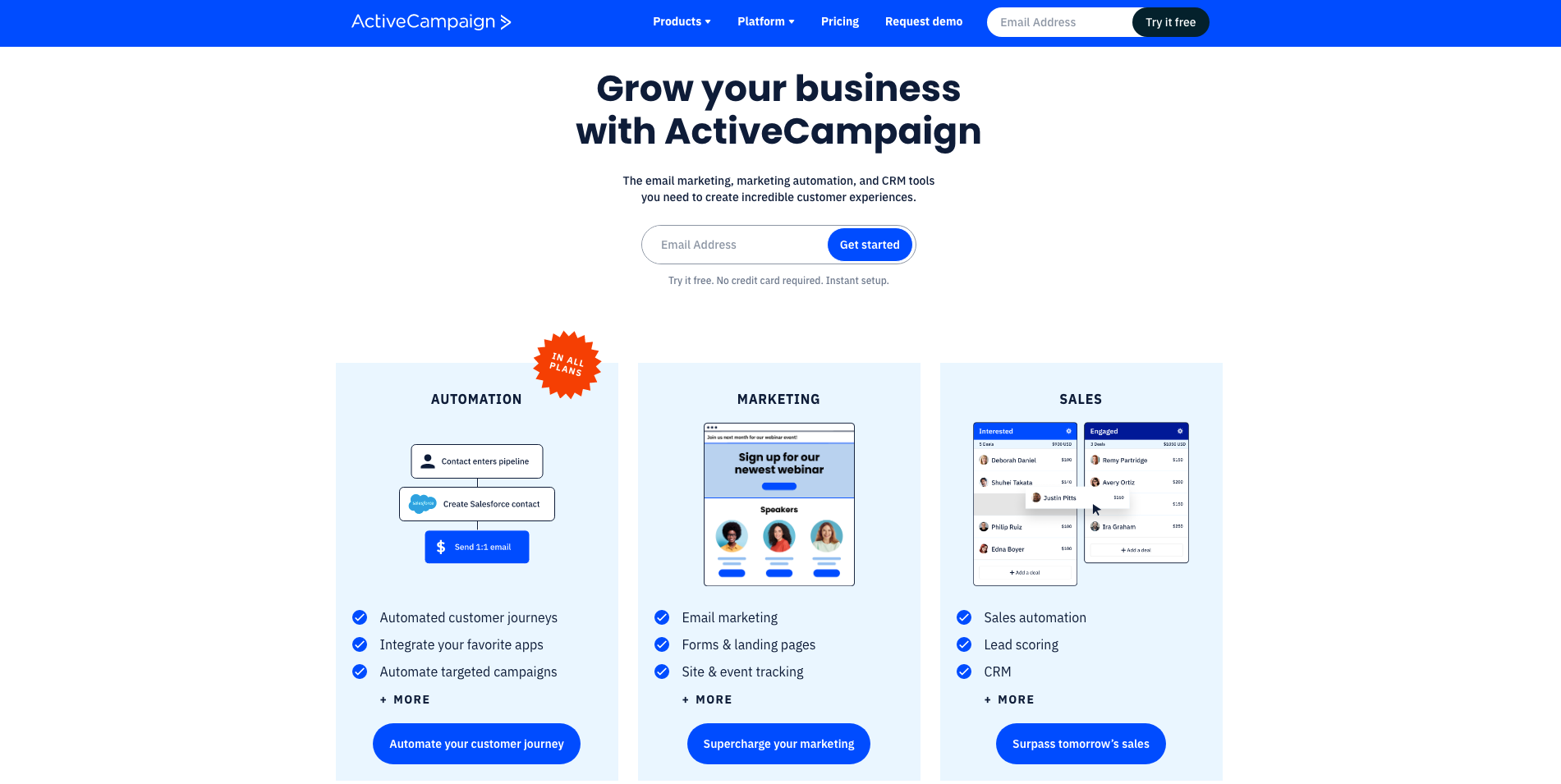 ActiveCampaign is a robust marketing automation software designed primarily for SMBs. It provides a suite of tools, including email marketing, automation, and CRM, to deliver stellar customer experiences.

ActiveCampaign is listed among the top 10 best marketing automation software according to G2 Crowd.
Email marketing and automation
ActiveCampaign offers a powerful email marketing platform, where you can quickly build campaigns using a drag-and-drop editor. The platform provides various lead capture forms, enabling you to automate communications across different channels based on gathered information.
With ActiveCampaign, you can ensure optimal sending practices and remain compliant to maximize deliverability. Additionally, it features AI-powered tools to generate personalized, engaging content swiftly. Sales reps can leverage this functionality to automate repetitive tasks and improve their relationships with leads, driving more effective deal closure.
The platform offers a predictive email sending feature for scheduling emails when they are most likely to be opened. Its dynamic email content creation and personalized follow-ups, based on leads' behaviors, enhance the platform's capabilities. ActiveCampaign also allows A/B testing for workflows to make your drip campaigns more successful.
ActiveCampaign's powerful landing page builder lets you create pages quickly with drag-and-drop functionality, eliminating the need for coding experience. It also offers ready-to-use template designs to accelerate your page creation process.
ActiveCampaign's analytics features allow for optimal marketing and sales alignment. Its 'Win Probability' function helps identify qualified leads and assign them to sales, preventing time waste on leads unlikely to convert.
With site tracking, you can observe your website visitors' behavior and patterns, enabling you to send timely follow-up messages and convert more customers. Advanced reporting and customizable marketing goals provide the means to measure your success accurately.
ActiveCampaign's pricing varies depending on the selected features and the number of contacts. Here's an example of their pricing structure:
Basic plan: $262/month – 5000 contacts – Billed monthly

Intermediate plan: $424/month – 10K contacts – Billed monthly

Advanced plan: $686/month – 25K contacts – Billed monthly
ActiveCampaign's setup includes onboarding and an automation strategy consultation costing $1995, ensuring a smooth transition to their platform and maximum usage of its capabilities.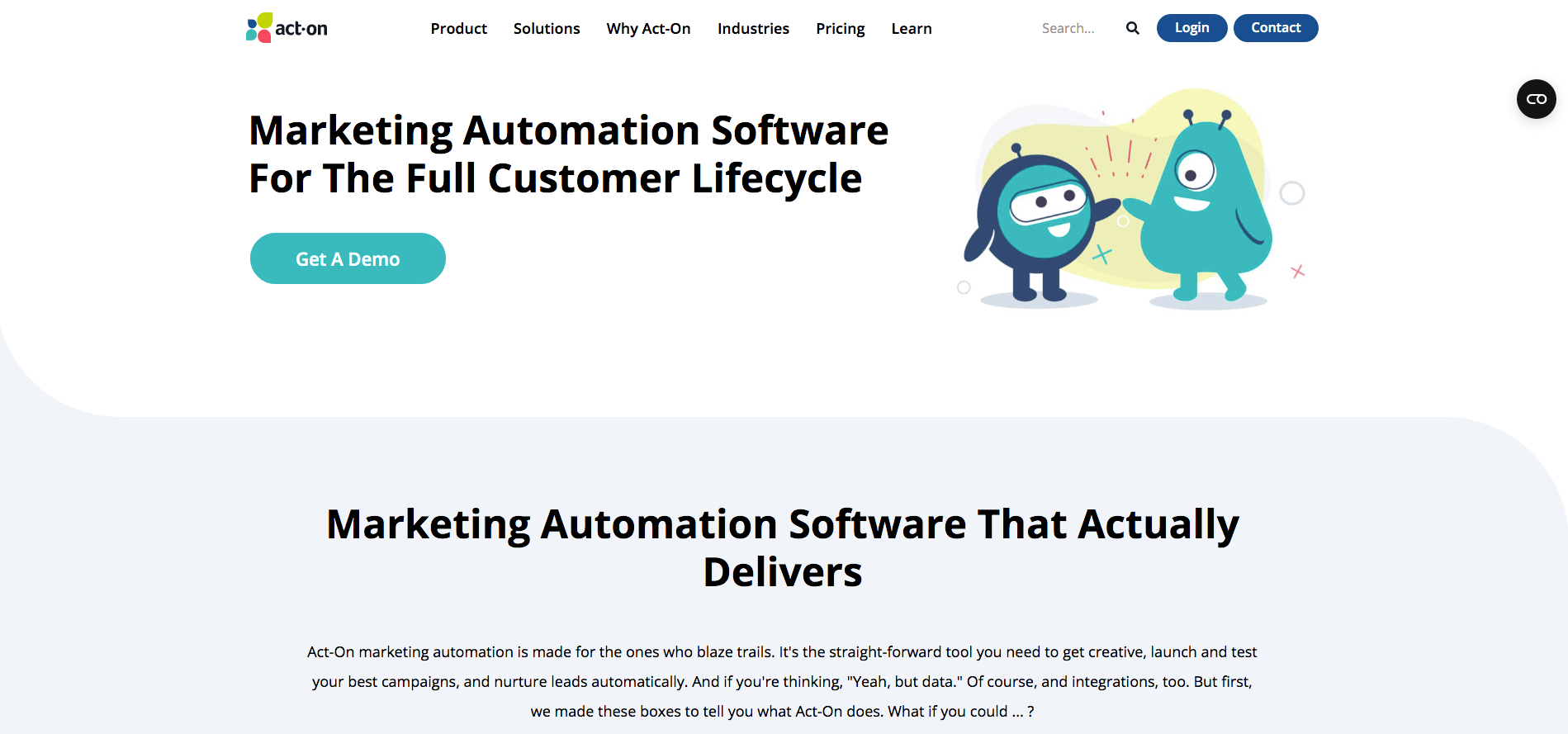 Act-On is a comprehensive marketing automation platform offering email marketing, automation, social media management, landing page creation, and analytical capabilities. This platform also integrates with CRM tools, providing businesses with a comprehensive view of customer engagement and relationships. Act-On ranks among the top marketing automation platforms as per G2 Crowd.
Act-On's adaptive email sending feature optimizes your communication strategy by delivering the most relevant message to each customer at the right time, based on past engagement data. It also provides transactional sending features to trigger system notifications, purchase confirmations, and more.

Act-On supports EU local sending to ensure compliance with data regulations by using European mail servers for sending emails.
Act-On's behavioral-based triggered messaging allows for effective lead nurturing throughout the customer journey, converting leads into customers. It enables targeted email campaigns with various triggers, such as event messages, confirmation messages, shopping cart abandonment, and personal messages for occasions like birthdays and holidays.

Furthermore, automated data management tools predict future customer behavior, enhancing your real-time marketing automation performance.
Besides creating, scheduling, and measuring performance metrics for posts across various social media channels, Act-On features a built-in social media content curation engine.

It recommends content based on your audience's engagement with your posts, making your social media strategy more effective.
Act-On's platform allows you to create, test, and publish landing pages swiftly using pre-designed templates. Their progressive profiling feature collects new user data and adapts to avoid duplicate information collection. Tracking of anonymous visitors helps improve connections with prospects. Real-time notifications when a user visits your landing page enable immediate response to their needs.

Act-On also provides an SEO audit tool, which evaluates page performance trends, keyword strategies, traffic-driving pages, and content update needs to boost your SEO score.
With Act-On, you can leverage a variety of analytics features to optimize your marketing campaigns and achieve better results. The platform also integrates with Google Adwords, allowing you to track your paid ads' performance without having to switch between tools.
Act-On offers two pricing models: professional and enterprise. The pricing depends on the number of contacts for each plan. Here's an example of their pricing structure:
Basic plan: $900/month – Starts at 2500 contacts – Not including all features – Billed annually

Intermediate plan: $1400/month – Up to 10K contacts – Including all features – Billed annually

Advanced plan: $3300/month – Up to 100K contacts – Including all features – Billed monthly
Act-On provides a fast-track onboarding process with fees ranging from $500 to $3000, ensuring smooth adoption of their platform.

Constant Contact is a versatile email marketing and CRM platform designed for digital marketers seeking easy-to-use tools to expand their businesses. The platform boasts functionalities like email marketing, marketing automation, social media management, SMS marketing, and landing page creation. As per G2 Crowd, Constant Contact holds a place in the top 10 marketing automation platforms.

Importantly, Constant Contact acquired SharpSpring in 2021, another reputable marketing automation platform, for around $240 million.
The email marketing builder from Constant Contact simplifies the process of creating engaging emails with its drag-and-drop editor and responsive, ready-made templates.

The platform's AI content generator can create personalized emails with recommended subject lines for enhanced engagement. It also offers dynamic email content blocks that adapt based on the recipient.

Furthermore, the platform allows for convenient contact management, email content editing, and image uploads, even on mobile devices.
Constant Contact's powerful workflow automation lets you personalize your interactions with customers. You can build workflows from scratch or choose pre-made templates from their library to send the right message at the right time.

It even extends AI content generation to SMS messages, enabling you to swiftly generate SMS content for your campaigns.
With Constant Contact, you can manage your social media profiles all in one place. Connect your Facebook, Instagram, LinkedIn, and Twitter accounts to publish or schedule posts across all these platforms simultaneously.

It also enables monitoring of conversations across Facebook and Instagram, allowing you to respond to messages, mentions, and comments.

Just like with emails and landing pages, you can choose from a variety of designed templates or upload your own image, with previews available for different platforms.
With Constant Contact's landing page builder, you can either build landing pages using ready-made templates or create your own from scratch. It offers a range of customizable elements and components that you can adapt to your liking. You can also customize your lead-gen forms and use the collected information for personalization. Visitor tracking lets you optimize your sales funnel based on user interaction with your pages.
Constant Contact's marketing analytics allows you to track key performance indicators for all your marketing endeavors. Whether you're monitoring email marketing engagement (open rates, CTRs) or checking if your emails were received, opened, or deleted, you can do it all on the go. The platform also enables tracking of SMS campaign analytics and landing page visits, engagements, and engagement rates.
Constant Contact's pricing structure includes three tiers; Lite, Standard, and Premium, primarily based on the number of contacts. Here's a glimpse of their pricing plans:
Basic plan: $110/month – 2,501-5,000 contacts – Billed monthly

Intermediate plan: $160/month – 5001-10,000 contacts – Excludes some features

Advanced plan: $460/month – 45,001-50,000 contacts – Includes all features
Constant Contact doesn't appear to have publicly visible setup fees. For accurate information about potential one-time charges, it's recommended to contact their sales team.
In conclusion, finding the "best" platform is subjective and largely depends on the specific needs, objectives, and budget requirements of your business or agency. While one platform may be suitable for a particular company, it may not be the right fit for another.

It's important to remember that the information and pricing provided in this analysis are based on our research as of the date of this writing. Since details, features, and pricing tiers may vary and are subject to change, we recommend reaching out to each vendor directly to confirm their offerings and to gain the most accurate and up-to-date information. This will enable you to make the most informed decision based on your specific requirements and resources.
Don't forget to share this article