LinkedIn was started on May 5th 2003 and transformed the way business professionals connect worldwide. Today, it is used in 200 countries and 24 languages by over 380 million experts, consultants and professionals. As the company grew, it evolved to include key features for marketing and talent solutions.
Through the adoption of content sharing, groups, paid advertisements and other features; LinkedIn has become a powerful platform to manage your brand, grow a business and generate leads. In fact, 77% of B2B marketers report they have acquired a customer through LinkedIn. In order to effectively leverage LinkedIn's reach for your business' objectives; there are a number of strategies you will use. Here are seven steps a B2B marketer can use to boost your business LinkedIn followers:
Specify what your business is about
Your business page should reflect your image, since it is the first thing people will see after they follow you. First impressions matter! To appear credible and trustworthy, provide credible information about your business. Present a clear photo that shows what your business is about. Doing so will get other visitors to become followers.
Include a link to your LinkedIn profile in your email signature
Successful marketers recognize the importance of linking social media in email. You lose the opportunity to gain more followers from business activities by keeping them separate. When sending content marketing, your main objective is to engage your followers with both email marketing and social media. Email list subscribers are likely to click on social media buttons in your email, driving more traffic via LinkedIn.
Place a LinkedIn follow widget on your website or your blog
A simple tactic you are likely to make is to display your social channel button on your website as well as your blog. That way, visitors are interested in your content and will click on your LinkedIn business page to follow you or share your article.

Post great content regularly
Publishing high quality content regularly boosts your visibility on LinkedIn -effectively increasing engagement. With more people visiting your page, you will also increase your followers. This happens in three simple steps. First, keep your audience interested with regularly updated information so they check back often for new content. Second, when your followers share your content or comment on it, their connections will see the activity in their feed. This increases visibility to potential followers. The final step, is to share your content with as many relevant groups as possible.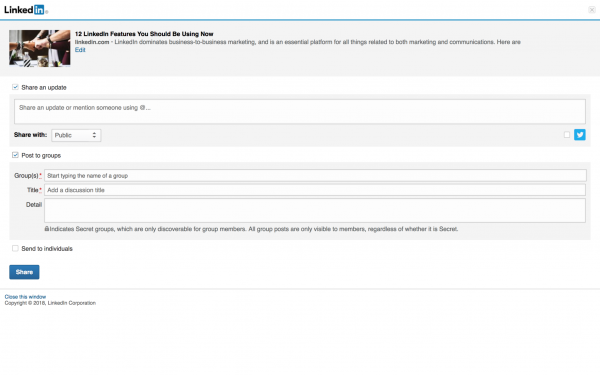 LinkedIn is a B2B social channel, and business professionals admire visuals and graphics in your blog content, therefore try to vary your content and post slideshares, infographics and white papers.
Run a simple PPC campaign
Most often, the major purpose of 'pay per click' is to promote your website on a social channel, or to collect emails from users. This leads them to a landing page after they click on your ad. Positioning an attractive ad which contains catchy headlines with insightful content and compelling imagery can "drag" LinkedIn users to your ad. As a result, they click on your ad, visit your website and follow you on your business page, further boosting followers as well. The higher the bid you wish to pay, the greater the chance that your ad is going to be more attractive and garner more users.
Similarly, you can launch a Follow Ad campaign that is also featured on LinkedIn and target your Ad to specific companies. When users click on that button to follow you, the activity is spread into their network which encourages others to follow you.
Increase your followers from your employees
Your employees are normally one of your major followers. Encourage them to share your post updates as their following will also see your activities. The result is that you boost your "views" potential which leads to an increase in probability of additional followers.
LinkedIn is a very popular social channel for business professionals worldwide. B2B marketers can use LinkedIn to increase their brand visibility, nurture relationships and generate more leads. The basic steps to using LinkedIn efficiently are:
Creating a professional, appealing business page to increase your credibility.
Using social media links in your email signature and on your website to get more followers.
Positioning a LinkedIn share button on your website or blog.
Publishing high quality content on a regular basis to increase the likelihood your audience will recommend your page to others.
Running PPC campaigns to increase your web visitors, driving more followers to your LinkedIn page.
Encouraging your employees to share your updates so their networks will notice you.
Don't forget to share this article