Agencies have a variety of responsibilities to take charge of, which require them to spend a lot of time and effort, tons of projects to handle, multiple teams to manage, many clients to deal with, as well as new potential leads to acquire and nurture.
To save time, simplify and better organize their daily tasks as well as improve the relationship with their clients, we've put together 8 automation workflows that agencies can build and take advantage of:
To push their clients to subscribe to a higher plan or convert into paid during their free trial, agencies can send their clients a series of automated messages such as emails or browser push notifications, followed by educational and onboarding materials.
It's good practice to send an upgrade email at least a day ahead of the trial period ending.
Below is an example of how an upgrade email might look like:


If they upgrade their plans, a thank-you email can be sent, including their confirmation details.
Here's another example: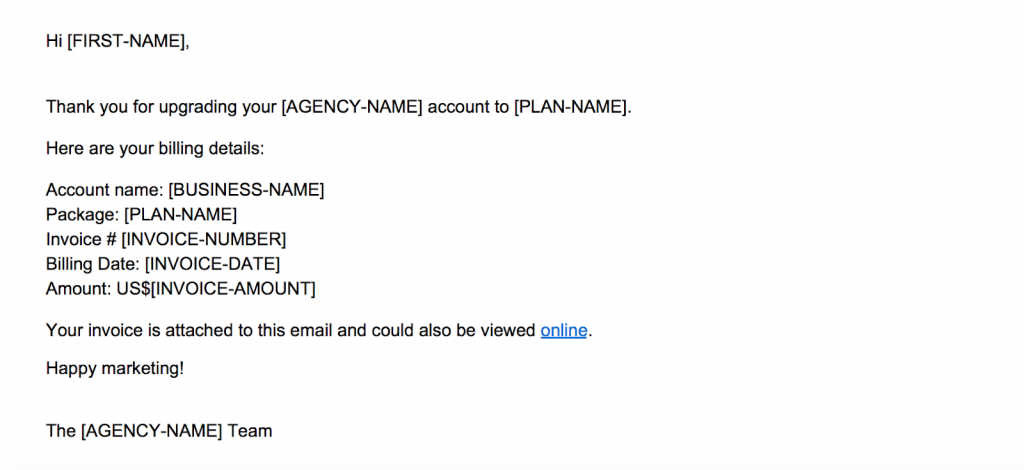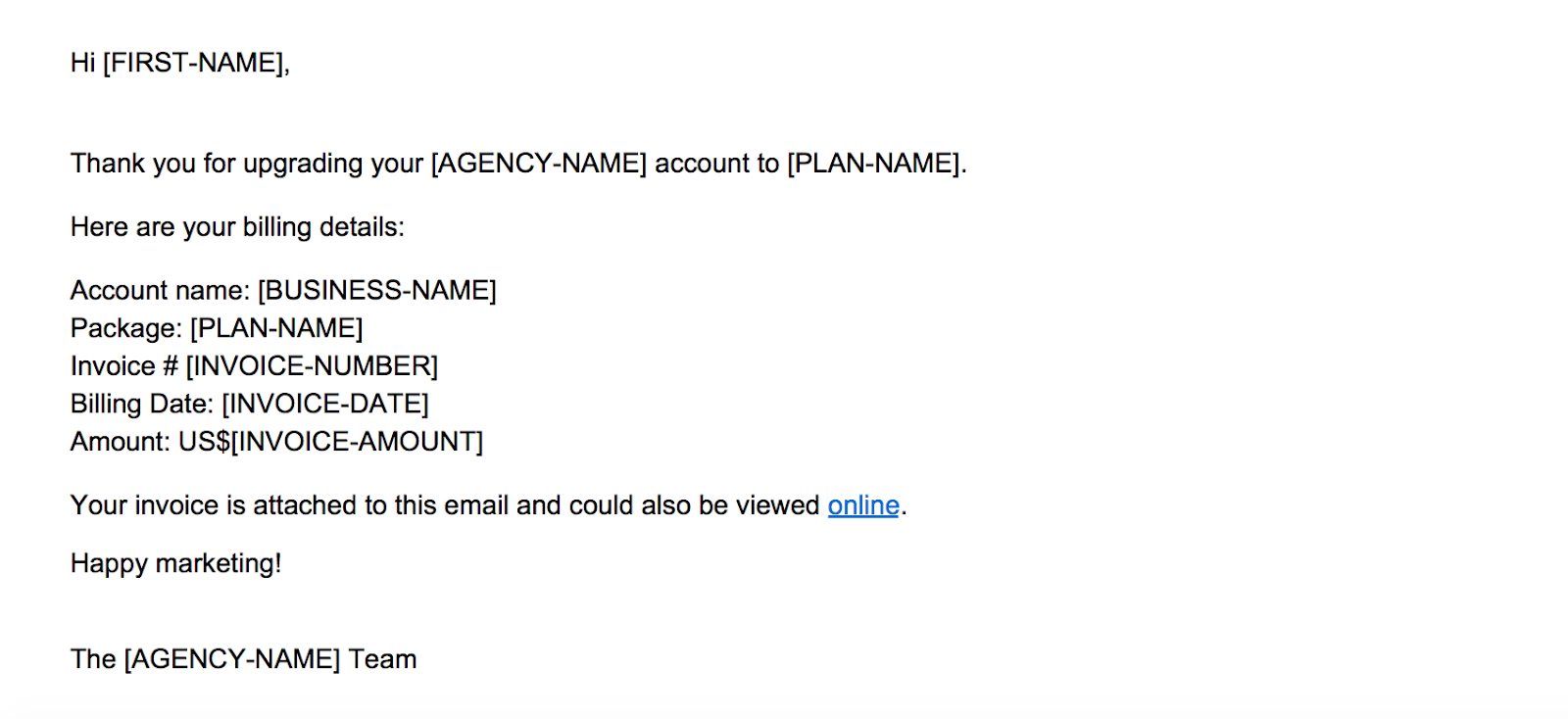 If they don't, you can resend them an email every other day or a few days after expiry, as a friendly reminder to add their payment details.


For better segmentation results, users who upgrade their plans can be assigned a specific tag and sent different messages that specifically speak to their buyer persona.
Here's how an automation workflow might look depending on your strategy: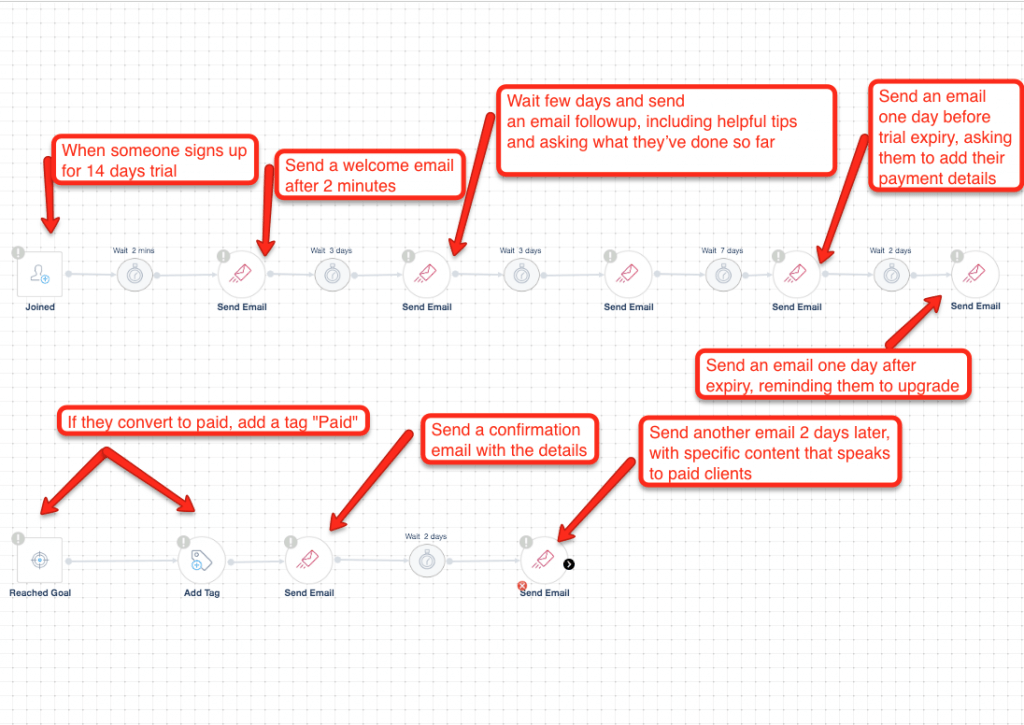 2. FB or Google custom audience sync
To reach multiple customers across multiple social media channels, agencies can also display retargeting ads in front of them. For example, when visitors sign up to book a demo or a free trial, the agency chooses "Sync to a third party," which adds contacts to a Facebook or Google retargeting audience. If they upgrade their plan or book a consultation, they will be removed from the audience.
Here's what a simple automation workflow might look like: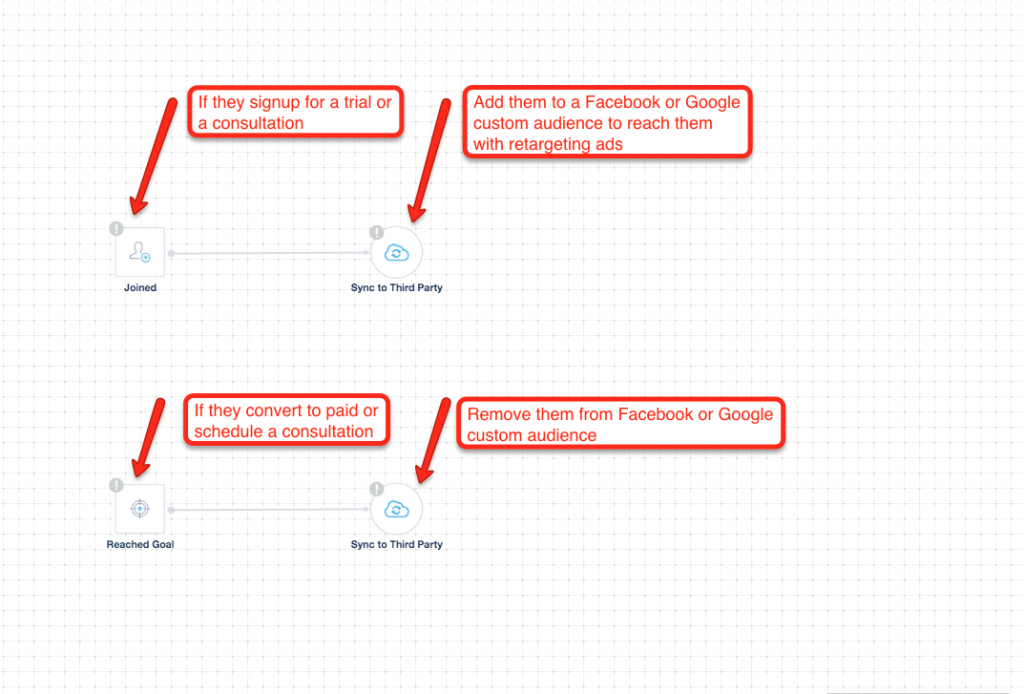 There are many cases where agencies need to announce updates to its terms of service, a new product release, or a special event. In this case, employees should be notified in order to be aware of every new version so they can communicate the message to all their clients effectively. In the end, providing clarity is key to any agency's success.
Below is an email notification example: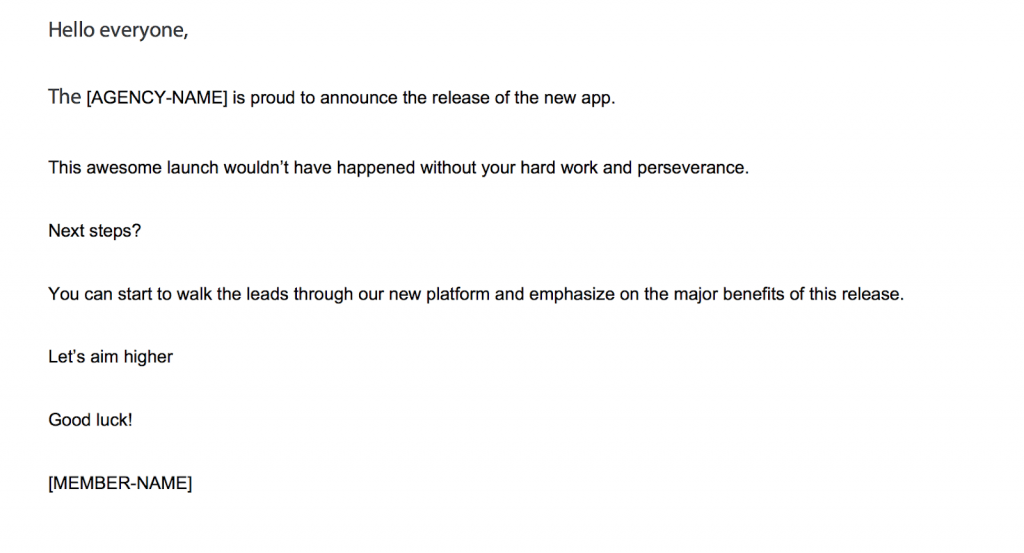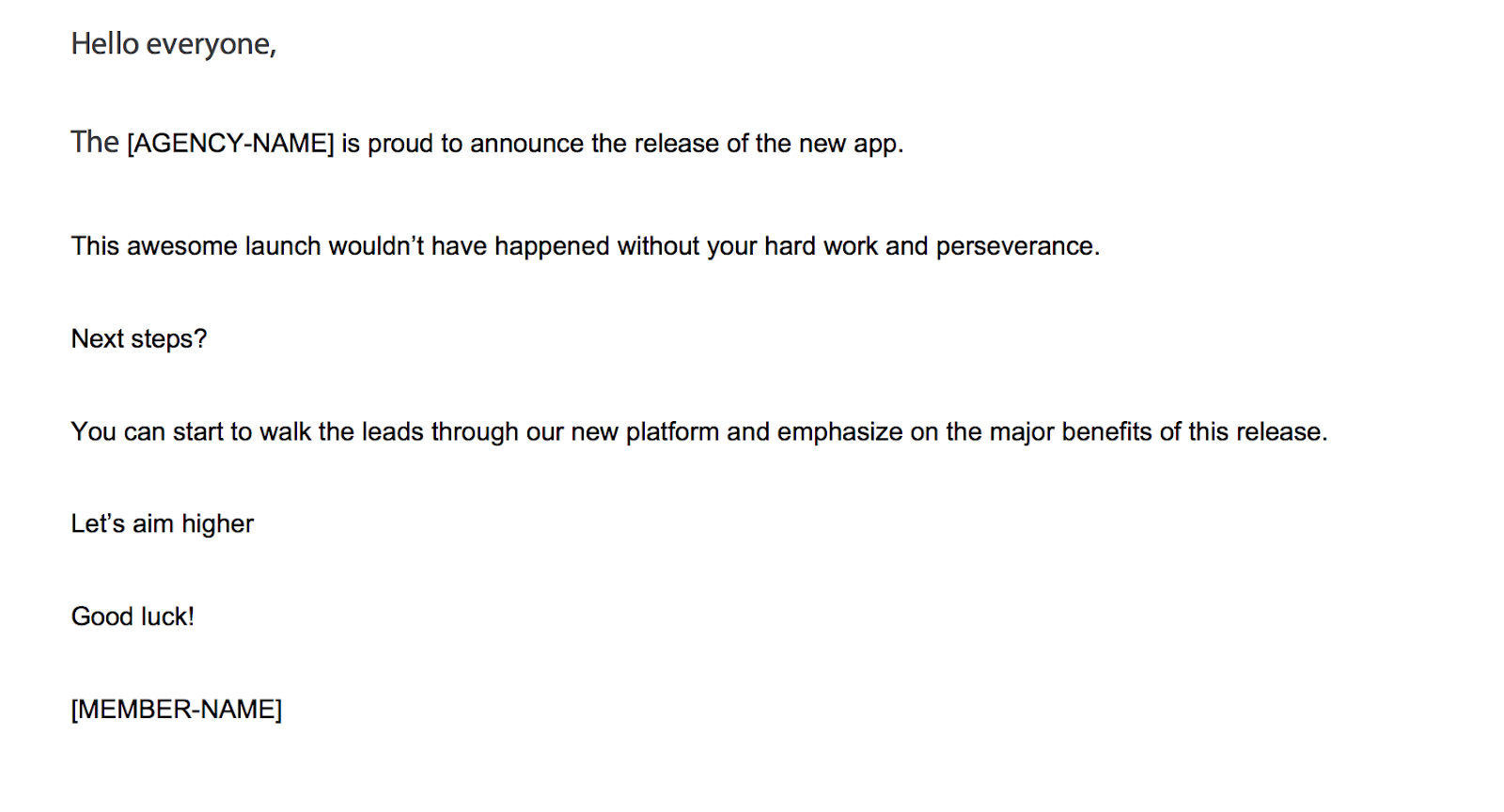 Here's another example of an automation workflow: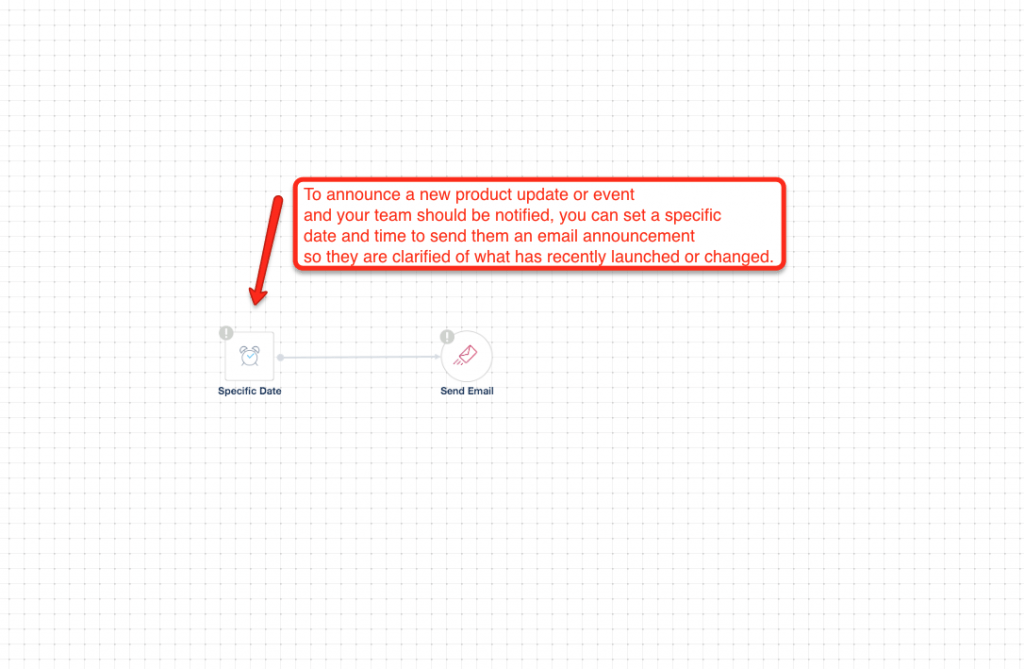 4. Lead magnet and nurture
When agencies seek to capture new leads, there are a variety of ways that could be achieved to make this possible. But this process must be done effectively as a particular lead should know what's in it for them and why they should give their contact information. Educational materials such as ebooks, whitepapers, checklists, free guides or quizzes work well in this case.
Below is an example of a confirmation email for an ebook:


Once the welcome email is sent, you should wait for a few days. If they click the link to download the PDF, you can send them an email a few days later, following up on their feedback.
If they don't click through, you can send them a follow-up email cadence one or two days later, reminding them to download the ebook.
Below is an example of a lead magnet automation workflow: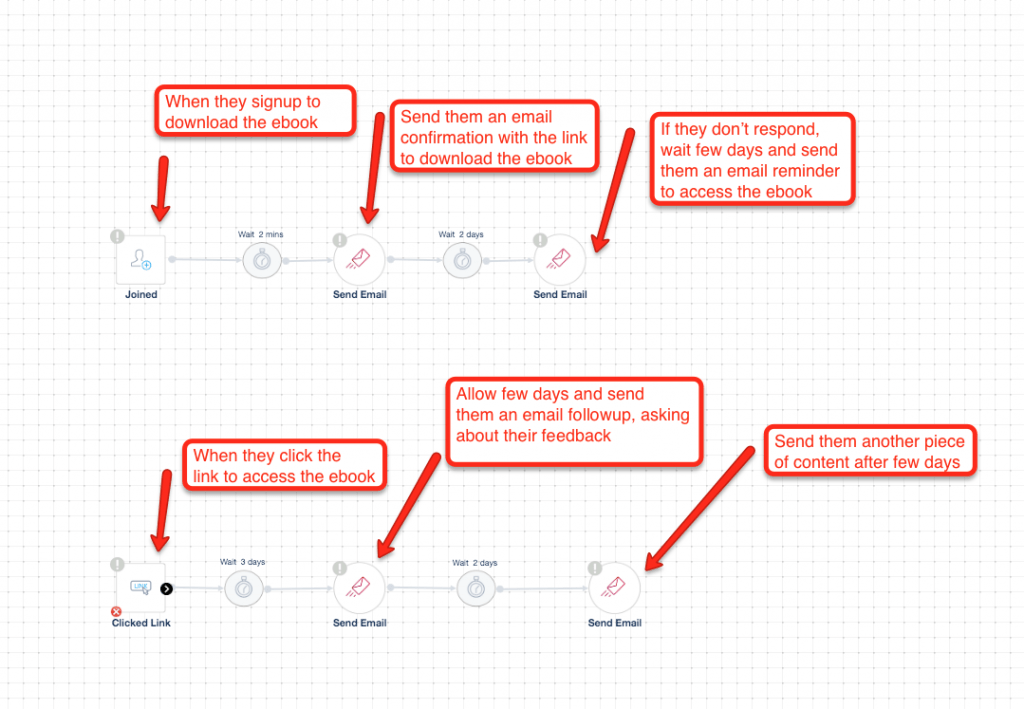 5. Consultation or demo call setup
When a particular lead lands on a specific page, then shows interest and books a free consultation, if he fills out the form, agencies can create an automation workflow that sends him an email confirmation with a link to select a suitable date and time to set up a call.
Below is an example of what an email confirmation would look like: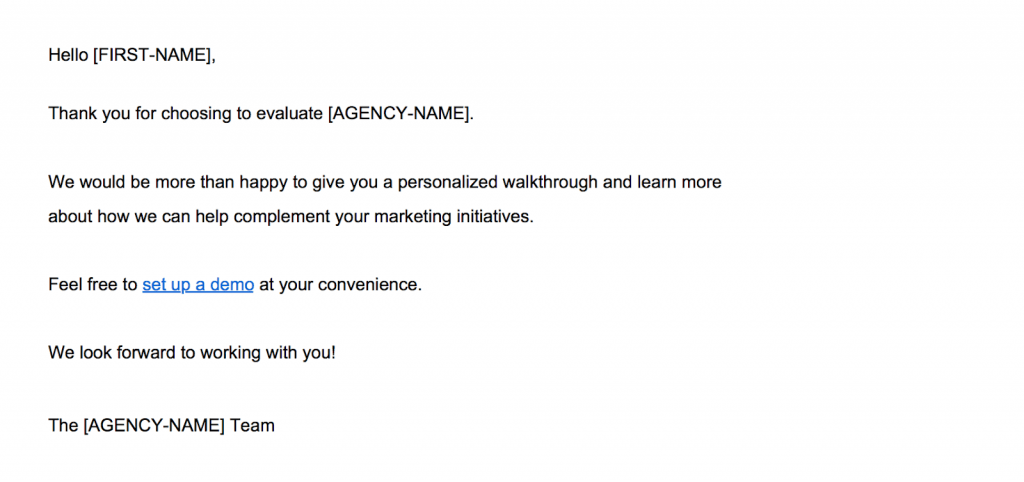 If he/she schedules a time, he will be given a tag "scheduled" and removed from the workflow. If not, they will be sent an email followup two days later to remind them to take action.
Below is an example of this type of automation workflow: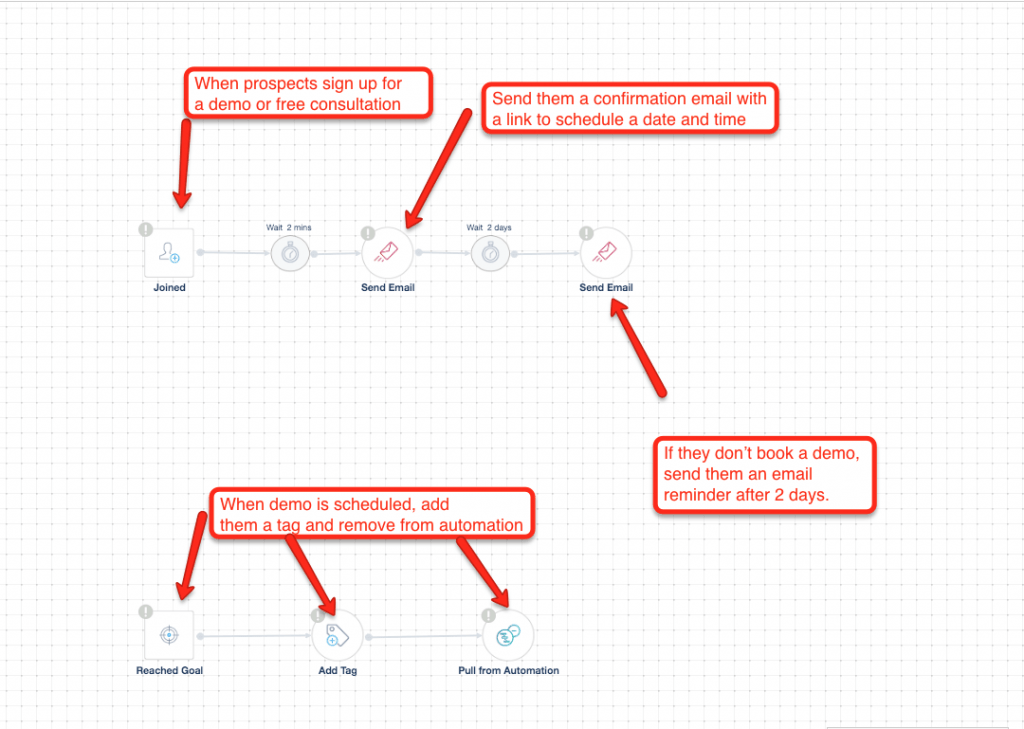 6. Sales opportunities (lead scoring)
Lead scoring can be one of the primary tactics that agency marketing teams can use to qualify leads and assign them to their sales team.
For example, when visitors stay on a particular page for a specific period of time or visit a certain number of pages, land on the pricing page and reach a required score, the sales team will be notified to follow up with these leads, call them or send personalized emails.
Below is an example of this type of automation workflow: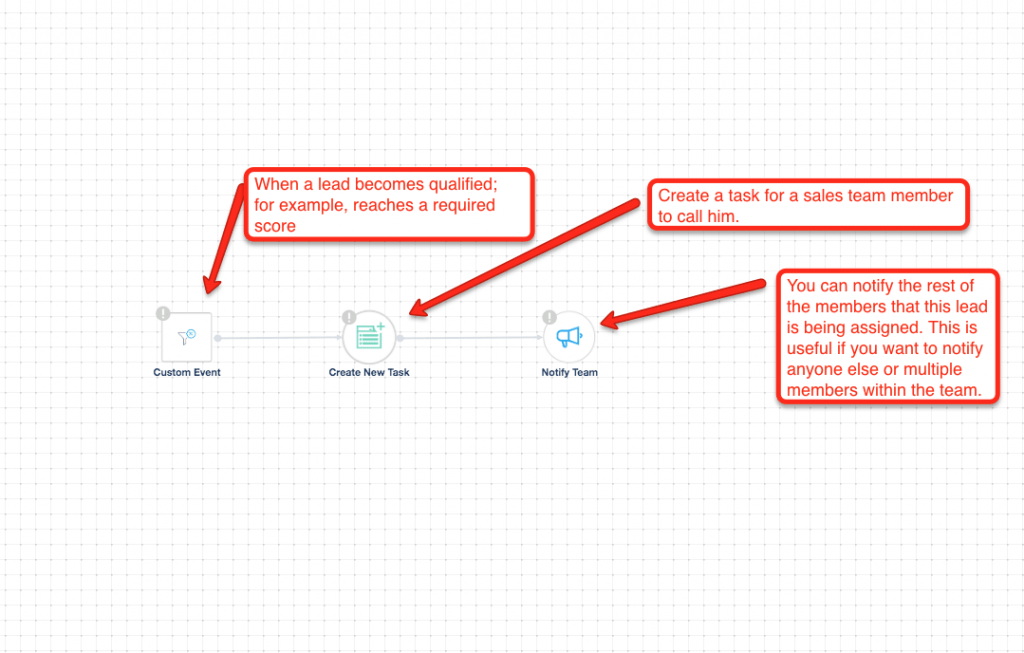 In order for agencies to create successful webinars and maximize their attendance, it would be great to set a specific date to announce the webinar 2 to 3 weeks in advance. This cadence would be followed by a series of email reminders to keep attendees notified about the appropriate date and time they should attend.
The great thing about this is that such type of automation workflows is not complicated because there's no need for multiple conditions. Within the same week, participants are targeted with an email reminder 1 or 2 days ahead of the webinar and another notification on the same day to make sure everyone clearly knows when they should attend.
Below is an example of a webinar confirmation email: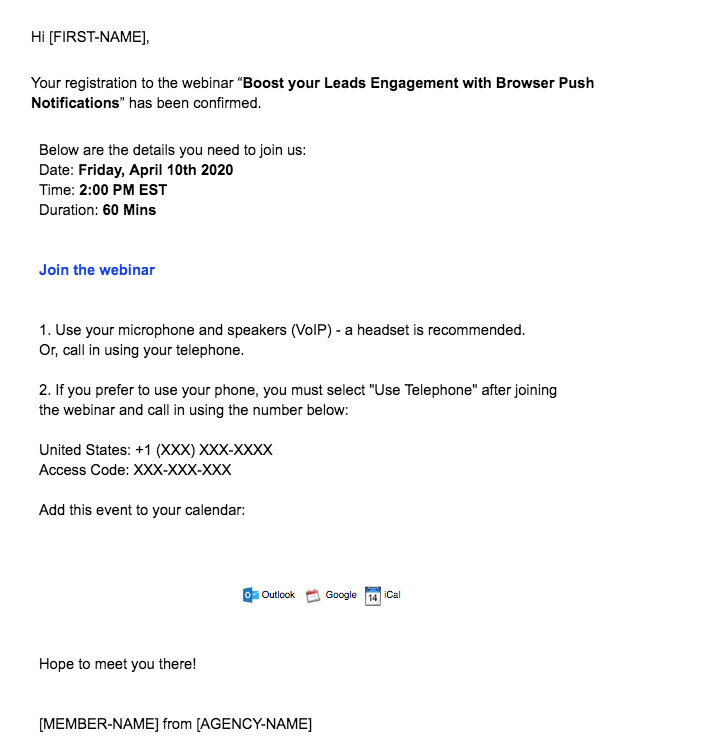 Below is an example of a webinar automation workflow: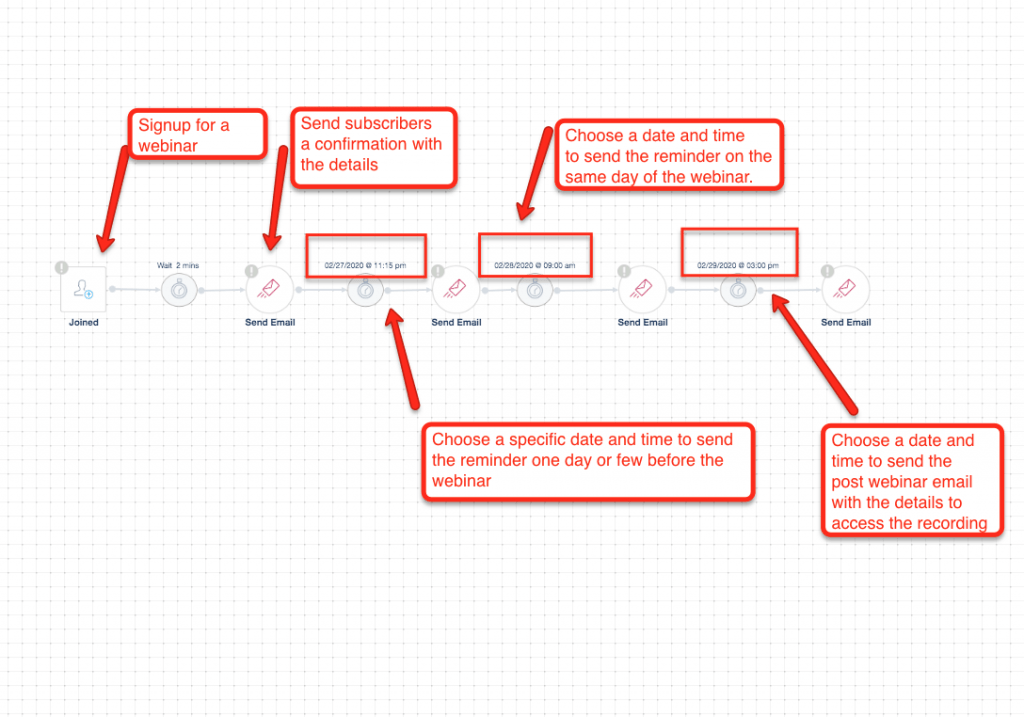 Acquiring customers is half the process, but there's still the other part which is retaining these clients and boosting their loyalty. As customer lifetime value CLV, is one of the agency's key metrics, agencies should look out for strategies to retain these clients and avoid churn. One of these tactics is to determine how satisfied their clients are and what they wish them to provide to enhance their experience.
As a result, agencies can send a product review email to their clients, recommending them to rate their product and service.
Below is an example of an agency review email :

Below is an example of a customer review automation: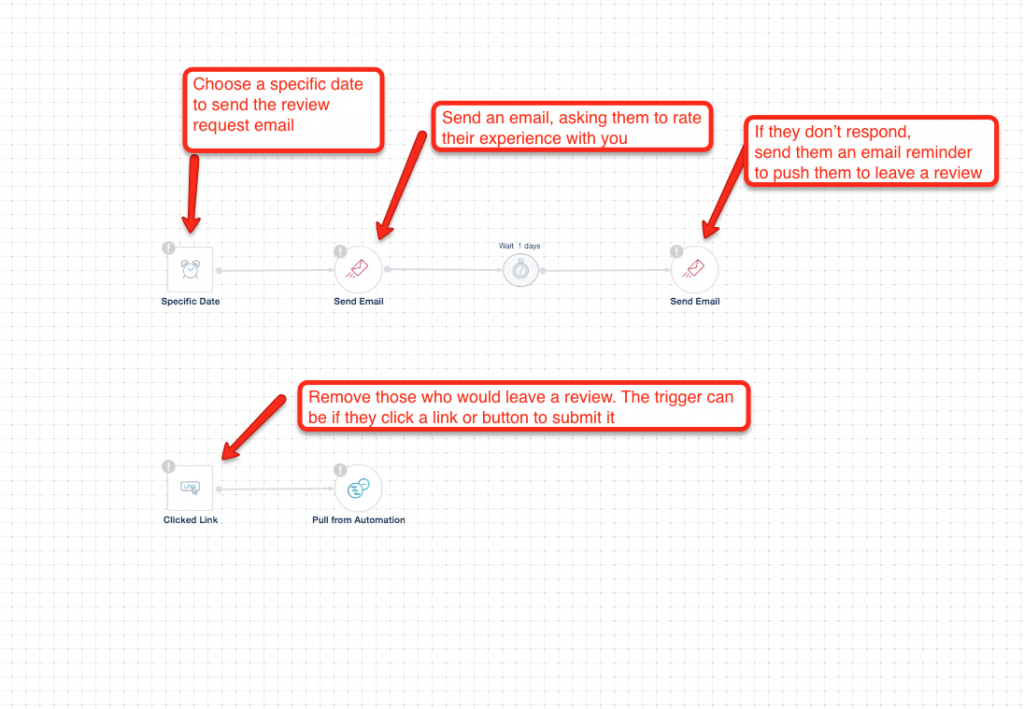 Running an agency can be complicated and time-consuming. Therefore agencies are now looking for efficient ways to automate and simplify their daily tasks more effectively while meeting their desired goals toward either their employees or clients.
I hope this article gives you clarity about the significant types of automation workflows agencies should build and the best practices to use each one in order to manage their businesses more effectively.
Furthermore, if you're running multiple automation workflows for your agency, we recommend that you recheck each automation and make sure that it doesn't interfere with any other automation. For example, if you don't want your clients to receive onboarding emails and product review requests on the same day, you can check out the time delays that you've set in each workflow and make sure they are not scheduled to be released at the same date and time.
Don't forget to share this article