Coupons are one of the most effective forms of email marketing. It's no secret that people love coupons, and statistics support this fact – 96% of people across the United States use coupons.
The number of coupon users is constantly growing – in 2012, 91 million people used coupons, and in 2016 that number increased to 126.9 million.
And most importantly, digital coupon redemptions are expected to surpass $91 billion by the end of 2022.
Let's talk about coupons – why people like them, what types of coupons exist, and how your business can benefit from using them.
What are the email coupons?
Email coupons are vouchers that allow customers to get a discount when they come to the "cash register" of the webshop. All they need to do is enter the code from the coupon in a provided field.
The effectiveness of coupons as a marketing strategy is that they benefit both the seller and the customer.
Online stores use coupons, especially during the holidays (Christmas, Thanksgiving, Black Friday), to increase sales, gain new customers, and strengthen the loyalty of old customers.
As many as 77% of people will buy more than they originally planned if you offer them a coupon with exceptional benefits.
Why do customers like coupons?
To understand why customers love coupons, we need to understand the psychology of vouchers, which can be a powerful weapon in your marketing campaigns.
Coupons save money – Customers like to save money. In some cases, the voucher will keep them only a dollar or two, an amount that seems insignificant.
However, the money saved is a value that the customer did not have before using the coupon.
The discounted price that a customer gets can sometimes be a regular price in another store, but the very idea of ​​saving will make people feel good and want to spend more.
Coupons make people happy – Coupons bring joy to the shopping experience, confirms a Claremont University study. Using coupons when shopping reduces stress and increases the level of happiness hormones in customers by 38%!
As many as 80% of customers said they feel more thoughtful and more satisfied with themselves because of coupons because they have saved money.
Coupons motivate customers to try new things – People get used to specific products, making it less likely to risk new experiences. They stick to tried and tested options that have proven to be effective.
Just think of it this way, would you buy a face cream that you haven't used before and risk losing money because it doesn't suit you? And what if the same cream brand offers you a 30% discount and a great personalized message?
Yes, coupons motivate customers to try out new things that, otherwise without a coupon, would be completely ignored.
Building loyalty – When you send your customers a personalized coupon that gives them certain benefits, that represents an exclusive offer tailored just for them.
People like to feel special as if someone thinks of them and cares for their needs. This act will encourage customers' loyalty and the desire to buy from a seller to whom they are unique and important, rather than from someone new.
How do companies benefit from coupons?
Buyers are not the only ones that benefit from getting email coupons. Companies that send them will achieve advantages as well:
Coupons will motivate customers to subscribe to your email list.
Coupons attract a significant amount of traffic to a web location.
Coupons motivate buyers to purchase your business and not your competitors.
Coupons will grow sales through" hard-to-resist" offers.
Coupons increase the sale of other products, mainly if you signify purchase minimum or make two for one action.
Coupons are a great way to empty stocks of products.
Coupons will bring you new customers and build loyal relationships with old ones. Your regular customers will appreciate the benefits you provide
Coupons are highly responsive – more than 70% of Americans will purchase when they receive a coupon.
What you get by using coupons is reciprocity. When it comes to sales and your relationship with customers, reciprocity is fundamental, and with the use of coupons, you and your customers get the same.
Coupons provide the best results when used in email marketing but are equally effective in social media campaigns.
If you're not sure how to incorporate coupon sending into your marketing efforts, a digital branding company can help you develop an overall coupon strategy, aiming at your target audiences and helping to achieve desired results.
There are four main types of email coupons:
Coupons with discount codes - "Source: Spud.ca"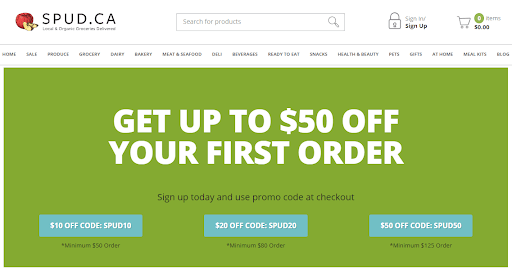 A discount code is the most popular type of coupon. When the customer goes to checkout and enters the discount code into the box, they will reduce their bill.
Enter the coupon code before completing the order. For example, if you send a 20% coupon code, the customer will pay $40 instead of the total price of $50.
Set the minimum purchase value if you're sending coupons with discount codes and want to encourage customers to spend more—for example, a 20% discount on all orders over $100.
Also, there are three types of codes in coupons. Codes in coupons can be public (anyone can see and use them), private (intended for a particular group of people), and restricted (tailored for one specific person that can use it only once, for a limited period).
Buy one, get one for free coupons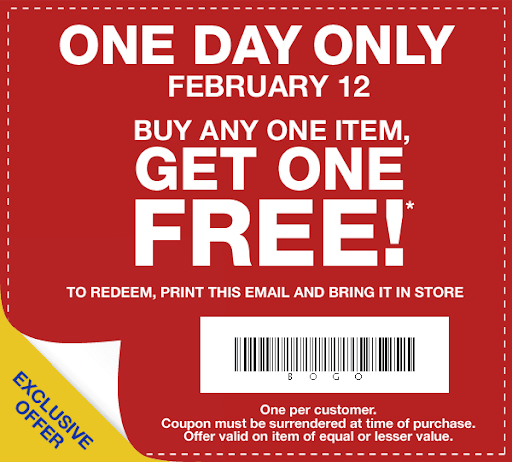 Buy one get one (BOGO) is also a popular email coupon that benefits both customers and companies.
If a customer buys one item, they will get the second one for free. The company can apply BOGO coupon rules for two or more products the customer buys, as long they get one for free.
BOGO coupons are an excellent way for companies to eliminate all the products that have been in stock for a long time, while generating underwhelming sales.
As long as the customers are covering the cost of production, you are at a profit.
Free gift coupons - "Birchbox – Save 20% Off + Get A Free Gift!"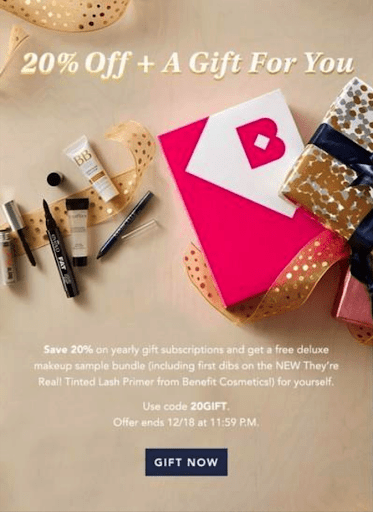 Everyone loves gifts! If you offer an email coupon with a free gift, people will visit your e-commerce store and make a purchase.
If you set a purchase minimum, you'll motivate customers to spend more money to get a free gift.
Also, they'll do you mouth-to-mouth marketing by recommending your store to friends or colleagues. People will talk more about a product they got as a gift than about the one they bought for a total price.
Free shipping coupons - "Source: Shopify"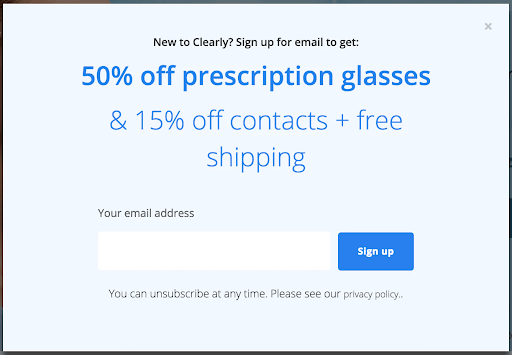 It all began when Amazon offered free shipping to their customers. Nowadays, 60% of customers expect free shipping from retailers.
Research has shown that 79% of online shoppers will make a purchase more likely if there are no shipping costs.
Free shipping improves the online shopping experience and removes extra costs that can be barriers in many cases.
Interesting fact – according to a Forbes survey, 84% of customers purchased because shipping was free, and that's not all. 30% were willing to buy more items to qualify for free shipping. Set the purchase minimum and offer free shipping. It will pay off.
Best practices for making an effective coupon
Regardless of the type of coupon, each of your coupons must contain the following:
Create a clear text message
The overall look of an email coupon should not distract from the main message you send to your customers.
The coupon's text has to be concise and clear to convey the idea best and present the offer. It should not contain too much information about the brand or product. It should be concentrated on the value that the customer will receive.
Use an appealing aesthetic
Using the right combination of colors, fonts, and images, you can create the ideal aesthetic that conveys a clear message. Of course, the text is the most crucial component, but the beautiful look of the coupon will also attract the attention of customers.
Whether the coupon is intended for holiday campaigns or celebrating important dates, ensure that the design suits the theme.
Provide an evident and strong call to action
Effective email coupon campaigns have a solid call to action in their description.
If your goal is to spread brand awareness, you can tell customers to share your profile on social media and that, in return, they will receive a coupon with a particular discount.
If your goal is to increase sales, then the call to action should be formulated more directly and let customers know what they want and what they get.
Put an expiration date on the offer
Each coupon should have a marked date for the end of the promotion because that creates tension and a sense of urgency.
When people are limited in time, they need to react faster, and shopping usually happens.
A/B test your email coupon emails
There is an easy way to evaluate your coupon advertising success: test two coupons within an email and use the one that gets the highest CTR for future campaigns.
Coupons are a great marketing strategy for many brands, as long as you use them meaningfully and in line with the goals you want to achieve.
Email coupons can help you get a lot of new subscribers, encourage the undecided to make a purchase, and motivate inactive customers to retake an interest in your products.
Design your email coupons wisely and send them when your business gets into slow waters. You will see progress shortly after that.
Disclaimer: if you need to create and generate unique coupon codes for your E-commerce shop for each of your customers, you need to do it from your website's backend not VBOUT. What you can do with VBOUT is use coupon's shortcodes to generate a unique ID for each recipient so when each one redeems their coupon after clicking on the coupon code in the email, you can send them an automated email accordingly. But this feature from VBOUT has nothing to do with coupons to get people to benefit from discounts or whatever. If it's not clear, reach out to VBOUT's support team at support@vbout.com so they can explain this further.
Jelena is a content and copywriter and SEO enthusiast who is looking forward to opportunities to expand her knowledge.
Digital Strategy One
Don't forget to share this article