Digital marketing is a fast paced environment with constantly changing technologies and techniques. Developing successful campaigns, measuring success, and engaging customers requires marketers to continually shift strategies and adopt new tactics. To help you plan a successful 2016, we analyze five of the emerging trends and explain some ways to incorporate this in your planning for the year.
First a look at some poll results from marketers: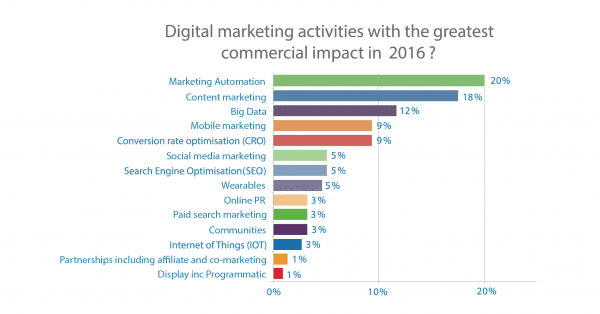 From these results, and other emerging trends we have observed, we chose five to discuss in more depth: marketing automation, big data, mobile marketing, personalization and relationship marketing, and native advertising.

Marketing automation is high on many marketing musts for 2016 because it directly relates to nearly all the other changes happening in the digital marketing space. The landscape is evolving to capture customers across multiple devices with personalized content and better user design at every touch-point. As a result, marketing automation is becoming a necessity to address these demands and provide more detailed analytics around all the activities. The best tools will continue saving marketers time, and will enable them to manage all their data and activities in this changing environment.
There are many marketing automation platforms to choose from and there will certainly be more coming on to the market in 2016. Read up on the most popular features, as well as some of the less popular and emerging features that are being developed. Do predictive analytics matter to you? Try to find the company that is developing these tools
Make a list to determine your "must-haves" and "nice-to-haves" and analyze the available software against these. Read reviews and ask questions. You can find one that will fit your needs and your budget if you know you need. You definitely want to get this decision right because back-tracking and switching to another platform down the road could cost you quite a bit of extra time.
Evaluate customer service
Also, keep in mind that a smaller company may be able to provide you with more personalized customer service than a larger one. This could be more beneficial to you in the long-run, depending on your goals and needs.

The importance of data analysis in marketing is nothing new, however, it is intensifying. New developments in technology are changing the expectations and methods of analysis. Some notable highlights you should evaluate in 2016:
Marketers will increasingly need to show that their activities increase the bottom line. The focus will be on how content marketing powers the sales funnel and leads to greater conversions. With advanced, integrated data analysis between digital and mobile, the customer journey will become clearly defined and understood. To succeed in this environment, marketers need to think like scientists. Develop hypotheses, test them, ask why and make modifications accordingly.
As data analysis matures, the next step beyond understanding and testing, is predicting behavior. Predictive analytics looks at all the data on your customer's behavior until patterns begin to emerge. With these patterns, companies can increasingly predict how customers will behave, resulting in more accurate lead scoring.

Another change that will come with the availability of more detailed analysis is the focus on personalizing the customer journey. Customers have come to expect companies to respond to their interests and needs more accurately. As a result, marketing teams need to ensure every touch-point nurtures them along the sales funnel and then continues afterwards by building long-lasting relationships with them. Some key trends to focus on in 2016:
Sales and Marketing Lines Blur
Nurturing customers will mean content marketing efforts will create conversations that address customer needs, resulting in more sales. This shift will blur the lines between sales and marketing, as marketing also becomes responsible for sales targets and feeding the sales funnel.
This was the buzz word on every marketer's list in 2015, and the focus will only increase in 2016. Companies are learning more interesting and effective ways to tell their stories and the big push is for visual content. This includes video, infographics, slides and images shared on channels like Instagram and Pinterest. Personalized content and connecting with consumers in entertaining or inspirational ways are key parts of developing relationships with them.
Using interactive content, real-time marketing and mobile marketing is another increasing need for 2016. Customers are increasingly mobile, short on time and swimming in a sea of content and choices. Brands that reach customers across multiple devices with personalized content at the right moment, will become the most relevant. The key is to develop a customer journey that listens to what they want, captures them when the need may arise, and responds accordingly.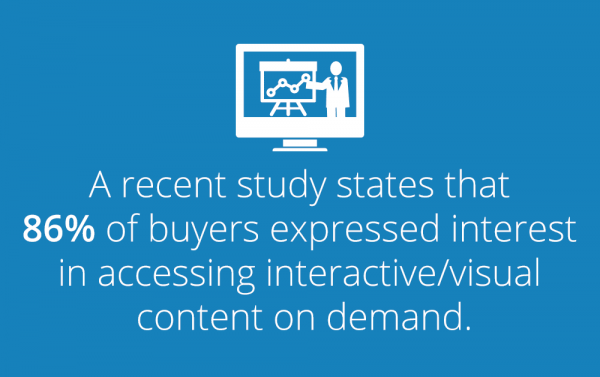 There are two main reasons for the growth of native advertising: 1) higher performance on mobile and 2) ad blocking. Google, Apple and others are planning to block ads with greater intensity and traditional online marketing needs to adjust. Native ads can also be blocked, but are generally better received as they are less disruptive and fit into what people are already reading and following. Key trends to focus on in this space for 2016:
As spend on native advertising grows, social media is getting the largest share for good reason. Studies have shown images and video create greater engagement with users than text. Sponsored videos on YouTube or content on Instagram and Pinterest have been some of the most successful ways companies are using native advertising.
Native ads perform better than traditional display. This is particularly true on mobile. Desktop native click-through rates (CTRs) averaged a respectable 0.15%, while native-mobile ads had CTRs over 1%, according to recent data from Polar Media Group and Celtra, respectively.
Native advertising has come under fire for misleading consumers who are unaware that the content was sponsored by a company. In fact, the FTC just released new rules for native ads in December that everyone should review. Some predict that cases against native ads will start appearing in 2016, so it's important to know the rules and ensure ads are transparent.
The importance of mobile is not new, however, in 2016 it will completely dominate. Google even announced in 2015 that it would phase out non-mobile friendly pages in its search algorithm. Google has also offered app indexing for a while, but in 2016 even more companies will develop apps to replace mobile sites all together. Apps outperform mobile sites and developing them has become easier and cheaper than ever before.
Google recommends tackling the increasing mobile activity of users with responsive design. This ensures that as new devices come on the market or become popular your website will adjust accordingly.
As customers are increasingly mobile, technology that gives marketers the power to reach them by location is getting more sophisticated and useful. This is not only limited to offers that may appear when an individual is near a particular business. This type of marketing is also used really effectively for increasing engagement with attendees for events.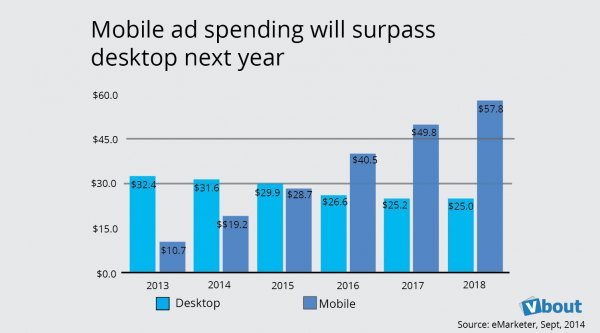 What do you think are the most important trends in digital marketing for 2016? Send us a note, we'd love to hear your opinion. In our next post we'll discuss some of the best tools available on the market to help you incorporate these new trends into your marketing activities.
Don't forget to share this article