The Customer Journey have become major buzz words in marketing today. According to a report from Forrester, 63% of marketers currently use some sort of journey mapping, and this trend is expected to continue. Due to growing demand, there are many marketing technology tools that can help you create customer journey maps. Before you begin researching which tools are right for you, it is important to understand their purpose and why many marketers now consider customer journey maps an essential part of campaign strategy.
Previously, the focus for marketing and sales was mainly on the sales funnel. Many marketers created multiple sales funnels to address the needs and wants of their different buyer personas. These were generally visualized by a simple graphic like this: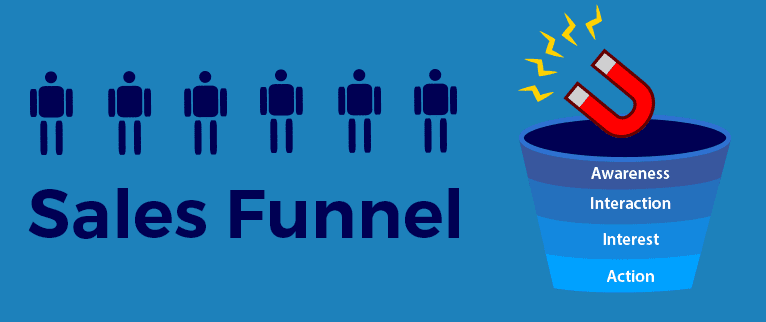 In the traditional model, marketing was responsible for filling the top of the funnel, and sales was responsible for nurturing leads through to conversion. This model is still in use, however, customer behavior has changed. This made the sales funnel an imperfect way to visualize how individuals make buying decisions now. The shift is a result of how much online research leads prefer to do before ever speaking to a company. The clear-cut funnel now relies on both marketing and sales to guide customers through the entire sales funnel. Marketers increasingly use data from touch points to understand which content is successfully engaging leads in 2-way conversations. Sales works in conjunction with marketing, to ensure that qualified leads get personalized nurturing when necessary.
In this new environment, the idea of the automation has been developed to address the "story" told by marketers behind a brand or a product. Stories are told through multiple touch points that leads will have with your company before converting into a customer. The story unfolds, and technology tools work to gather data that can be visualized into automation workflows. These touch points can be any number of items, such as the way an individual interacts with your website, your social media profiles and any other online collateral created by your company.
This data on customer behavior helps businesses make value-driven decisions about their marketing and sales tactics. Automation workflows also indicate where different buyer personas, or segments of your targets, could be better served. To put it in a simplified way, the automation workflow improved a major weakness of the sales funnel: it makes marketers think about the entire purchasing process from the buyer's perspective. Better prospecting and personalization have resulted from companies who shift to this model. Naturally, automation workflows also do not end with a purchase. They can be designed to continue nurturing customers after a purchase, which will help to create brand loyalists and evangelists.
Another added advantage with automation workflows, versus a simple sales funnel, is that they can also visualize the different journeys leads will take. This sounds complicated, but with the right tools in place, it can simply be an additional part of data collection and analysis in your marketing toolkit. Knowing the different journeys taken by leads has incredible benefits for your marketing and sales team. By analyzing all these different journeys over time, patterns will begin to emerge. These patterns will allow you to eventually predict customer behavior, shift the stories told with your content, and improve the customer experience for higher conversion rates. There is no guess work, and no assumptions are being made as was the case with the sales funnel.
Here at VBOUT, when we created our automation builder tool, we held an internal contest to see which member of our team could come up with the most creative workflow.
To better understand automation workflows, here are two examples created by our team for hypothetical companies and automations: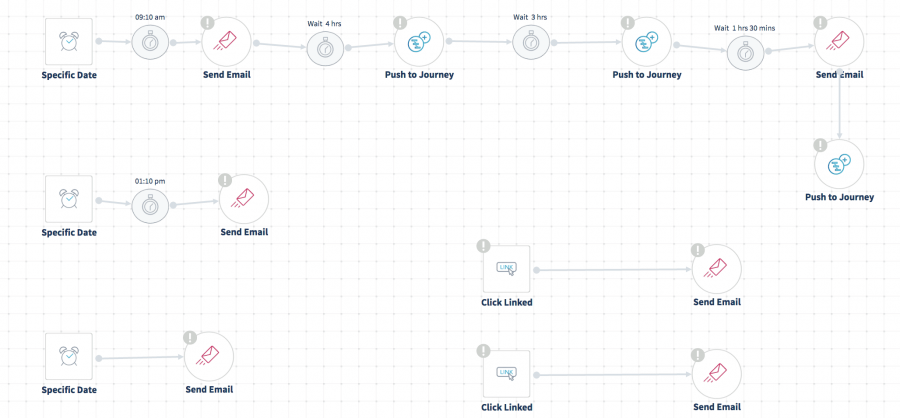 This automation is designed to email daily task reminders to employees. It starts with a greeting email and a link to an on-going scrum sprint in JIRA (our project management tool). Right before lunch time it then sends a "bon appetit" email including a recommended meal for the day at nearby restaurants. This is pushed to another automation that sends the notices, and in a real-world example, this could be an external app that is linked to your automation workflow. It also sends a reminder email for activities which include materials and links for the suggested activity. This is another automation as well that is linked to the main one. At the end of the day, one final external automation linked to the main one, sends an email requesting that the individual record their productivity by clicking some links provided. This process is automated and it repeats every day except on holidays.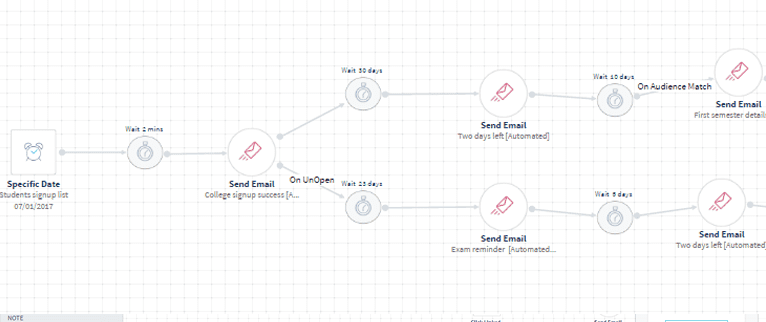 This is an automation created for students who are applying to universities. As with any automation, the beginning must be set off with a particular "trigger" that causes the rest of the activities to start. In this case, the trigger is a specific date for their entrance exam. When they signup, they will receive an email asking for the details and the date of the exam. The following actions are then triggered by dates around this event, and the automation can go one of two ways depending on what action the individual takes. For instance, the next action is triggered based on two actions taken by the student: 1. Those who open and read the first email 2. Those who don't open and read the first email.
For category #1, those who opened the first email, a second email is sent two days prior to the exam.
For category #2, those who did not open or read the email, the same email sequence is triggered but the difference is that an email is sent one week before the exam to inform applicants that the exam will be in one week.
After the event, in this case the exam, the automation continues. A third email is sent few days after the exam to the applicants who passed. This email will show them the details about when the first semester starts, their courses chosen, teachers for each course and the credits.
A fourth email is sent 3 months later to the first two students who got the highest grades congratulating them and offering 20% off their tuition fees for the second semester.
Finally, students will be pushed to another automation, which is going to be the second semester and where another email sequence is created for a different student automation workflow.
How should you get started mapping out your automations?
Based on the points above, there are a few simple steps to start formulating your automation workflows:
Build your workflows from your customers' point of view.
Ask about their motivations: Why does a customer need your service or product? What will motivate them to engage with your content and brand?
Capture customers' perceptions of your brand or product relative to their goals, needs and expectations.
Think about their goals and expectations: What will encourage your customers to seek more information? What additional help or information will they need to move through each one of the stages?
Visualize the customers' current and future automation across many touch points, instead of focusing on a single touch point.
Ask questions about different possible scenarios, including obstacles: Where do customers drop off? Do they have questions that are not clearly answered or found in our content? Could these obstacles cause them to look for a different product? Try proactively addressing each of these potential challenges for your leads. Some examples can be the cost, complicated product, return policy, etc. Think of anything that could cause a customer to hesitate and address these in the automation.
Develop your KPIs (key performance indicators) based on your goals and what you would like to understand from your automations.
Questions to ask: Which are the most frequented touch points? Which are usually the first and last touch points for those who convert to customers? Where do leads drop off, and in what order do customers generally travel on the journey?
Visualize the automation to increase understanding across your entire company, from sales and marketing, to key decision makers. Increased understanding, engagement, and value-driven decisions will come from your workflows as you collect and analyze more data.
After answering all of the questions above, you will be ready to map out some automations. These will help you and your teams understand the customer experience on a deeper level, thereby empowering you to optimize the automation and provide your customers with improved service.
Don't forget to share this article