Browse Abandonment is the action when users view a specific item or category of products on a particular website page and leave without adding items to their shopping carts. This can be for several reasons including not finding the right product, pricing, or they are not ready to buy.
According to Cision, 92% of people who visit your website for the first time aren't there to purchase. Therefore, browse abandonment messages play a critical role to convert prospects into leads.
To entice prospects to come back and purchase, an effective solution is to deliver retargeting and customized messages by:
Showing products based on their general search of the website.
Showing specific products they initially viewed.
Showing specific items they viewed as well as similar or complementary products they might be interested in.
To identify which visitors are suitable to trigger browse abandonment messages to, there are major factors that should be taken into consideration. Determining these helps ecommerce businesses avoid wasting time on visitors who are not interested in their products or landed on their websites by mistake, spent a few seconds and left.
Below are the major considerations:
One of the major factors to identify qualified prospects is to find out how long they spend searching on a particular page. The longer they stay, the more interested they are in your products and the greater their purchase intent is. For instance, you might choose to trigger a message to visitors who spend more than one minute viewing a specific category of items. However, be aware that some viewers are not interested but leave tabs open on their browsers so it becomes more difficult to determine if time spent on page is the only factor to rely on. Hence, it might be more accurate to use this with another condition to determine your customers engagement.
In addition to the duration of time visitors might spend on a particular page, you can also trigger a browse abandonment message based on the products that they last viewed.
Number of times a specific page is visited
Another criteria you can think of is determining how many times users are visiting a particular page. If they visit the same page more than once, it means they are willing to do an action on that page but hesitant for some reason.
As browse abandonment can occur at various stages of the buyer's journey, you should segment your visitors into different lists based on their behaviors so it becomes easier for you to send them more relevant and customized messages. For instance, visitors who spent time generally viewing your homepage should be sent a different message from those searching for a particular product on a specific page.
Here is how browse abandoners should be categorized:
For visitors who spent a few minutes on your homepage and left immediately, you could send a Homepage Browse Campaign. The idea is to thank these visitors for stopping by and recommend some best sellers in the process.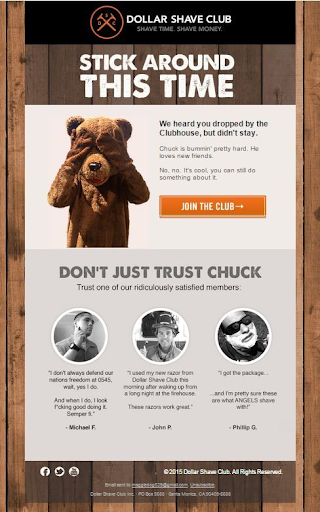 For visitors who spent some time checking a category page, but never viewed any specific products, you could send them a Category Browse Campaign. This email would reveal various products within that category.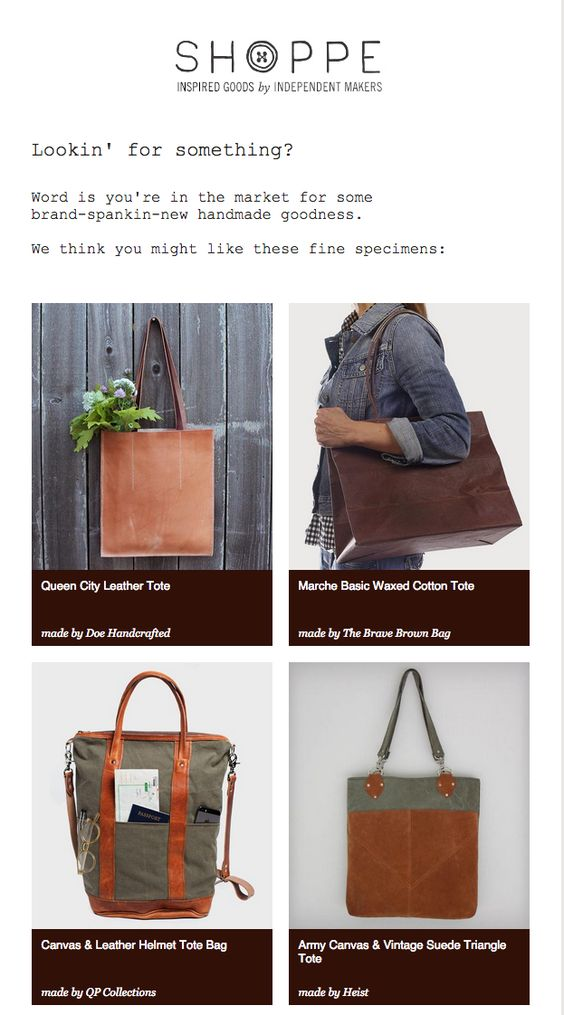 For visitors who searched for particular items but left without adding them to their shopping carts, you can retarget them with a Product Browse Campaign.Below is an example of an email that promotes a single product:
To create a browse abandonment automation, it's critical to determine the appropriate time delay between the triggers and actions. It's a good practice to send the first message a few minutes after abandoning the page to maximize the chance for conversions.
Taking the example of those who were previously checking a specific item but left without adding items to their carts; the first message reminds them of the items they were previously searching.
If they complete their purchase, you will send them an order confirmation email and remove them from this automation.
If not, you will send them another email 24 hours later, reminding them about the initial product as well as other related products to entice them more to purchase.

Creating an automation for browse abandonment
Creating an automation workflow of 2 emails helps convert prospects who miss the first email, without bothering them with excessive messages.
Aside from triggering browse abandonment emails to customers upon leaving a particular page, you can also choose to add them to a Facebook or Google retargeting audience. This allows you to retarget them with the same email content and segmentation as above but in an ad form on Facebook. If they complete your order, you can remove them from the audience so they no longer see the same ad in the future.
Here's an example of what a browse abandonment automation might look like: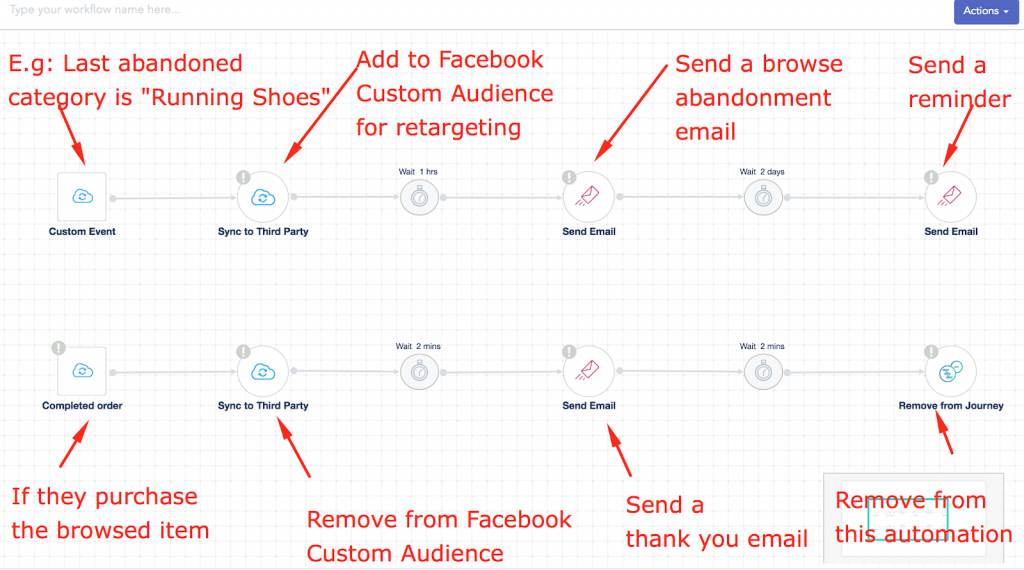 To avoid any interference between this automation and other ones, we recommend that you revisit all the existing automations and workflows in place. Select only a handful for users to sit in to avoid them being bombarded with excessive messages.
Browse abandonment is a major part of the customer marketing lifecycle. Marketers take advantage of it to convert prospects into customers.
Effective browse abandonment campaigns can convert users curiosity into an intent to buy and drive more purchases and revenue.
Don't forget to share this article