You must have heard the saying that goes, "work smart, not hard."
This saying perfectly represents what VBOUT, a marketing automation software, is all about. Before delving into the details of how their services benefited an animated explainer video company, let's answer a couple of questions.
What is automation software?
An automation software is a type of program that reduces the need for human intervention and can be employed in practically any sector. An automation software is intended to convert repetitive, routine processes into automated actions.
An automation software is more than simply a collection of "automation tools" for speeding up your company operations. Automation has multiple apparent and tangible benefits, whether you use simple automation, complex automation, or anything in between.
What is an animated explainer video company?
An animated explainer video company is, as the name implies, a company that produces animated explainer videos. We are an animated explainer video company based in Canada with over 10 years of experience in animated video production.
To best explain what an animated explainer video company is, we will give a few examples of the services that we provide. As a B2B explainer video company, we offer different types and styles of videos ranging from explainer videos and corporate videos to whiteboard animation videos and infographic videos.
What makes us stand out is our close relationship with Inbound Marketing — our animated explainer video company also creates videos for the different stages of the Inbound Marketing funnel (attract, engage, close, and delight).
VBOUT is a marketing automation software that can be used by any company across all industries. The marketing automation platform features robust email marketing services, a landing page builder, and social media features, as well as lead management, workflow automation builder, and analytics tools.
Convert your prospects into buyers by nurturing them with automatic, customized content. VBOUT's services will increase the efficiency and effectiveness of your marketing initiatives, all from a single, cleverly-designed dashboard.
They also function as a pipeline manager, assisting you in connecting with your team and managing all of your duties in the manner you like, as well as customizing your own plan by selecting your preferred add-on features.
But that's not all. Using our marketing automation software also allows you to:
Build campaigns
With VBOUT's simple drag-and-drop editor, you can create dynamic email templates with complete creative control.
Create funnels
Begin developing your funnels by creating responsive landing pages using VBOUT's simple drag-and-drop builder.
Automate follow-through
There is no need to recruit a coder. Using VBOUT's drag-and-drop visual workflow editor, you can quickly develop sophisticated workflows that automate repetitive marketing processes.
Track and share reports
Keep track of your actions across many tools and channels. Examine the success of your website, social media accounts, email marketing campaigns, automations, landing pages, and leads. You have the option to integrate tools like Insightly to get a full picture of your KPIs and outcomes.
This being said, how did we, an animated explainer video company, use VBOUT?
Steps to follow to launch a lead-generation campaign:
1. Determine your target audience
The first thing a company must do when launching any campaign is to understand which audience segment to target. Lead generation is useless if it doesn't produce clients who are a good fit for your company.
You must first conduct some research to determine your targets in order to ensure that you generate qualified leads. The messaging, traffic sources, and other aspects of your lead generation marketing campaign will thus be adjusted to best serve your target audience's preferences once you've learnt as much as you can about them.
To do this, we first looked at their existing clients and uncovered traits they share, and then referred to our buyer personas to get a refresher about what our target audience's backgrounds, goals, needs, and pain points are.
If you haven't yet developed your personas, we highly recommend using VBOUT's buyer persona creator – they're vital components of all successful marketing strategies.
Building lists is an important first step. Click the Contacts option on the left sidebar, choose the Lists tab on top, and then click the Create List button to get started.
Following the list's creation, our explainer video company modified the list's settings using the drop-down menu in Form Settings. The email that contacts would get when they subscribe to the new list was then updated. This includes the email's text, subject line, and sender name and email. Additionally, we changed the Success/Failure message that leads will receive after inputting their information in the landing page's form.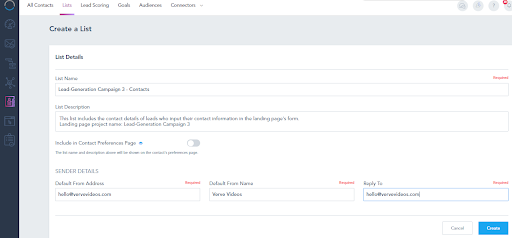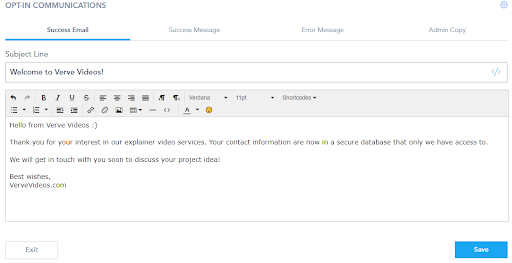 After determining your target audience, you must write the email they will receive once they write down their contact information (full name, email address, phone number, etc.) in the form you will later include on your landing page.
VBOUT saw to it that free email templates were there for you to use in your VBOUT dashboard.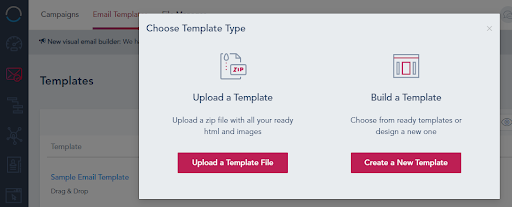 After selecting "create a new template," you will get a popup from which you will be able to name your template and manipulate the style to match your brand identity, as the animated explainer video production company did in the example below.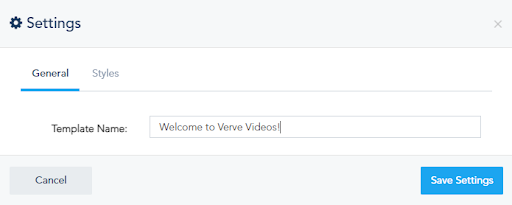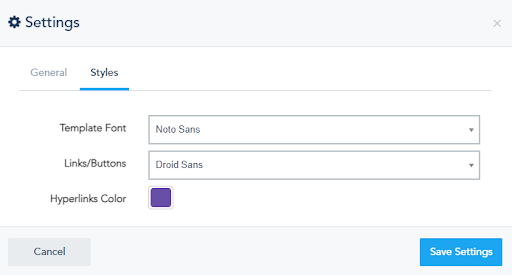 After saving your settings, you can choose to use one of VBOUT's ready-to-use templates for free. We decided to go with an "about us" email template which they easily edited to match their brand identity and email goal.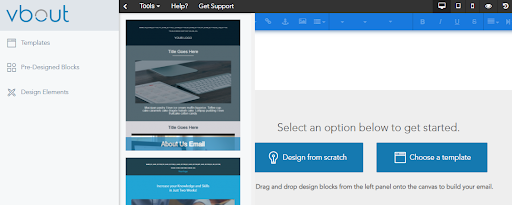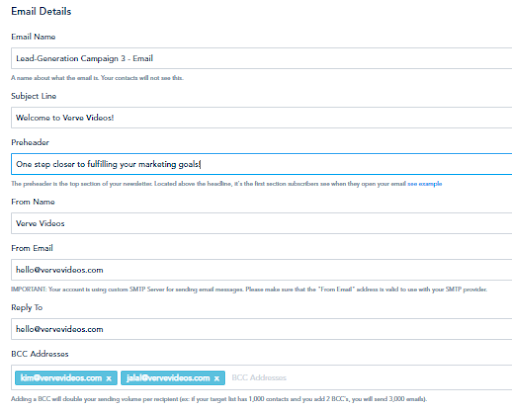 For your lead-generation campaign to be effective, you need to have a specific page for prospects to land on. A landing page is a predefined page from your website that you redirect people to from a search engine. There are several types of landing pages for different needs. The following are 3 of many landing page examples you will be able to create with VBOUT:
Click-Through Landing Page
The goal of click-through landing pages is to persuade audiences to move onto a different page where the conversion will actually occur. The click-through landing page's purpose is thus to gain the trust of your prospects, warm them up, and then send qualified traffic deeper into your marketing and sales funnels.
Lead-Capture Landing Page
A lead-capture landing page is a page that has been explicitly created with the express intent of collecting lead information, such as names, emails, and other relevant contact information. You can utilize this data, which is gathered through a lead-capture tool, to assist in developing a relationship with your leads and help you grow your contact lists.
Product and/or Service Landing Page
A product or service landing page is used to market and sell products or services. Consumers may arrive to these pages after clicking on an email link, an ad, or a redirect from the search engines. To put it differently, a product or service landing page is a page designed particularly to persuade a visitor to take advantage of an offer linked to a product (convert a lead to a paying customer).
To build a lead-capture or lead-generation landing page, our explainer video company first created a new page and filled out the important information (icon, page name [private], page title [SEO; public], and meta description [SEO; public].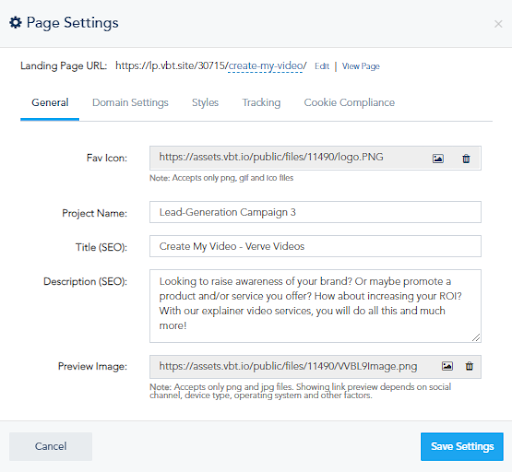 After editing the style (3rd button on top) based on Verve Videos' brand guidelines, the basic page settings were completed. We then took a few minutes to browse through VBOUT's ready-to-use landing page templates, chose one, and started editing it directly from the automation software's platform dashboard!
Curious to see what the lead-generation landing page looks like? Here's a sneak peek!
When you initially save the page after adding a Form Block, the system will automatically construct a new list and link it to this form. By first selecting Block Settings, you can attach the list you had previously created to to the Form. To do this, simply select the Use an Existing Email List option from the Form Settings tab. Next, choose your list from the drop-down menu.
5. Create automation flow
The next thing our animated explainer video production company did is create the automation logic from the dashboard. It sounds more complicated than it actually is – here are a few free email automation workflow templates to get you started!
After going to the Automation section in the dashboard and going to automation templates, the video production company selected the one designed for lead gathering and nurturing (Lead Magnet and Nurture Sequence) from VBOUT's section dedicated to marketing tactics, as seen below.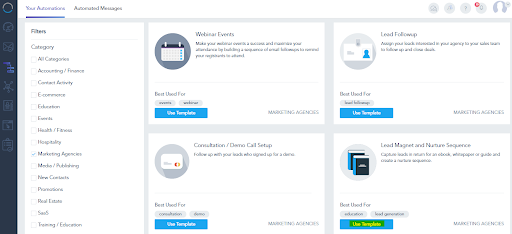 After clicking on use template, you will get redirected to a ready-to-use, modifiable sheet where you will be able to set up the configurations needed for the automation logic to flow. Here's how the template looked like before configuration:

6. Configure automation items
Here's how it's done:
Double click on the first box (joined) and edit the trigger configuration – trigger criteria and trigger segment.

Double click on the send email action to configure it and simply follow the steps! You will first be asked to set up the email – here, you select the email you had previously created from the drop-down menu.

Follow the same steps for as many actions you choose to include in your automation sequence. Here's what the sequence looked like once we successfully modified the items and configured all the actions:

What does this email marketing automation sequence mean?
When leads write their contact information in the form and submit it, the automation system reads the action as "joined" and they receive the "Welcome to Verve Videos" email.
If, after 1 day from submitting the form, the leads open the first email they received, they will get a followup email that contains a calendar from which they can choose a date and time to meet, and the Verve Videos team gets notified.
If, after 3 days from sending the initial email, the lead did not open it, they receive a second email similar to the first one. If these same leads still did not open the second email after 2 days from its sending date, they get automatically removed from our video production company's contact list (and thus future automations).
After saving all the changes, you can now publish your landing page! However, it's important to keep in mind that your target audience won't be able to see it before you start and launch your campaign, which is the next step.
8. Start and launch campaign
After all the aforementioned steps are complete, we created the lead-generation campaign. We used Google Ads for this campaign, and we were able to link the landing page we developed on VBOUT with ease.
Here's what the previous steps (including launching the campaign) translated to:
Google Ad with a clickable link.
Landing page featuring a fillable form at the top right, a hook on the top left, notable clients that the explainer video company worked with under them, followed by a handful of client testimonials, a small portfolio, an "about us" section, and another fillable form at the bottom.

As soon as someone inputs their contact information in either of the 2 forms on the landing page, they get automatically added to the company's contact list and receive an automated email (and follow-up emails, as discussed above).
Lead-Generation Campaign Results
Verve Videos ran the campaign for 1 month, and they were pleasantly surprised by the results, to say the least:
| | | | |
| --- | --- | --- | --- |
| | Previous campaign (without VBOUT) | This campaign (with VBOUT) | Improvement |
| New contacts | 103 | 246 | 138.8% |
| Email engagement rate | 7% | 16% | 128.5% |
| Conversion rate | 1% | 3% | 66.7% |
Final Thoughts
VBOUT's automation services have been extremely beneficial to our marketing efforts. Not only does VBOUT complement our campaign initiatives, but it also facilitates our social media posting. With VBOUT's dashboard calendar, we schedule our social media posts in a few simple steps, week by week, and they get automatically posted on the platforms, dates, and times we choose.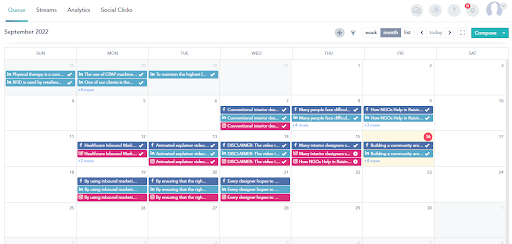 The templates that VBOUT offers are really detailed and easy to use, and their customer service is, hands down, impeccable. We reached out to VBOUT multiple times, sometimes for relatively silly questions, but they never showed an ounce of annoyance.
About the author
Hello! My name is Kim and I'm VerveVideos.com's Inbound Marketing Manager. I'm someone with an unquenchable thirst for knowledge – English literature. Astronomy. Psychology. Biology. Mythology and folklore. I'm surprised my brain had the capacity to learn Marketing.
Don't forget to share this article