It's no doubt that every ecommerce business has a lot of data to manage and organize: customer's last purchase date, number of abandoned shopping carts, customers who have not engaged with your brand for more than 3 months, highly engaged contacts and the list goes on…
It's almost impossible to communicate with all of these customer groups manually. This is why marketing automation has become a necessity for marketers; to make it easier to engage with customers every step of the way.
Automation delivers numerous benefits to ecommerce businesses including nurturing leads, boosting engagement, enhancing conversion rates and winning back lost visitors all with quick, easy process adoption and affordable price plans.
This can be easily done by creating relevant workflow automations that send targeted emails, SMS or browser push notifications based on specific triggers such as abandoned cart, completed order, ordered product/category, shipping country, promo code, etc…)
To help you create different automations suitable for every stage of the customer journey, we need to map the customer journey stages and list out the types of automations required to engage with your leads, move them through the funnel and convert them into loyal customers.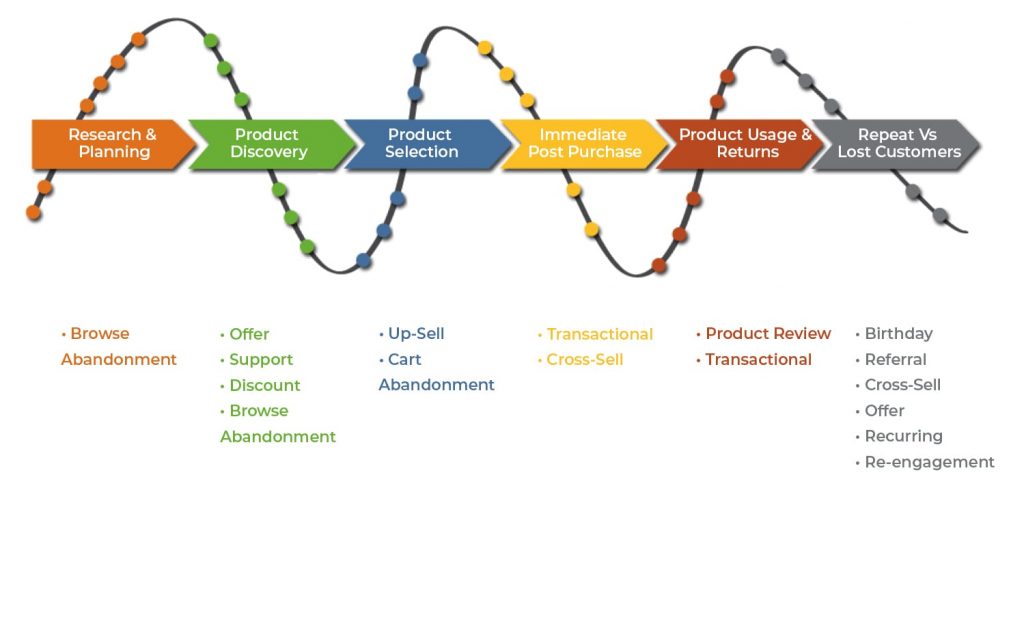 10 automated workflows for ecommerce to effectively engage with your customers
Browse Abandonment campaign should be created in the research and planning as well as the product discovery stage in order to move prospects throughout the funnel by getting them back to the site and encouraging them to purchase.
Here's an example: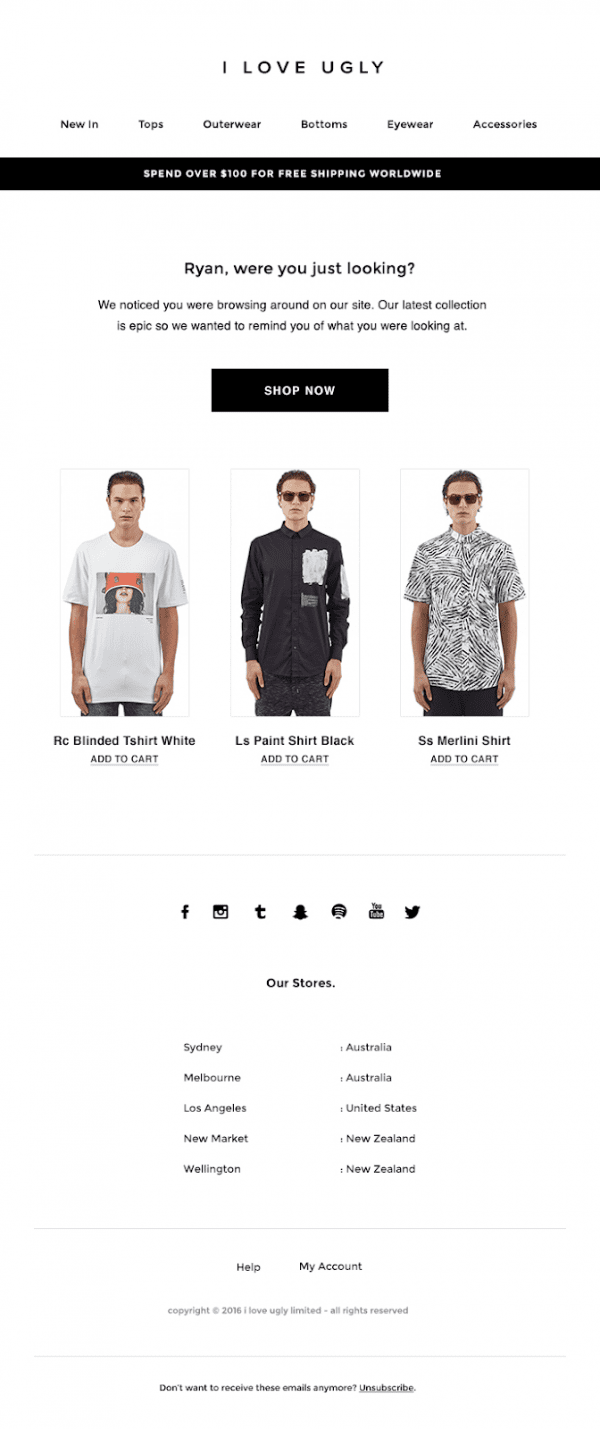 This automation is triggered after prospects browse a specific category of products or services and leave your website without adding anything to their carts. Prospects are then retargeted via an automated message displaying what they previously intended to purchase or suggesting similar products.
In order to create an automation for this customer journey stage, it is critical to take into consideration the following factors, as you do not want to waste time targeting visitors who are never interested in buying from you:
Frequency
In order to achieve frequency, you need to target prospects who viewed a product or a specific category of items more than 3 times.
Time spent on page
It is important to consider the time spent on your page. For example, a prospect staying more than 5 minutes searching for your products might be more interested than someone staying only a minute or less.
Last viewed item
The last item that your browse abandoners may have viewed is another factor that should be taken into account. You can choose to retarget visitors based on the last abandoned product.
After selecting the appropriate trigger based on the aforementioned, you can send an automated message a few minutes/ hours from browsing upon exiting.
Upon sending said message, you may grant the receiver three days to respond to the same. If they do, you can send them a thank you email, confirming their action.
You can also choose to add someone to a Facebook or Google retargeting audience if you want to retarget browse abandoners with Facebook or Google ads.
Here's an example of what a browse abandonment automation might look like:

The word "abandonment" is a common term used in the ecommerce industry to identify a visitor who quits a web page before completing an action.
According to Shopify, out of every 100 prospects visiting your website, 67 of them abandon the same without making any purchase. The reasons can be many, such as slow website speed, a sudden crash, or simply put your prospects are not ready to buy yet.
However, this leaves a great opportunity for you to seek effective ways to regain these lost visitors. A good practice would be sending your visitors and your customers automated messages reminding them to go back to their shopping carts and complete their purchases.
Although it is nearly impossible to regain all of them, it does allow you to minimize your abandonment rate to a large extent.
Here's how a cart abandonment email may look like: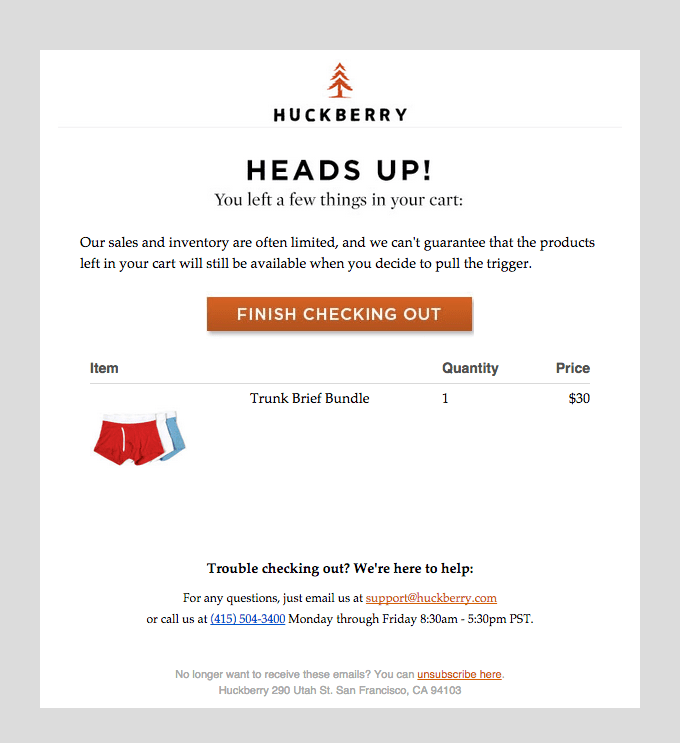 You can use sms or browser push notifications as alternative or additional ways to retarget your abandoned visitors.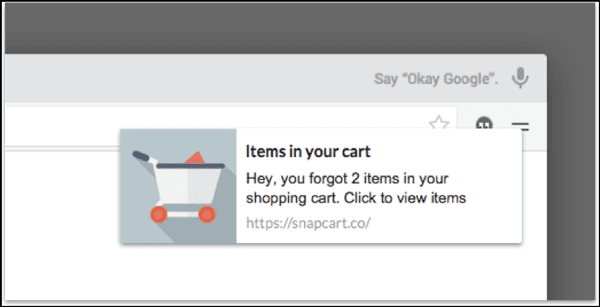 To create a workflow automation for this customer journey stage, you can trigger a series of emails.
By sending multiple cart abandonment emails you may increase your chances of ensuring more sales. According to Experian, customers who receive several emails are 2.4 times more likely to complete a transaction than those who receive only one email.
However, you should be careful not to bother your leads with excessive messages.
If later on they made a purchase, the flow will automatically send them a thank you or confirmation email.
If not, other reminder emails will be sent their way.
You can add your leads to your Facebook or Google Custom Audience created specifically for Cart Abandoners to retarget them with ads enticing them to go back to complete their purchase order.

Upon completion of their purchases, whether it be after browse or cart abandonment reminders, emails or any other tool used to push them back to buy what they were initially looking at, an email must be sent to your ecommerce customers in which you thank them for making the aforementioned purchase.
The second step would be removing your customers from the retargeting lists that you have on Facebook and/or Google as well as the cart abandonment automation so they no longer see the ad abandonment messages, emails and follow ups reminding them to buy on these channels.

Upselling is the process of selling a more expensive or upgraded version of a product/service to customers for the purpose of making a more profitable sale, such strategy plays a critical role in building a successful and ongoing relationship with them.
Upsell emails are mainly triggered when shoppers leave items in their carts without purchasing them. Such emails include cart or browse abandonment alerts with suggestions of other upgraded products.
Here's an example: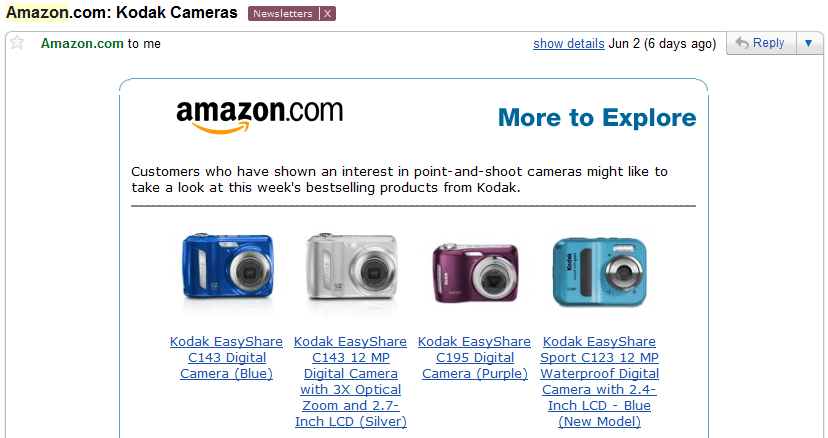 Another effective strategy to communicate with visitors is browser push notifications, especially when you do not have their email addresses. For instance, you can trigger a browser push notification that shows up 2 hours after adding the main product to a shopping cart and leaving without completing their purchase. You can also use a mix of emails and browser push messages in your workflow automation.
Here's how a product upsell workflow automation looks like: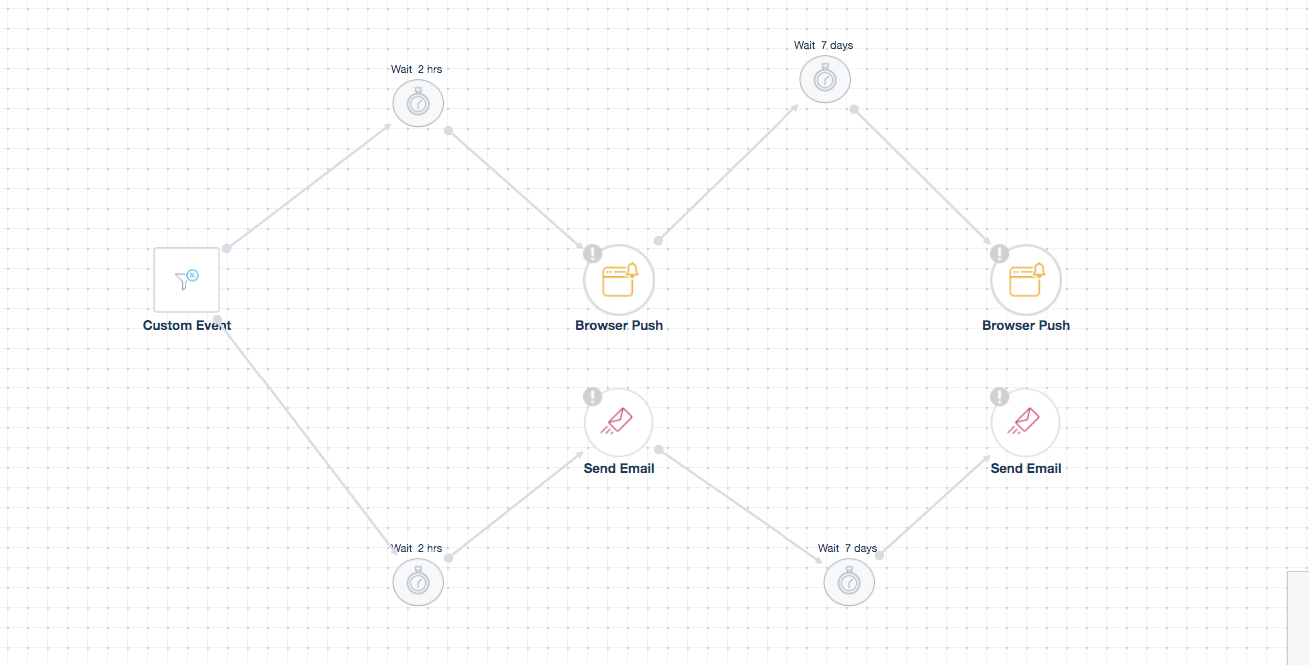 Cross-selling is the process of selling products that are related or complementary to the major items that customers choose. For instance, when customers buy cell phones online, triggered messages are sent advising them to purchase a screen protector. The purpose of cross-selling is to sell customers an added benefit while increasing sales.
According to Forrester, cross-selling contributes to 10-30% of ecommerce revenues. A cross-sell automation is usually triggered upon a customer's purchase completion. You might send your customers a day after purchase, an email, thanking them for buying from you as well as suggesting complementary products they might be interested in.
Here's an example of a cross-sell email: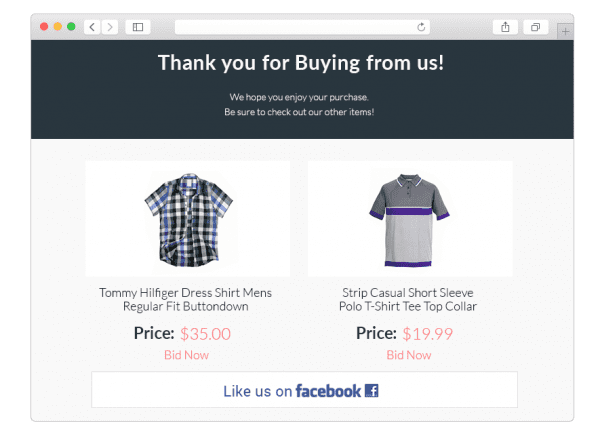 When creating a workflow automation, it is advisable to create a series of emails after your customers purchase from you. For instance, if they buy t-shirts, send them future emails based on other clothing that might complement their initial order such as pants or jackets.
You can add more emails to your automation depending on what you want your customers to do. For example, if they purchase related products, you can send them a product review email 3-4 days after their second purchase.
If not, the flow will send them a follow up email two days after the first email reminding them about your cross-selling items.
This helps improve your engagement rate and convert them into loyal customers.
This is what a cross-sell automation might look like: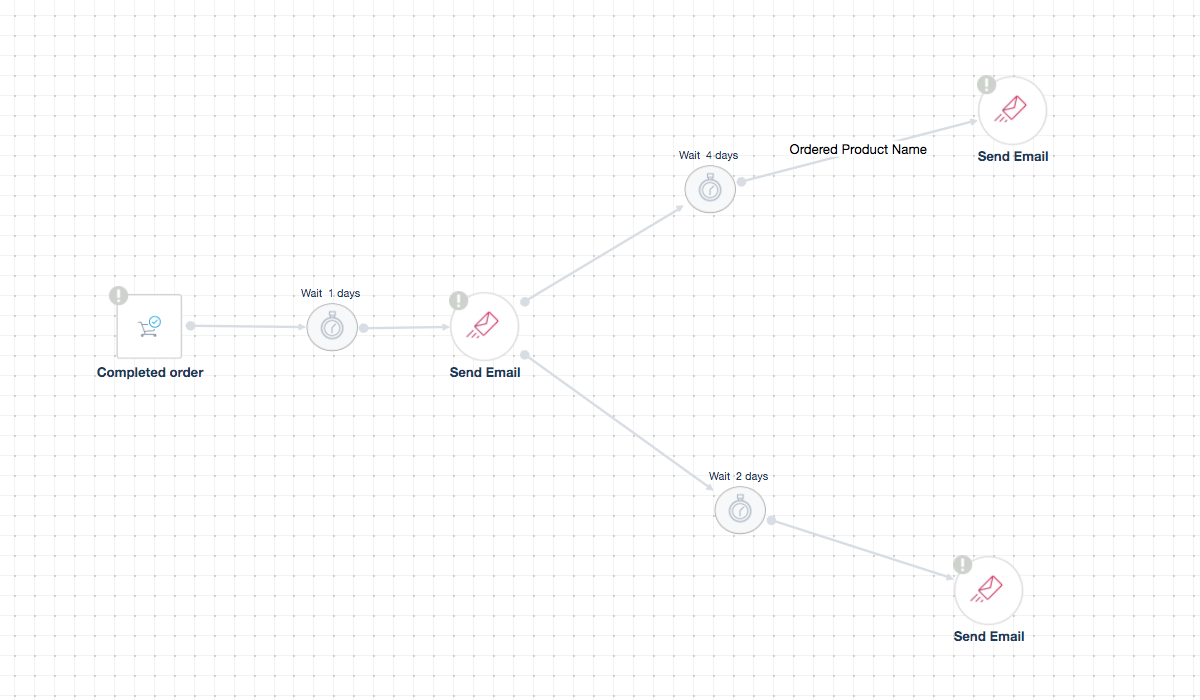 6. Product Offer Campaign
Offer messages are those that are triggered on a daily, weekly, monthly or yearly basis for the purpose of promoting certain products. Examples of offers are those sent at the end of each season, during holidays, occasions, etc…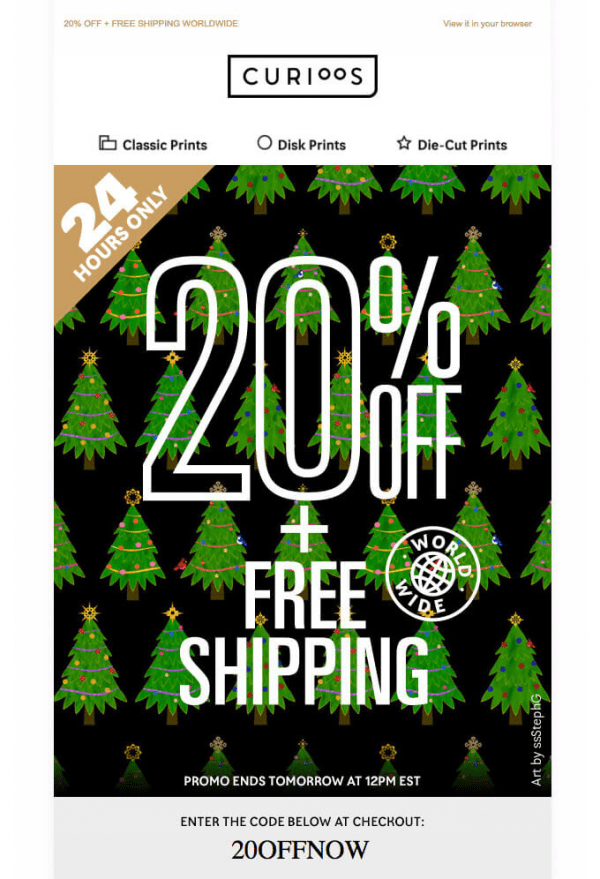 Ecommerce companies use offers to encourage prospects to buy, retain existing customers and boost their sales. It is critical to take into consideration the two following factors when building the workflow automation for this campaign:
Timing
As offer campaigns can vary by holidays, seasonal, monthly or weekly, identifying the appropriate time to trigger promotional messages is critical to maximize conversions.
For instance, customers should be informed about a special offer for Christmas at the beginning of December or at least a few weeks before the holidays.
Segmentation
Segmenting your customers according to specific criteria such as geographic, demographic, interest or behavior depends on the occasion. For example, if you want to blast a campaign for Thanksgiving, you should take into consideration to target U.S. customers only.
Another factor is promoting offers to customers based on their behaviors such as those who are price conscious or have not engaged with your product for a certain period of time.
To create a workflow automation, you need to choose "Specific Date" as a trigger and send your offer emails according to the chosen date.
In order to find out whether or not they respond to your offer, you can create a coupon or promo code. Then, you set a five-day time delay before sending the next email; you also have to specify a condition that if "Promo Code is Not Redeemed", send another email reminder.
Here's what a product offer workflow automation might look like:

7. Product Review Request
Getting your customers to review your product is a powerful strategy that should never be ignored.
What people say about your business is incredibly important, so use this opportunity to establish a strong reputation for your brand. Customer reviews are powerful pieces of social proof that convince your prospects to buy and view you as someone they can trust. They also minimize doubts. According to a study, 70% of leads consult reviews or ratings before making a final purchase.
Here's an example of a product review email: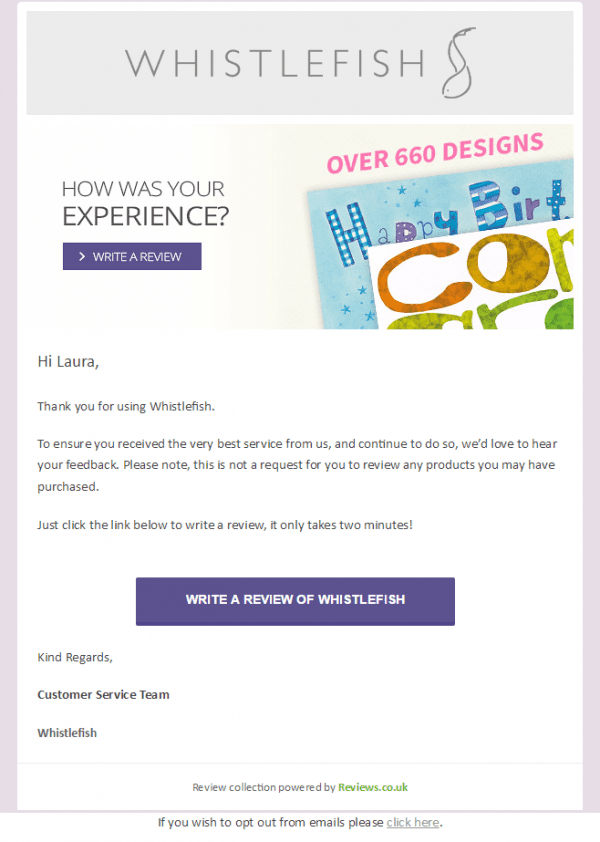 To create a workflow automation for your product review campaign, you should first identify the right time delay between the trigger "An Order Completed" and action "Product Review Message" which varies according to the product type.
For example, if you have an online store for soft goods such as clothing, shoes, makeup or jewelry, you should give the customer a period of 7 – 14 days to experience the product before asking for a review. On the other hand, if you're selling hard goods such as furniture, home wares, or sporting equipment, give them at least 3 weeks to ask to write a review.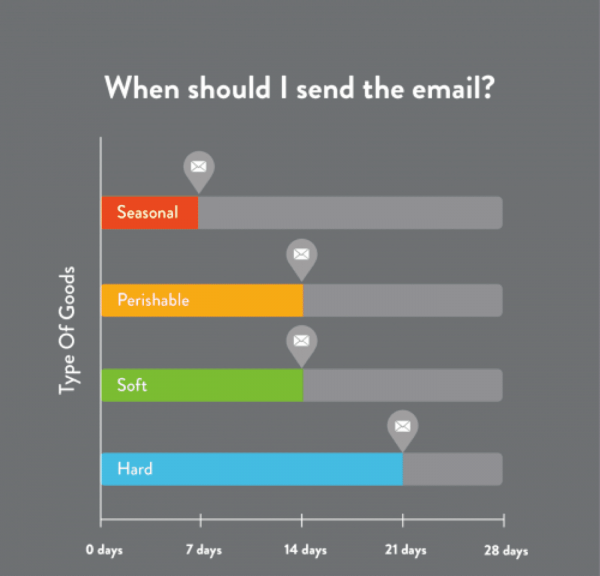 Depending on the outcome of the product review email you will follow one of these steps:
If they leave a review, the flow will send them an email thanking them for submitting the review. If the review is negative, you should send them a personalized email later on, in which you offer them a solution that would make up for their bad experience; this process has to be done manually after tracking each customer.
If they do not write a review for a certain reason (not opening your email, the email bounced from their inbox, etc…), the flow will send a reminder email after several days.
Here's what a product review automation might look like: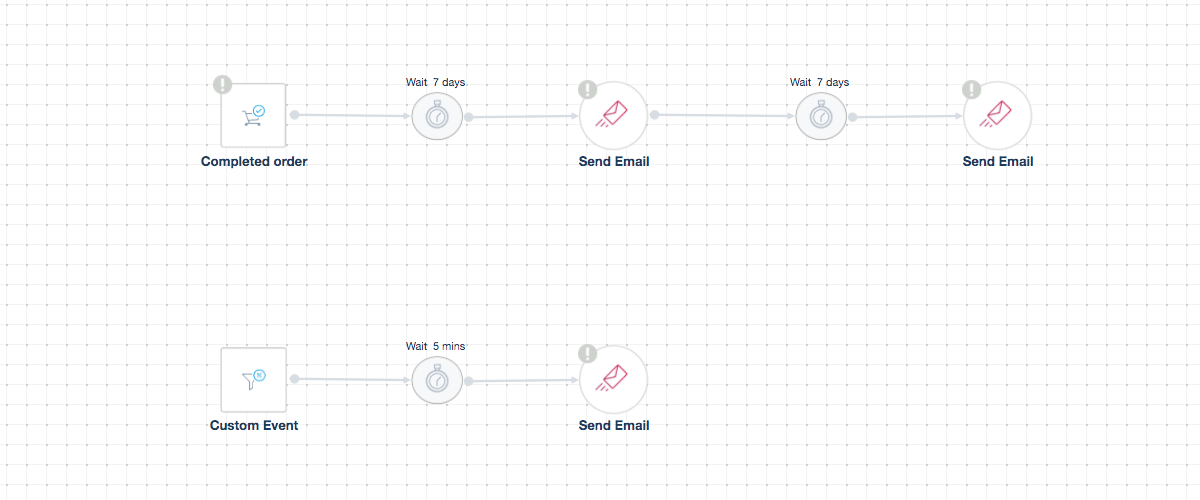 Recurring emails are sent to clients to notify them to buy again once their previous purchase are almost consumed. This campaign can be applied to products that are consumed or shipped on a regular basis.
For example, if customers purchase 100 coffee capsules for their espresso machines, and the average consumption is 1 per day, another reminder email should be sent after 97 days from their first purchase reminding them that it is time to re-order. The selected trigger can be a last ordered quantity.
This type of campaign is used to generate repeat business and increase customer retention rate. According to research, it costs 5 times more to acquire new customers than it does to maintain existing ones.
Here's an example of what a recurring email might look like: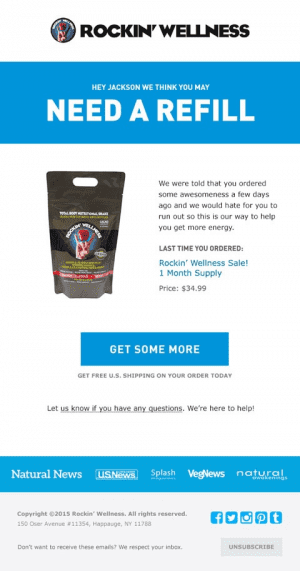 To create an automation for a recurring campaign, it is critical to identify the type of product as well as the quantity that customers are likely to order.
The greater the amount the less frequently the recurring emails should be.
Another factor to consider is how long it takes for the shipment to be executed. Back to the coffee capsules example mentioned above, if the location is far and shipment will take 5 days, deduct 5 days from the previous follow up time frame of 97 days meaning the reminder email should be sent 92 days from previous purchase.
Here's how a recurring automation might look like:

Birthday emails are used to retain your customers and boost their loyalty. Depending on your objectives, creating a birthday automation enhances the relationship with your customers and boosts your sales.
Such emails have high open rates. According to professionals /experts, the open rates for birthday mailings are over 3 times higher than promotional email campaigns (56.2% compared to 16.8%.)
To encourage your customers to make a purchase, you can offer them promo codes to take advantage of a special discount.
Here's an example of a birthday email: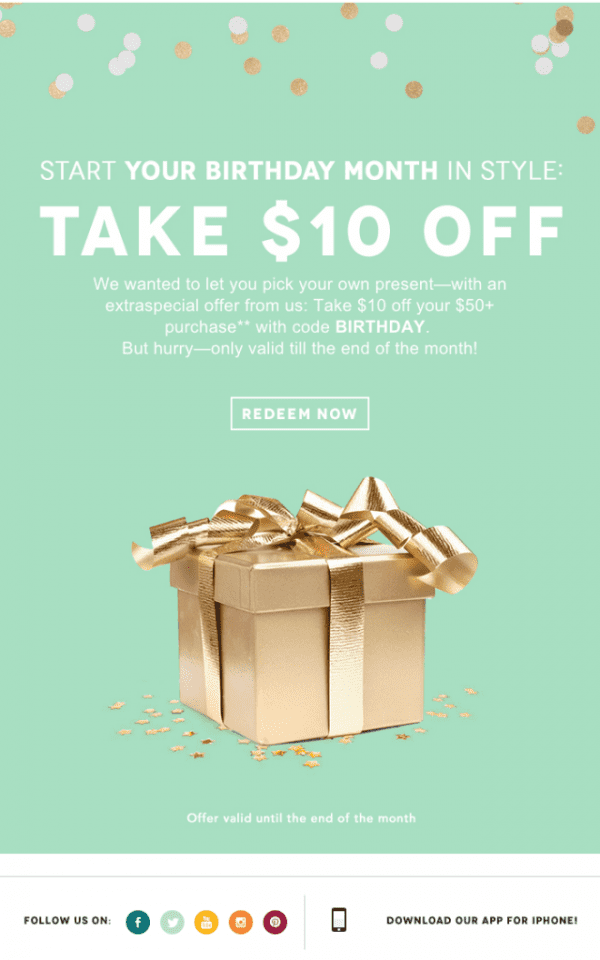 You can send other types of automated messages such as emails and SMS. If you already have your customers' birthdays as well as their phone numbers, SMS messages work well because you can reach them immediately which will increase their response to your offer. Triggering both is a great idea too.
If you do not have their phone numbers or birthdays, you can create a form asking them to fill out these two fields.
To create a birthday automation, you should identify the length of time your offer is going to take place. For instance, you could trigger your automated email a few days before their birthday or a month in advance. You also need to set the time limit for the offer.
To build your automated workflow, you should program:
A birthday email and SMS to those who might take advantage of your offer.
A follow up email/SMS to those who might open your email and not take your offer or neither both.
You can offer a promo code to allow them to redeem it. To automate this, you should create a "Custom Event" trigger and specify that promo code. Once they redeem it, an email and SMS are sent to them thanking them for tapping into your offer.
Here's what an automated birthday workflow might look like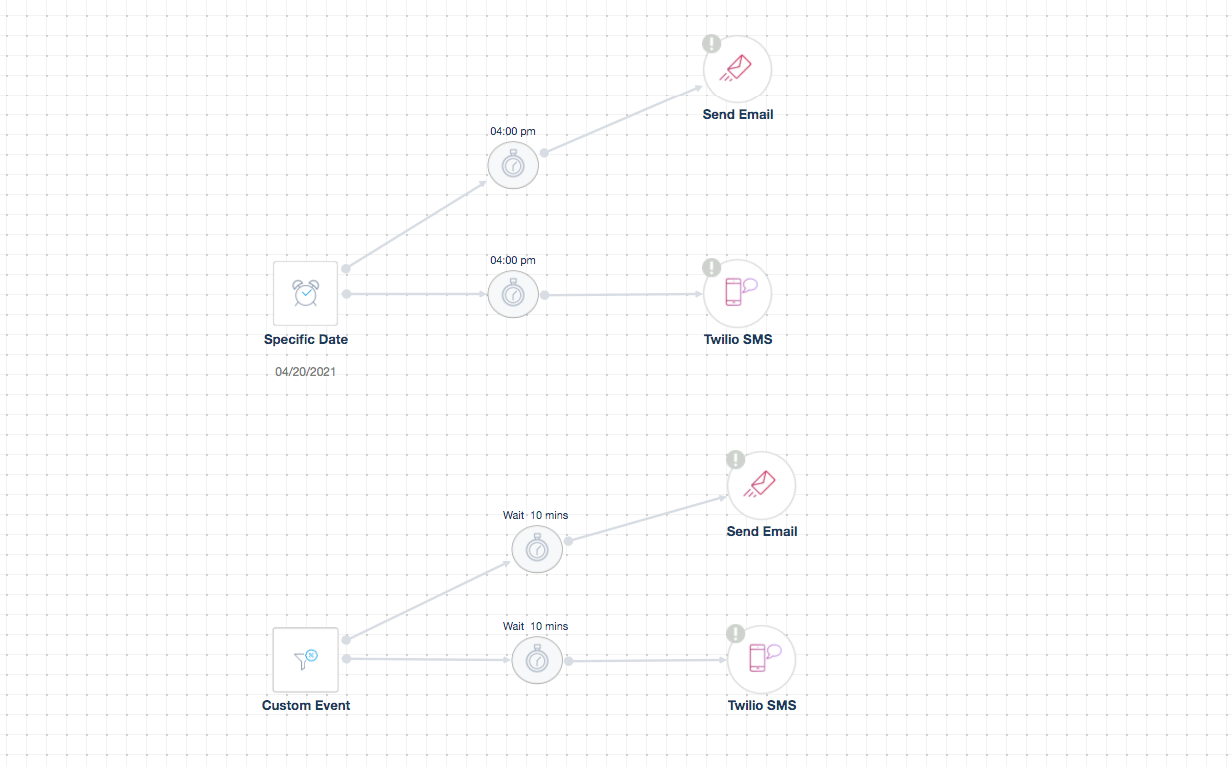 Every ecommerce business has a percentage of inactive customers within their lists.
In order to revive their interests and convert them into active customers, ecommerce businesses consider re-engagement emails in their marketing strategy also known as "win-back" emails. Re-engagement email series are proven to reactivate dormant shoppers and allow owners to take advantage of a massive gain in revenue.
Companies consider re-engagement campaigns as a last chance to win back customers who haven't purchased from their online stores for a specific period of time or opened any of their recent messages.
To encourage your inactive customers to convert, you can spice up your approach with an incentive such as a discount.
Here's an example of a re-engagement email: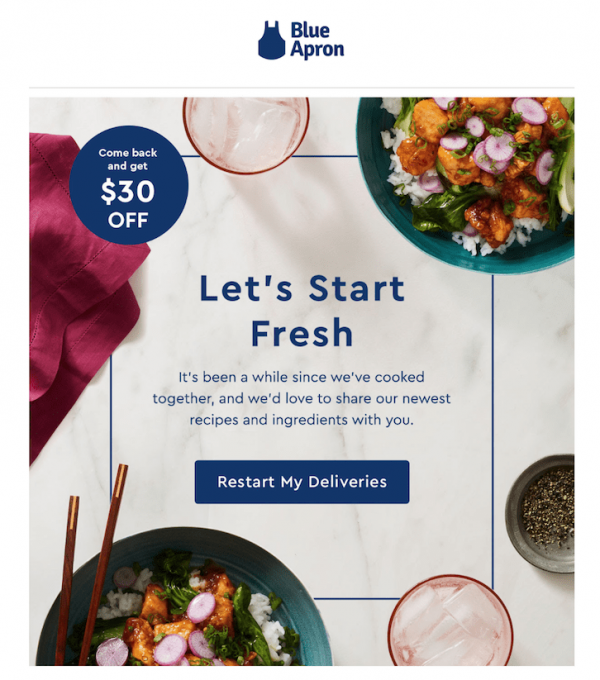 What differs a re-engagement automation from other types of automations is the length of time between the trigger and the following corresponding actions. For example, you can specify a condition within your "Specific Event" trigger that the last order date should be 15, 30, 90 or 120 days before today, and even more depending on the type of product, frequency of purchase and last engagement date.
If they do not respond within a few days, you can wait 10 days before resending your second email. If they did not respond still, you can resend your final email follow up after 5 days from sending the second reminder.
Here's what a re-engagement automation might look like:

It's critical to identify the different stages of your customers' journeys to be able to find out the most appropriate automations that you should build.
To make the process easier for you, you can use marketing automation to manage your complex data using a variety of triggers and actions as well as segmenting your customer and prospect data by relevant criteria.
This will help you improve your conversions, increase your retention rate and minimize abandonment.
Want to access the full library of email automation templates, check this tool.
Don't forget to share this article