Whether you're a health coach, personal trainer, or gym manager, keeping in touch with potential and current clients is one of the effective ways to show them that you care, fulfill their needs,and enhance your relationship with them in order to become loyal customers. Crafting different marketing automation workflows that suit each stage of your customer's journey gives you the advantage to nurture and retain them.
4 automated workflows to engage with your leads
1. Target Weight Achieved
To motivate your customers with a targeted goal, you can create a program that congratulates and rewards them once they achieve that particular fitness goal.
One of the cases that applies can be whenever someone obese manages to decrease their weight by X pounds.
To make this possible, you need to send an email to your contacts after a specific period from opting in to your list (i.e: 2-month period) asking them in three CTA buttons:
1. If no weight is lost – Send them an email on what they need to do.

2. If some weight is lost – Send them an email informing them what needs to be done to decrease their weight even more.

3. If target weight is achieved – Send them an email, congratulating customers for reaching their desired weight with a special reward.

The three emails mentioned above will be triggered after sending the main first email where the condition added is "Link Clicked" and the different links are selected and initially available in your first outreach message.
Here's how a target weight achieved automated workflow might look like: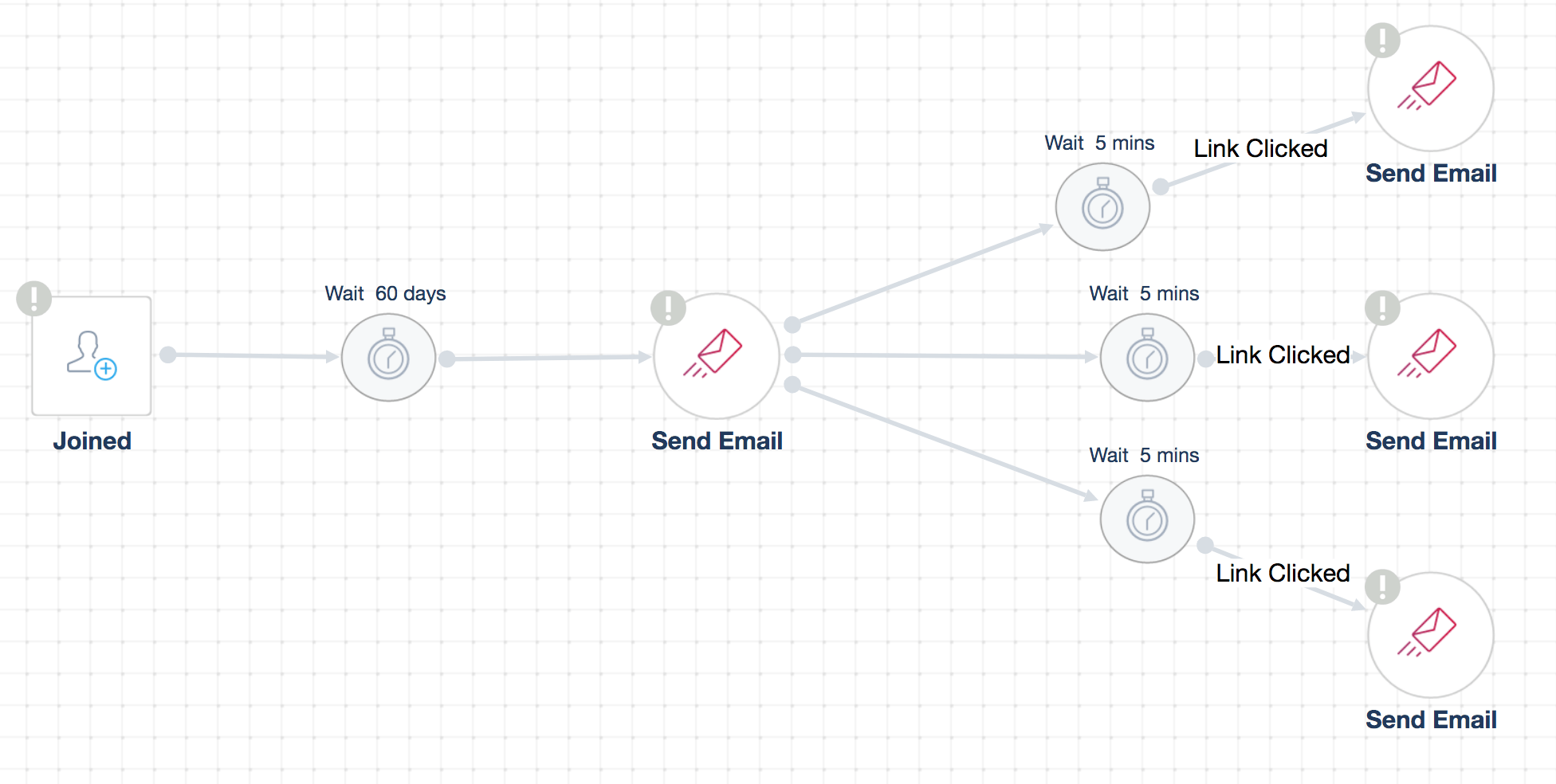 2. Form Submission Notification
After filling out the form to join your fitness club, your leads may have some concerns or are curious to discover further information. A good idea would be to create a personalized communication with each of your contacts to grow the relationship and help them become loyal guests.
To do so, you need to notify your team members who are in charge of communicating or reaching out to your prospects either via phone calls or customized messages. As for your contacts, you should send them an email in which you inform them that their subscription is successful and that someone from your team will reach out to them shortly.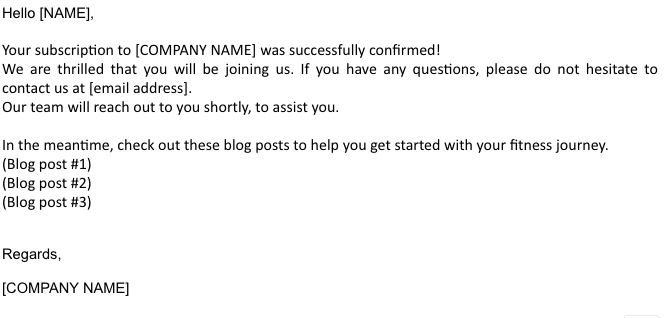 Crafting a form submission notification workflow is simple. You choose the trigger "Joined List" and "Notify Team" as the suitable action so your staff involved in guests communications will receive an alert that someone has filled out a form.
Simultaneously, you send your lead an email confirming their action and that they will be contacted soon.

3. Fitness Journey Upgrade
If you're providing an option for free trial members to upgrade their subscription online via a third party company like PayPal, Shopify Payments or Google Pay, you can create a Zap which connects your company with that third party app and automatically add paying members to another list created from VBOUT.
Once they upgrade to paid, you can remove them from the fitness onboarding automation so they no longer receive reminders to update their billing.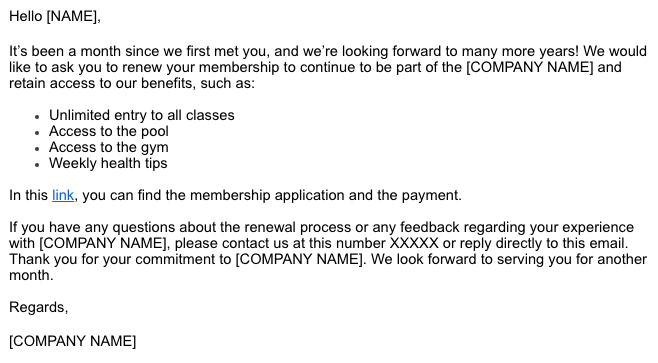 4. Fitness Journey Onboarding
If your fitness club has an online signup form asking people to opt in for a free trial and start your programs, you can build an email automation which consists of onboarding emails that help them along their trial and inviting them to discover more about your operation, facilities, amenities, costumes, best practices to exercise, schedules and more…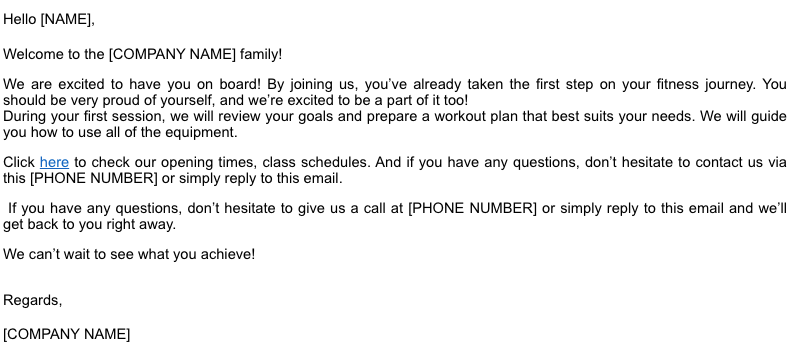 To build your workflow automation, you should first send a welcome email with details on how to pass by and check in at your center. The day after, a second email can be sent about a blog post, explaining the long-term health benefits of the exercises that your free-trial athletes have selected.
Few days later, you can send them a third email with a video tutorial of a professional trainer discussing a step-by-step guide on how to properly exercise without harming their bodies.
When the users reach the first half of their trial period, you can send them an email reminder, notifying them about the number of days remaining before they have to add their credit card in order to upgrade to a paid membership.
On the last day of the trial's expiration date, you can alert them with a final message, that their trial is going to end today and to sign up for the paid plan.
You can even extend the workflow to send them post-trial emails in case they do not convert, reminding them that you still care about their fitness journey with an option to extend their trial a few days more, come back to sign up for regular membership or offer them a one-month discount with a deadline to urge them to take action as soon as possible.

Note that all your automations will not work properly if you do not clearly set up all the required conditions.
Marketing automation enables marketers in the health and fitness industry to enhance their relationship with their leads and existing clients, by personalising the communication depending on everyone's fitness goal and customer journey stage. This enables you to automate your communications faster and devote more time to evaluating the results of your marketing automation strategy.
Want to access the full library of email automation templates, check this tool.
Don't forget to share this article