Enhancing your guest's journey and staying ahead of your competitors can be made possible using different types of workflow automations which suit each of their journey stages. What's also critical is to share with them all the required information before and after their visit, and send relevant and personalized content at the right time. In this article, we discuss the most common automated workflows that you can use for your hospitality operation in order to communicate with your customers effectively, push them to conversion and keep them loyal to your brand.
5 automated workflows for hospitality
1. Room Reservation Confirmation
The confirmation email is the first email that your expected guests receive after booking their preferred hotel rooms. The importance of this email is to assure that their reservation is successful.
Here's what you can include in this email:
Check-in and check-out times
The date of arrival
Number of nights booked
Room type selected
Room night rate /total stay invoice/ taxes
Directions of the hotel
Hotel policy for payment
Means of payment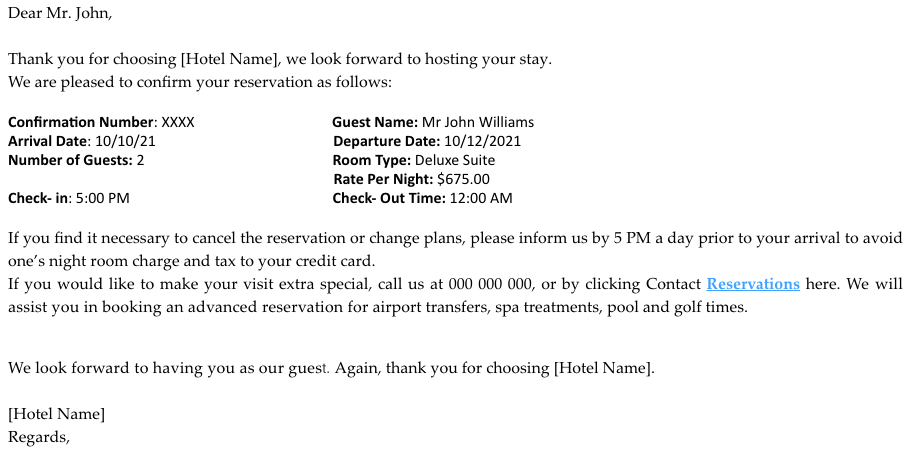 Creating this automation is simple; you send your confirmation email a few minutes after filling out your reservation form and signing up. Therefore, the most preferred trigger to choose is "Joined List".

** Note: Your automation will not work properly if you do not clearly set up all the required conditions. Also multiple submissions should be turned on in the "Form Settings" under "Contacts" in order for this automation to trigger each time the same guest completes the reservation form.
Sending an email reminding your pre-arrivals about their check-in date and time and that their room will be clean and ready upon their visit is a creative idea and can be considered as a last touchpoint before they walk in. This email can be sent one or two days ahead of their check-in date.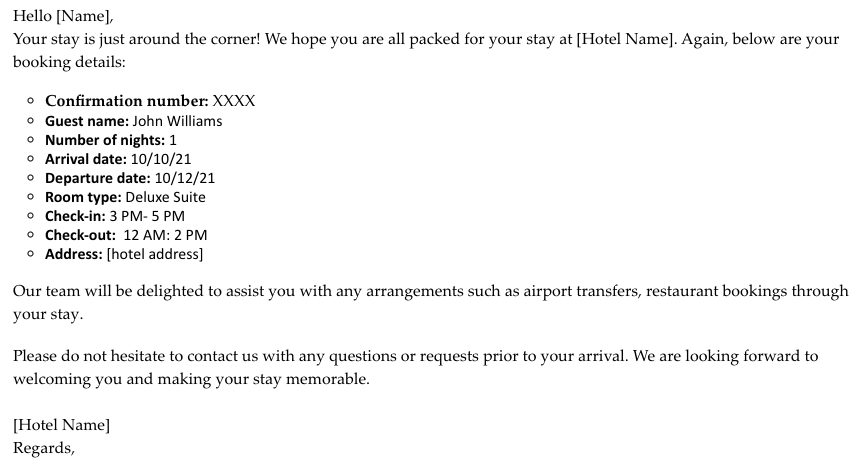 To build this automation, you need to already have their check-in dates gathered through an online reservation form. Then based on the data collected, you select your trigger "Joined List" and specify a condition that the email should be sent one or two days before the due date then send your email accordingly. You can select multiple conditions so the automation will trigger to each arrival according to his check-in date.

3. Hotel Guest Reengagement
A significant number of your clients may try your hotel once or several times then stop visiting you for some reason or take a very long period of time to come back again. A good idea would be identifying these guests and reminding them of your presence/business.
It is a good practice to determine all customers whose last stay was a long time ago. For instance, you can choose to send to those whose last engagement or checkout date at your hotel is more than 6, 9 or 12 months. Choosing the proper time delay depends on their frequency of visit.
The more frequent they visit you the less the time delay is likely to be. You can send them a series of emails that grab their attention about some events that they might have missed or encourage them to come back to your operation very soon and take advantage of a special offer, giveaway or room rate discount.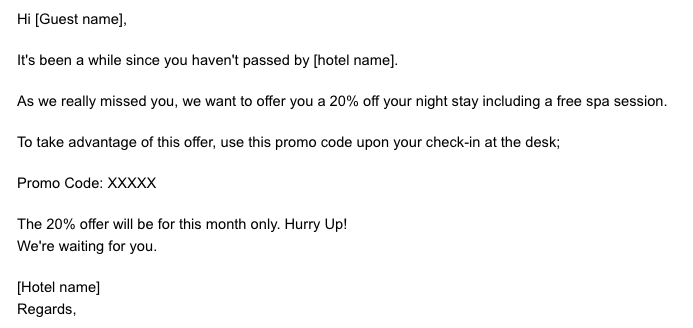 To build an automation, you can choose a specific list where you set up a condition to send re-engagement emails to only those whose last stay was at least 6 months ago or more. The automation should consist of a series of win-back emails and reminders in case they do not interact with your first message.
For example in the first email, you can mention in your subject line that it has been a while since you haven't seen them and offer 20% off on their total expenses.
If they do not respond, you can wait a few days then resend them another email follow-up, in which you specify what they will miss with a deadline to act fast.

After your hotel guests enjoy their stay and check out, you can send them an email, thanking them for their stay, offering them a discount on their next visit, asking for a product review, or joining a loyalty program. For instance, you can entice them to collect points each time they visit your hotel in return for a prize (i.e: a complimentary suite room for one night with their family).This automation helps strengthen your relationship with your clients and helps them become loyal.

When creating a post-stay automation, you need to set up the right trigger and time to send your emails. For example, the trigger should be "Specific Date" in which you add a condition based on the checkout form field that they initially filled out in the reservation field (i.e: Checkout date is 15 days before today) then send your first thank you email. In this email, you can ask them for their feedback by filling out a review request form or joining your reward program.
If they do not respond, you can send them an email follow-up 3 days later in which you remind them about the benefits of your loyalty program or you can rate their experience with your hotel.
** Note: The condition that is specified in the trigger here is "Last Engagement Date" but in your case, it is meant to be "Checkout Date"; feel free to change it based on your own preferences.
If you're using a third party, you need to use Zapier to connect your list with your online reviews website that you're using and then automatically add them to a list that you will create within VBOUT that specifically add product reviewers. In this case, the trigger has to be "Joined".
Creating Zap connectors is also available within VBOUT.

5. Guest Checkout Reminder
If your hotel's checkout policy is between 12 pm and 2 pm, you can choose to send out an email or SMS to your clients, one day before their checkout date, reminding them about your rules so you make sure your guests are notified in advance without falling into last-minute problems.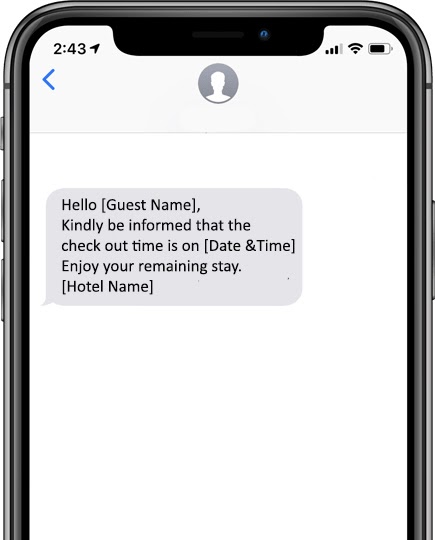 To build your checkout workflow automation, you can choose the trigger as "Specific date" in which you send all your clients who meet your selected criteria (checkout date is one day before the due date) an SMS informing them about the time when they should leave the room and settle the bill. Note that the checkout date can be retrieved through your online reservation form. However, you need to be careful in case a customer later asks to modify the same, you need to be aware to change the date accordingly so they do not receive these notifications at the wrong time.
Early in the morning of the next day, you can send them a second SMS, reminding them that the checkout is today.

There's a variety of workflow automations that you can use for your business to improve the guest's experience. The 5 workflows discussed in this article are ones of the most effective automations that you can build but there are other automations that can be relevant and useful for your business.
The most important part is to know how to use these automations properly to engage with your guests at the right time. Of course, happier guests will leave great reviews, come again and most importantly refer their friends to try your hotel.
When using different automations, make sure that the triggers and actions specified in each workflow won't interfere with other triggers and actions in other automations.
Want to access the full library of email automation templates, check this tool.
Don't forget to share this article