Shake Shack is a popular American burger chain created in 2004 that has experienced incredible growth. The franchise, a public company since 2014, has become one of the top 10 fastest growing chains in America with 63 branches worldwide. It is widely known for infamous long lines, high quality burgers and tasty custards. The most interesting aspect of Shake Shack's growth is that the company has spent very little on advertising.
The brand's strength has been developed almost exclusively through unpaid online marketing campaigns. The company achieved this by gaining significant followers across multiple social media channels, and by garnering an incredible amount of positive reviews from their customers.
How has Shake Shack accomplished this impressive success? To find out, VBOUT has analyzed Shake Shack's current digital marketing strategies, specifically those related to their social media, online reviews, website and branding and email marketing.
Shake Shack's website is very appealing to visitors, compelling food images, with its clear design, and the color green which has come to represent good health and a clean, sustainable environment.
The website also shows customers winning gifts at Shake Shack locations and notifies people about new events and activities. In addition, Web visitors can purchase gift cards directly from the website. All these factors add up to interesting content that brings people to the Web site.
Shake Shack reinforces its marketing message by consistent use of its branding graphic, design, imagery, content and Ecommerce on its website.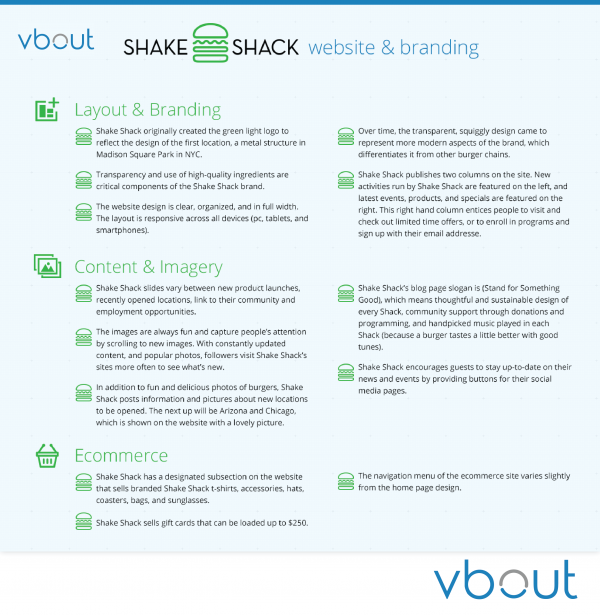 Shake Shack manages its social media on multiple channels: FB, TW, Instagram, Pinterest, Google+ and YouTube. On each social channel, Shake Shack has a significant number of followers, and the majority of posts earn high engagement in terms of comments, shares, and retweets. Shake Shack is an active and constant in publisher on these different platforms. All social media activities run by Shake Shack are represented in the graphic below: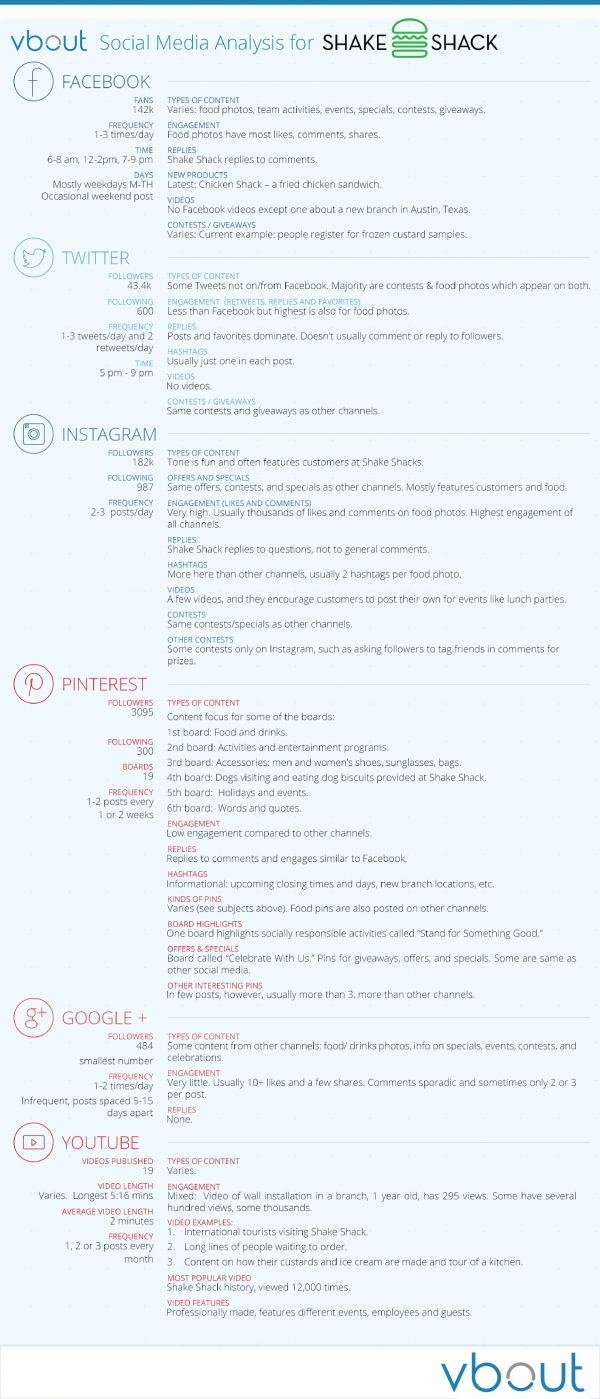 Shake Shack is part of a conglomerate of restaurants founded by Danny Meyers named the Union Square Hospitality Group.
The following graphic shows the three major sections of Shake Shack's email marketing status: the opt-in forms they use, email delivery to their subscribers, and email personalization to their customers.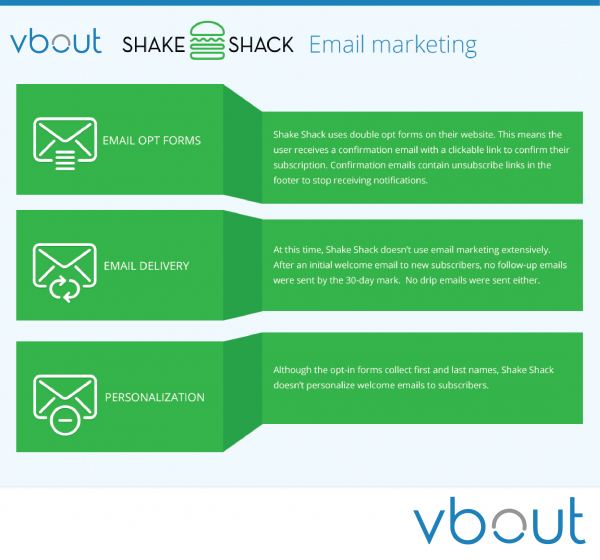 Shake Shack manages its online reviews on Yelp, Trip Advisor and Foursquare. Each location of Shake Shack has its own online review channel. Channels are spread across different locations and states. For example, every Shake Shack has its own separate Yelp page and the same is true for other channels. The following graphic shows the positive as well as negative feedback of reviewers.
General reviews are based on careful observation of every Shake Shack location. The average review's rating for each channel was obtained by adding the average stars reviews for each channel of every location and dividing the sum over the number of Shake Shack locations corresponding to that channel. Average rating of stars has been allocated to each online reviews channel mentioned below: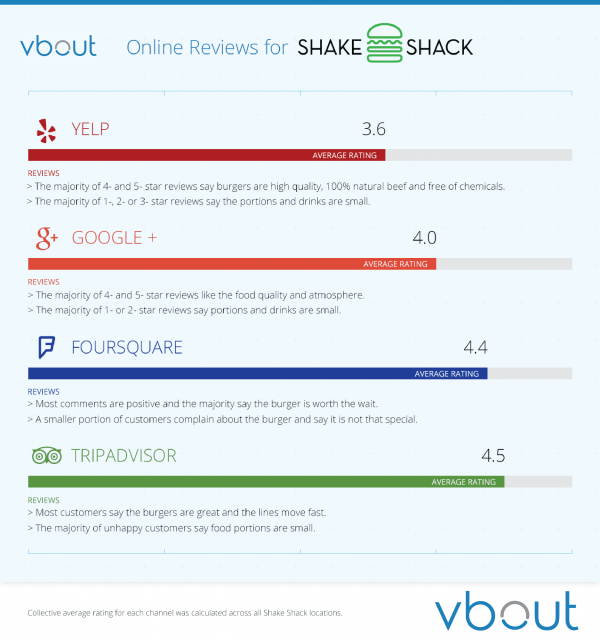 Shake Shack has managed to expand to different locations in the United States by successfully implementing various inbound marketing strategies, as well as creating an appealing website that engages visitors and encourages them with new activities to return to the site again and again.
Shake Shack's social media program has few shortcomings such as not replying to every comment on some channels, and negative feedback from some online reviewers (common with any business). However, its positive tactics- like engaging with customers and enticing them with new products and contests- and the positive reviews from a large majority of customers more than compensate for these issues.
The number of Shake Shack's followers on various social channels is on a steady incline, becoming its own influencer, and proving the success of this popular American burger chain.
Don't forget to share this article