If you're looking for actionable drip email marketing strategies to run successful drip campaigns, then your search ends here.
According to a recent study, 87% of marketers say email is critical to the success of their campaigns.
However, in another survey, 19% of marketers say their drip email strategy isn't practical and needs a re-work.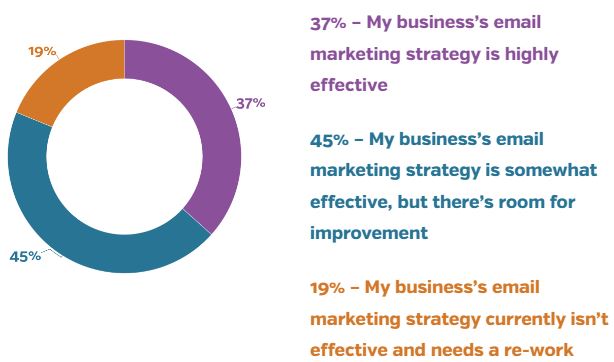 This means that some marketers still need help to get their drip email marketing strategies right.
So how do you launch a successful email drip campaign?
In this article, you will discover proven drip email marketing strategies you can leverage to launch goal-crushing drip email campaigns.
Let's get started.
1. Segment Your Drip Email Campaigns
Your email list will probably consist of thousands of subscribers in different groups with different interests and behaviors. But sending one email to your database is like shooting in the dark.
Email segmentation tops our list of the best drip email marketing strategies.
Segmenting your database enables you to send targeted drip marketing campaigns with content tailored to your audience's needs.
The more targeted your drip campaign emails are, the greater the chances of converting subscribers into customers.
Ultimately, this helps to boost your email ROI.
This is the main reason segmentation is the second in this year's top initiatives for email marketers.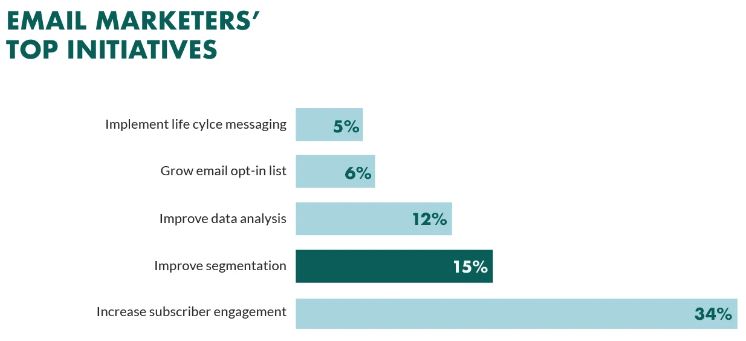 Segment your email list appropriately and assign different triggers to different groups to deliver personalized and precise email content that addresses your audience's needs.
Better yet, you can automate your segmentation process with AI.
With AI, you can segment your emails based on information collected, including their subscribers' purchasing history, interests, preferences, demographics, browsing behavior, etc.
Alternatively, you can outsource email marketing to virtual assistants handling email list building, segmentation, and other tasks. This will help you focus your efforts on other value-adding activities in your business as professionals handle your drip email marketing strategies.
2. Include Images in Your Drip Emails
Using images in emails is one of the effective drip email marketing strategies to boost clicks. They can significantly improve your email copy's visual appeal and overall effectiveness.
What's more?
Images convey information more effectively than text and have been shown to increase open and click-through rates.
Powtoon uses catchy images in their welcome emails as shown in the image below.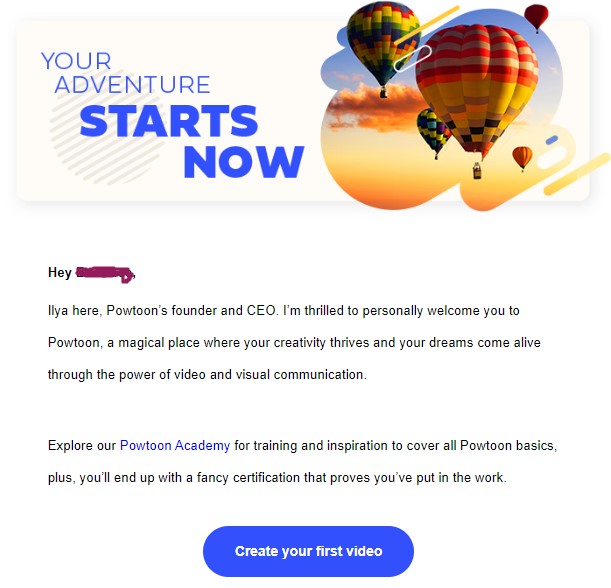 Overdoing images can lead to technical problems and interpret your emails as spam by email service providers. So use images in emails wisely.
Here is how to use images in drip campaigns as one of the drip email marketing strategies.
Use images strategically to ensure the email copy is visible enough
Include the image in the email background
Avoid sending image-only emails
Leverage quality, visually appealing images
Optimize images for different devices
3. Personalize Your Drip Campaigns
Personalization is one of the popular drip email marketing strategies used for a while and is still powerful today.
But why?
Because today's customers want personalized experiences from brands and will even buy again from brands if their experience is personalized.
Here is the proof:
In a recent state of personalization report, 56% of customers said they will make repeat purchases after a personalized experience.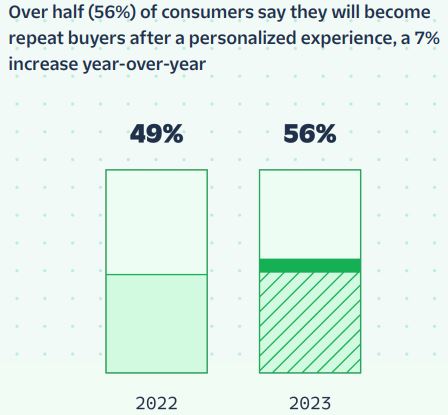 When creating drip email marketing strategies, you want to ensure that the email subject line, copy, and product recommendations are tailored to your recipients.
Furthermore, you can use robust email marketing automation tools like VBOUT to send behavior-triggered emails based on the action your customers do.
If you have a huge email list, you can use AI writing tools to craft personalized email content based on your audience segments in seconds
4. Optimize Your Email Preheader Text
If you want to improve open rates in your drip email marketing strategies, you need to optimize your email preheaders.
Effective drip email marketing strategies begin converting subscribers in the email preview text.
Why?
Because the email preheader text, also known as preview text, is the next visible item in your recipients' inbox after the subject line and sender name.
Something like this:

Here is how to craft engaging preheaders to boost your drip email marketing strategies:
Reinforce your email subject line but don't repeat yourself
Tease an incentive
Insert emojis to jumpstart decreasing interest
Offer a discount or promotion to your recipients
Add a captivating call-to-action
Personalize the preheader text by calling the recipient
5. Create Click-Worthy Subject Lines
To boost your email open rate; you must master crafting engaging email subject lines.
Why?
Because the email subject line is the first part of your email that your subscribers will see like this.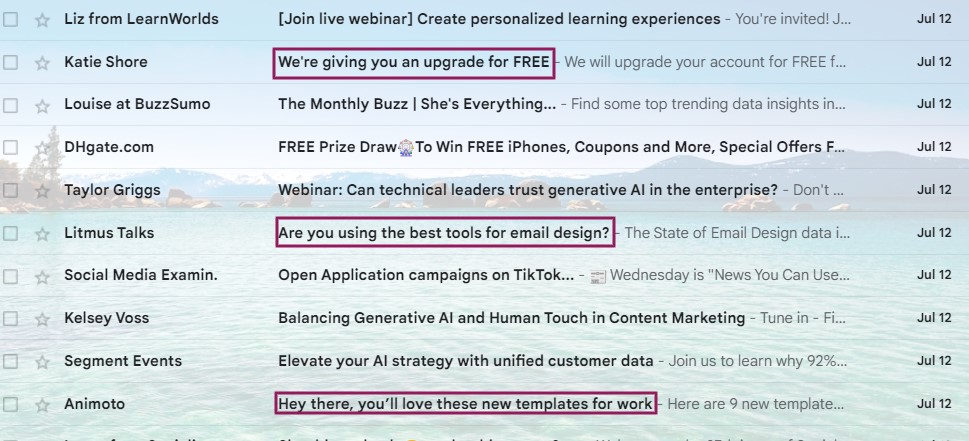 Furthermore, it determines whether your recipients will open your emails, ignore them or mark them as spam.
In a nutshell, your subject lines can make or break your drip campaign efforts.
Thus, compelling subject lines should be on your drip email marketing strategies list.
And how exactly can you nail them?
To start, we've got a subject line checker tool that suggests different ideas for email subject lines to help you make an impact.
Here are practical tips to craft attention-grabbing email subject lines to boost your drip email marketing strategies even more.
Personalize the subject line by calling the recipient's name
Add humor to pique your recipients' curiosity
Include relevant emojis
Leverage action words
Hint at the email content
Ask a compelling question
A/B test your subject lines
Smart email marketers leverage AI in their drip email marketing strategies to craft personalized and compelling subject lines.
For instance, with an email subject line analyzer tool, you can test your subject line and get suggestions for improvements based on the following elements:
Character count
Title case
Emoji count, and more.
VBOUT has a powerful AI-driven email subject line analyzer that gives your subject lines a score between 0 and 100 and shows you exactly what needs to be done to improve them.
6. Optimize Your Call-to-Action
No matter how compelling and personalized your emails are, you'll struggle to drive conversions with your drip email marketing strategies if you don't include an optimized call-to-action.
Ideally, your CTA should entice the reader to take the desired action after reading the email.
Take a look at this email from Animoto.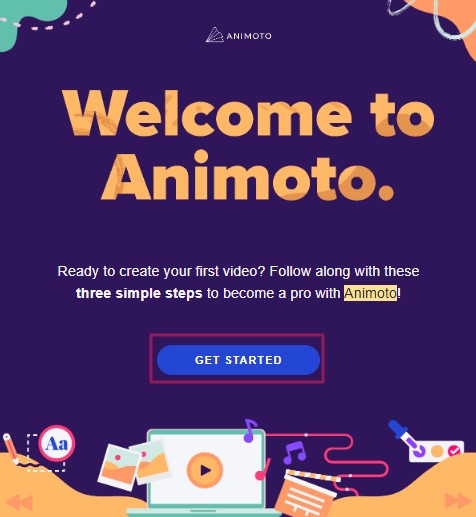 In the example above, Animoto sends an automated email once you have signed up for a free account with a visible, compelling call-to-action to push you to get started.
If your subscribers recently signed up for a trial period, you can push the needle by sending them an enticing offer with an optimized CTA.
Here is how to optimize your calls to action in your drip email marketing strategies to drive more clicks and conversions.
Leverage striking and actionable text
Make your CTA stand out
Keep it short
Include a sense of urgency to boost click-through rates
Make your CTA mobile responsive
7. Leverage Video In Your Drip Emails
Videos are an assertive communication and marketing tool brands use to achieve their marketing goals.
In a recent video survey report, 87% of marketers said they had generated more sales with video marketing.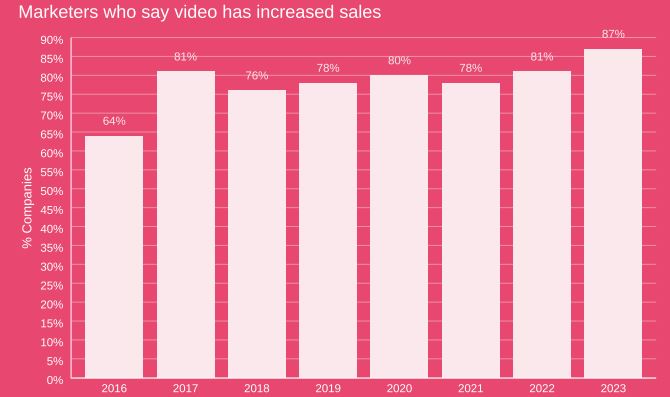 Furthermore, including personalized videos in your emails can help to boost your drip email marketing strategies in many ways, as below:
Grab your customer's attention
Add a personal touch to your emails
Improve subscriber retention rates
Improve CTR and conversion rates
Here is an excellent example of leveraging videos in your drip email marketing strategies.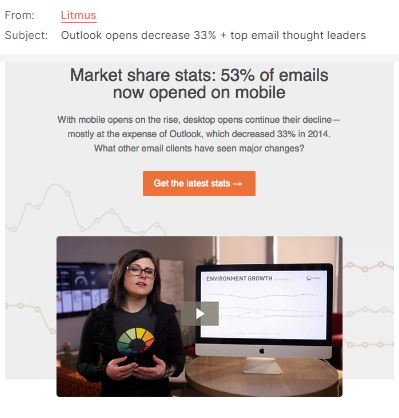 Here are the proper ways to effectively use video in your drip email marketing strategies:
Decide the right content for your video emails
Use the right thumbnail to prompt receivers to click to open the video as videos don't play directly in the email. Instead, viewers are redirected to a page where they're embedded
Use GIFs in place of video if possible
Personalize your video emails to make your recipients feel special
Avoid embedding videos to prevent your emails from landing in the spam folder.
Why?
Because popular email clients like Outlook, Gmail, and Yahoo don't support playing embedded videos in email. However, this article shows you exactly how to embed videos in Outlook correctly.
8. Use Mobile Responsive Drip Emails
In today's mobile-first world, where most people open emails on their phones, using static email design can affect the effectiveness of your drip email marketing strategies. Instead, use responsive emails.
Responsive emails not only improve user experience but can also boost your drip email campaign ROI.
Responsive emails reduce unsubscribes and increase click-through rates.
You can design responsive emails in various ways.
You can code different email templates for varied screen sizes or use intuitive drag-and-drop email templates.
Unless you have enough coding knowledge, you should leverage email design templates that help you ensure your emails look responsive and professional.
Furthermore, a responsive email template will automatically adjust to any screen size enabling subscribers to open your emails on any device they use.
Here is how to make your emails mobile responsive and increase the effectiveness of your drip email marketing strategies.
Ensure your drip emails are scalable and flexible
Use large fonts to enhance legibility
Ensure images adjust to different screen sizes
Leverage single-column layout
Use a reliable email signature generator to create responsive signatures
Convert links into clickable buttons
Ensure you test emails before scheduling
9. Track Actionable Email Marketing Metrics
According to a HubSpot study, 95% of marketers reported that their drip email marketing strategies effectively met their business goals.
But how do you know that your campaigns are successful?
It's by tracking practical drip email marketing metrics.
Even though open rates have been one of the powerful metrics to follow, it's not a critical metric today after Apple's Mail Privacy Protection became effective in 2021.
Because of the Mail Privacy Protection policy, email marketers cannot track the deliverability of emails.
The law also gives people complete control over the information marketers can collect about them.
So what metrics should you measure for your drip email marketing strategies?
You should track conversions, click-through rates, revenue and list growth, unsubscribes, and other realistic metrics for your drip marketing campaigns. But that's just the beginning. For a complete list of essential metrics for email marketing, check out this post by Attrock.
10. Make it Easy to Unsubscribe
Are your drip campaigns getting more email spam complaints? If so, then be sure to evaluate your unsubscribe process.
Why?
Because no matter how engaging your drip email marketing strategies are, your email subscribers will want to opt out of your email list at some point.
Making it hard for them to unsubscribe will result in your emails getting marked as spam.
Making it easy for people to unsubscribe from your email list isn't only an essential aspect of your drip email marketing strategies. The CAN-SPAM Act requires it.
Look at how Litmus makes it easy for people to unsubscribe from their marketing emails.

Here is how to allow users to unsubscribe easily from your emails.
Use clear language for your unsubscribe buttons
Make your unsubscribe option visible
Offer your subscribers the option to update their email preferences
Use a single opt-out
Send inactive contacts a re-engagement email drip campaign
51% of consumers rank email as the best communication channel. However, achieving your drip campaign goals isn't an easy task.
Luckily, following these drip email marketing strategies can take your marketing game to the next level.
Lastly, since most people open emails on their mobile phones, building mobile-responsive email templates using an intuitive drag-and-drop email editor like VBOUT would be a great idea.
About the author
Gaurav Sharma is the founder and CEO of Attrock, a results-driven digital marketing company. Grew an agency from 5-figure to 7-figure revenue in just two years | 10X leads | 2.8X conversions | 300K organic monthly traffic. He also contributes to top publications like HuffPost, Adweek, Business 2 Community, TechCrunch, and more.
Don't forget to share this article