Using VBOUT – SyncSpider integration, you can connect VBOUT to thousands of 3rd party apps. If you don't have Shopify or Woocommerce, this integration enables you to sync data to the system such as orders, activities, product search, product view, category view, and more.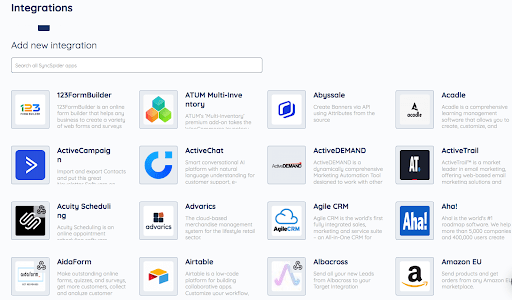 VBOUT - SyncSpider integration benefits
This integration is beneficial for you because:
It saves you time managing your ecommerce store.
It automates your inventory so you never sell any item that might be out of stock.
It easily connects your POS, ERP, CRM, stock, orders and shipping without spending hours copying and pasting data.
It saves you money required to hire and train new employees in order to manage all these tasks for you.
VBOUT - SyncSpider integration features
Here's what you can do with VBOUT and SyncSpider:
Below are the types of data that you can export from VBOUT
Get Contacts Lists
Get Contacts
Get Contacts
Get all Campaigns
Get Coupons
Get Coupons for a Campaign
And below are the types of data that you can import to VBOUT
Add Contacts to a List
Sync Contacts in a List
Add Tags
Add Carts
Add Cart Items
Add Orders
Add Activities
Add Product Search
Add Product View
Add Category View
Add/Update Customers
The following are some popular integrations that you may find useful:
Add Contacts to a list from Pipedrive to VBOUT
Send Get Contacts from VBOUT to Pipedrive
Add Tags from Calendly to VBOUT
Send Contacts by email from VBOUT to Google Sheets
Send Contacts lists from VBOUT to Airtable
Add Contacts to a list from Airtable to VBOUT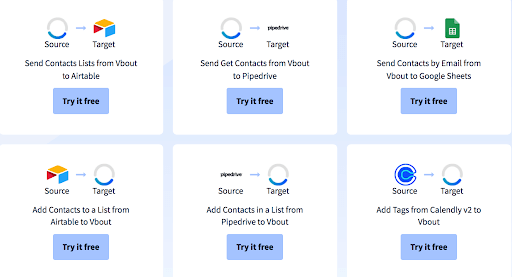 To find out how to get started, our help section documentation shows you all the steps you need.
Don't forget to share this article