VBOUT is a comprehensive and robust platform that offers many tools and features to help marketers centralize and automate their tasks in a super easy and effective way.
On the other hand, we know that some users might have some commitments with other 3rd party apps or have software limitations that prevent them from directly migrating a part of their process or data to our platform.
For that, we made sure to develop our platform to be 100% autonomous as well as inclusive and collaborative to perfectly function with external softwares providing our users with the ultimate flexibility they need.
One of those integration features we enabled our platform with was our alliance with Zapier.
Through integration with Zapier, you're able to connect VBOUT with different external tools or services that your team might use such as Shopify, Google spreadsheet, insightly, and many others… This allows you to easily automate workflows.
You can choose different Zapier connectors or Zaps displayed on the VBOUT platform.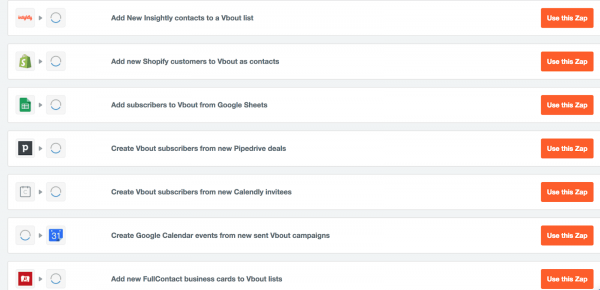 VBOUT can be used as a trigger or action. For instance, you're likely to choose VBOUT as an action if you want to add a new subscriber to a particular VBOUT's list once that same user makes a purchase on Shopify.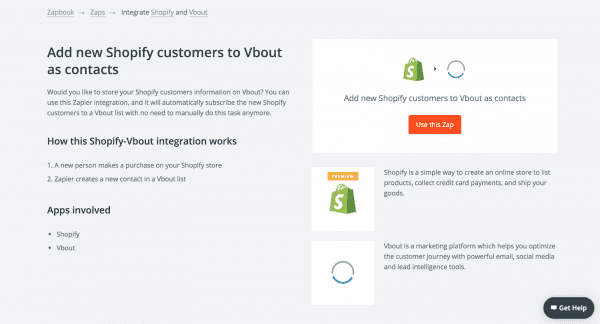 Or, if you want to add a new event in Google calendar each time an email campaign is sent from VBOUT for example, you can choose VBOUT as a trigger.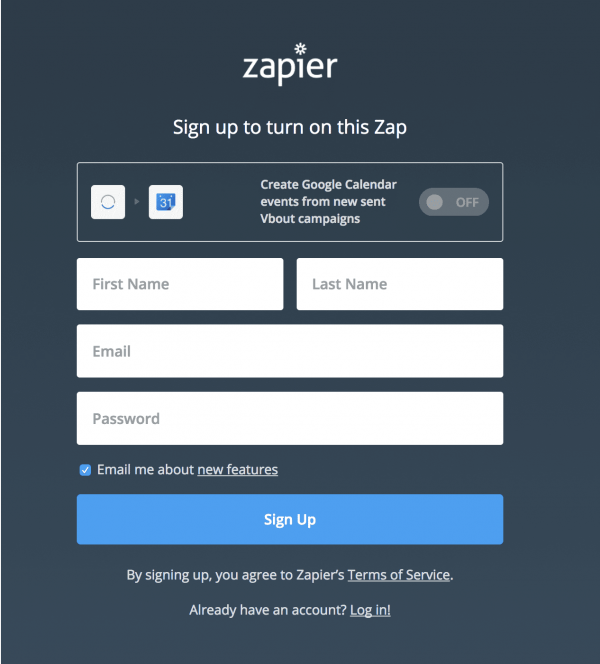 What VBOUT Triggers and Actions are supported?
Below are the different supported triggers and actions' of VBOUT.
New contact property change – Triggers every time a specified property is updated for any contact.
New contact – Triggers when a new contact is added to a list.
New social media message – Triggers when a message is posted to a selected social media channel.
New email campaign – Triggers when an email campaign is posted.
Create email marketing campaign – Creates an email campaign to be sent to a specific list.
Add contact to list – Adds a contact to a specific email list.
Create email list – Creates an email list with default, first name, last name and required email address.
Update contact – Updates a contact in a list based on email address.
Create social media message – Posts a message to one of your connected social media channels.
Unsubscribe contact – Unsubscribe a contact from a list based on email address.
Let's suppose you want to connect Google spreadsheet with VBOUT if your team use Google sheets to collect leads. Zapier, through this integration, automatically subscribes a new contact to VBOUT list as soon as they are added to a new spreadsheet row.To start creating this zap, click on "Use this Zap" button.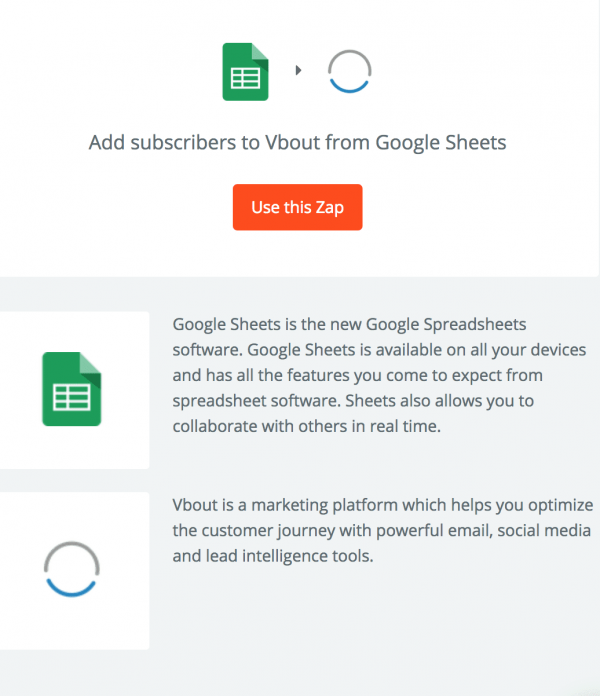 Fill in your contact information and signup.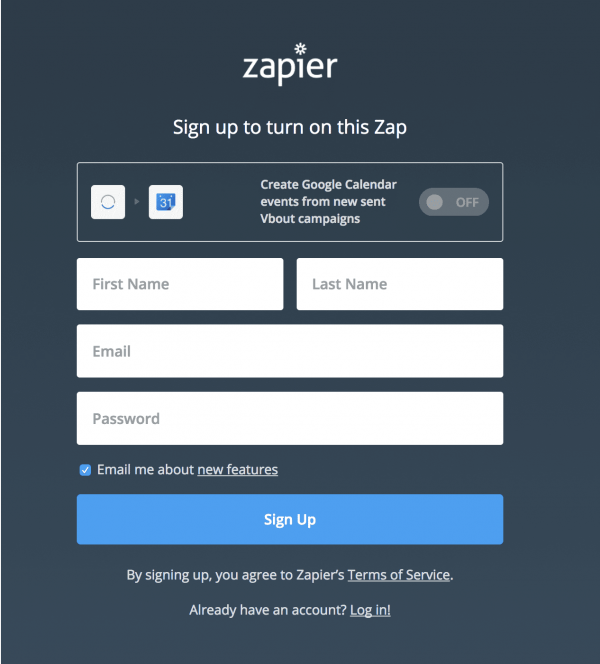 Click on "Continue".

You're then asked to connect an account.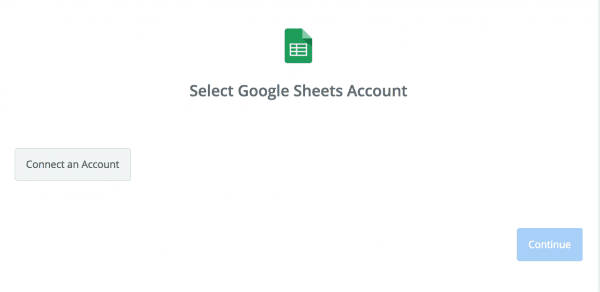 Once you click on "Connect an Account", you are redirected to Google in order to choose your account and sign in and continue to Zapier.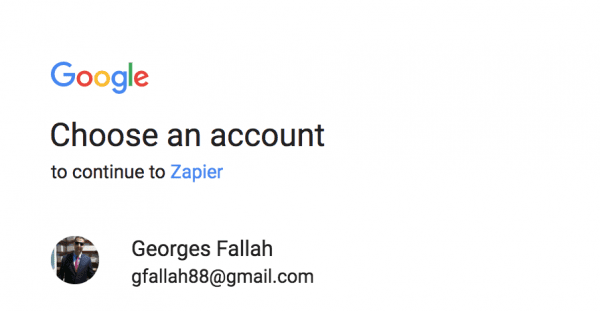 Click on "Allow".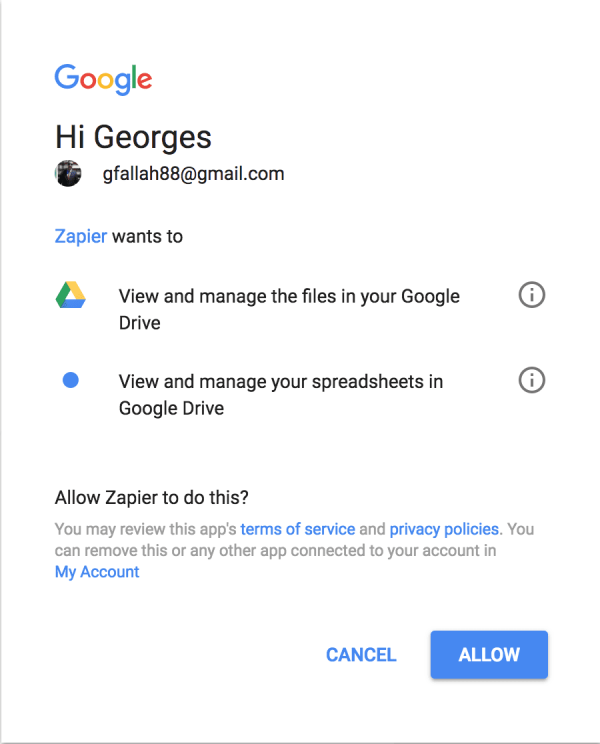 You're all set! Zapier is now connected to your Google account.
Click on "Save + Continue".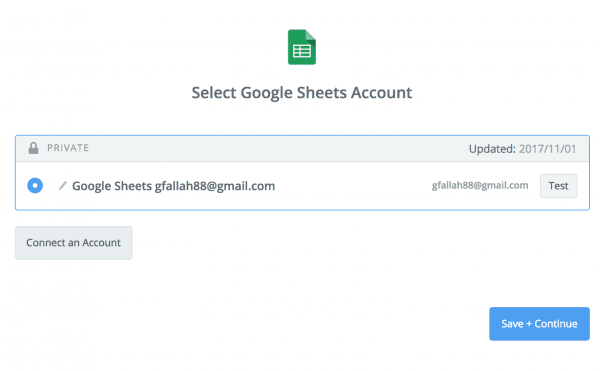 Choose the list you created in Google spreadsheet from the dropdown menu, then click on "Continue".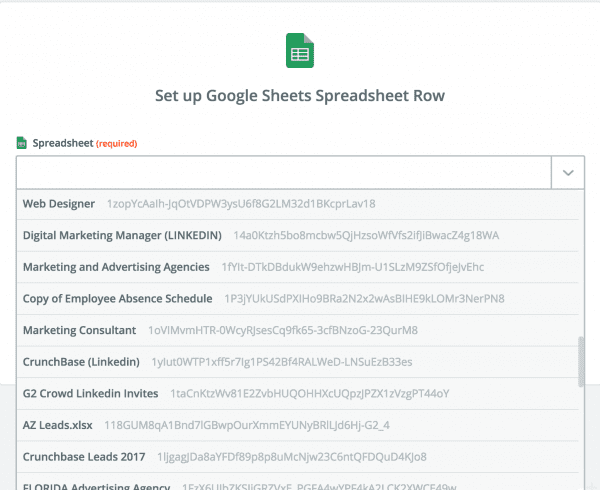 Click "Fetch + Continue".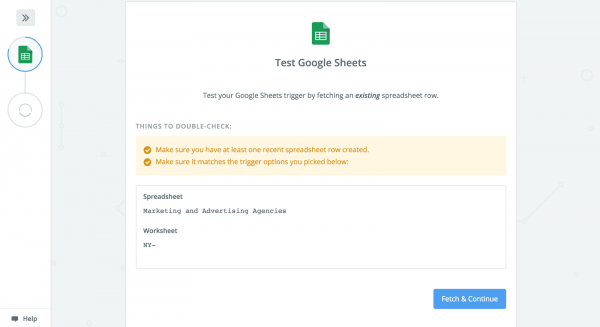 You can check your spreadsheet row to make sure everything goes fine.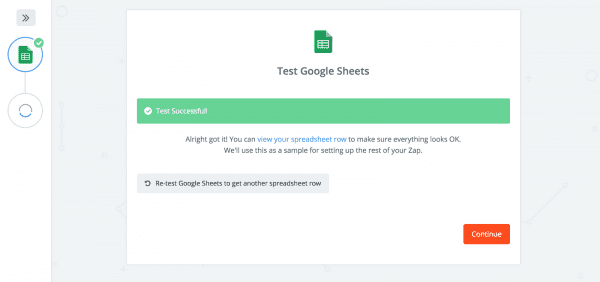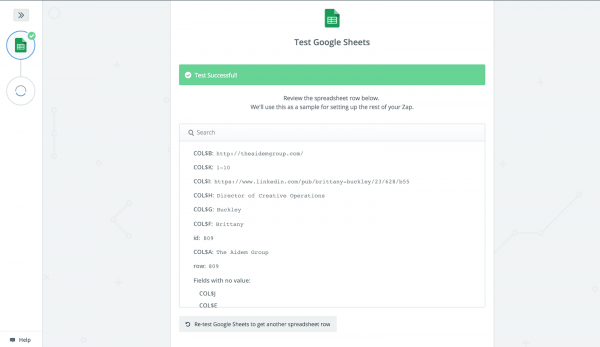 You are now asked to add a contact to VBOUT's list. Click on "Continue".

Choose a VBOUT account. Click on "API & Plugins" to find your API key.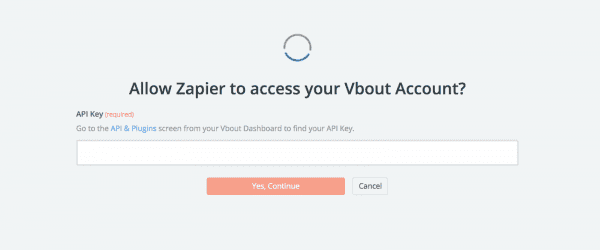 Choose your account and login.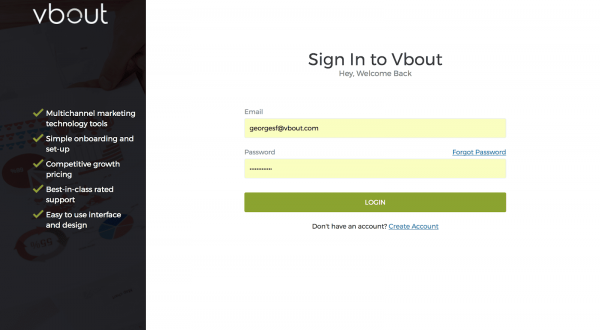 On the VBOUT dashboard, click on "settings" on the top, then "API Integrations".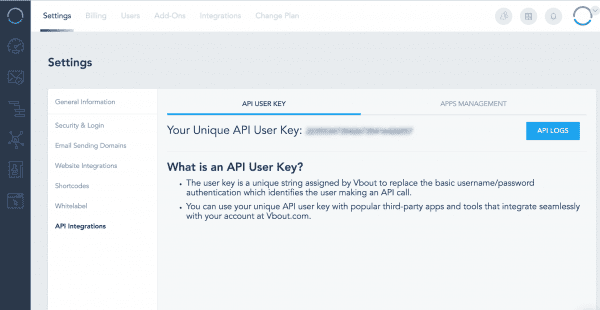 Copy your API User Key and paste it back in this field, then click on "Yes, Continue".

Click "Save + Continue".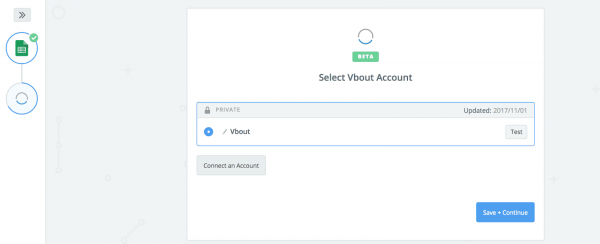 Click on the drop down menu to choose your list.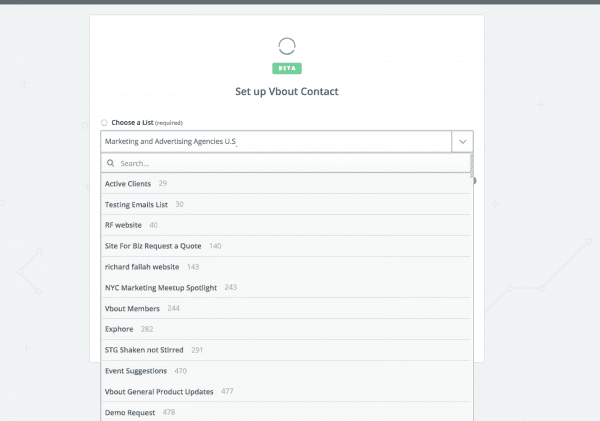 Click on the drop down menu and select "Email Address" in the Email Address field.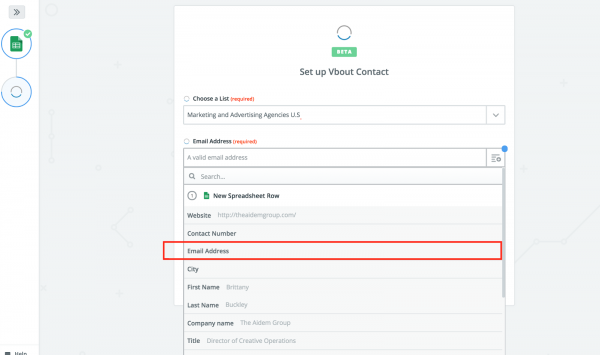 Select "Active" in the Status field.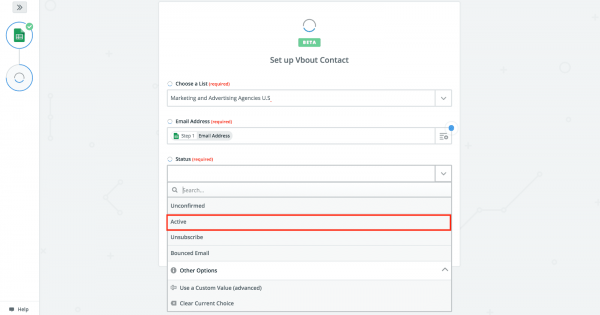 Click "Continue".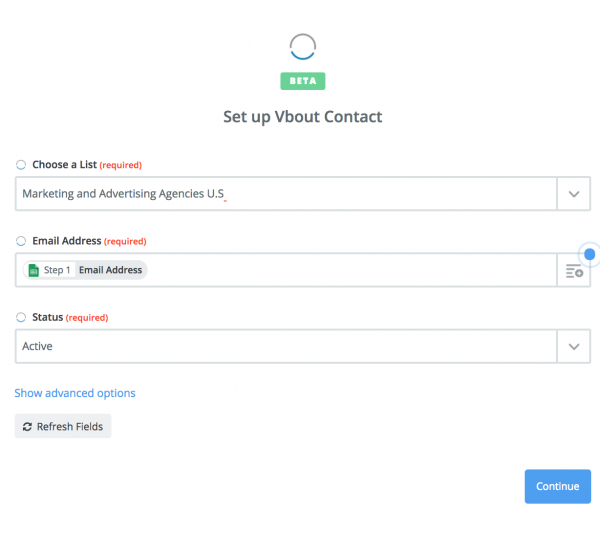 Now, in order to test this zap and make sure everything works well, you have to create a new account to make sure the zap triggers normally. Click on "Create & Continue".
Now, you're all set and you can see this zap on your dashboard.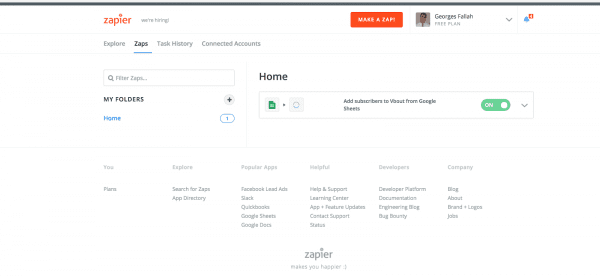 Zapier allows VBOUT to integrate with more than 1000 apps. Click here to check out a few pre-made integration connectors.
For any information about the setup or how to create a zap, click here.
For more integration related topics or any other information, please visit our help center.
Don't forget to share this article