After months of dedicated work, we are excited to beta launch our landing page builder. I want to share with you why we decided to build this component and how we did it.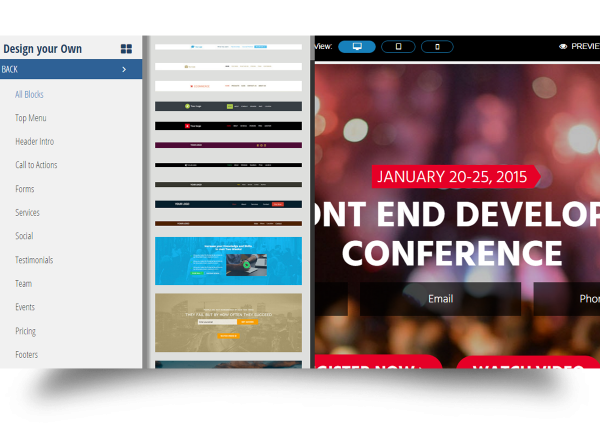 The Continuously Growing List of Tools Required
It's become essential for marketers to create landing pages for variety of reasons: SEO, collecting more leads, conversion, event launches, PPC and more. There are many great tools that provide this feature, but the main problem is that they are isolated platforms. Marketers need a way to manage form submission with those pages using an E-marketing tool, and they need a segmentation and analytics platform, on top of having a new system to learn. Not to mention, there is a cost associated with great tools.
In the meantime, we were have been busy doing the manual work of:
designing each landing page (1-2 day turn out), 2. converting those forms and making them work well across devices (2 days), and 3. final revisions and touch-ups (1 day). This means that it took 1 week to get one page built and launched. We couldn't be more excited to reach the finish line!Since Vbout already offers an intuitive email platform, and integrated segmentation and analytics tools, we decided to build this feature.
It's Not as Easy as You May Think
I had to break this down into sub-tasks:
Research existing tools and how they build their templates.
Design the landing pages for all devices using the most advanced landing page conversion science that covers all the elements a typical user might need, ex: top headers, event countdown, forms, etc.
Convert those landing pages and integrate them into our robust backend for easy template management and adding future templates.
Adopt the same landing page builder into our email campaign builder.
Integrate the builder into the rest of our feature set.
With all the above requirements, it became clear that we needed the following expertise:
Analyst (me) 2. UX designer 3. Template designer 4. Front end conversion 5. Senior engineer 6. QA
The Full List of Features
Easy to use builder with flexible editing and styling.
Premium responsive designs built for conversion.
Design your own, block based modules for fast template deployment and control.
SEO control over the page.
HTML control for advanced editing.
Dynamic block segmentation capability, so you can show different blocks for different audiences, ex: people from the US who previously opened an email can see a different landing page from those who in the UK who never opened an email.
Ability to use as many sub-domains as you want, embed the page into your own site or use a public Vbout URL.
Embed third party tracking code.
Integrated analytics on visits, conversions, referrals and more in-depth analytics from the Vbout platform.
Heatmaps on the landing page, which is another cool new feature we have released.
Easy landing page cloning.
Integrated file manager that shares your images and files from your email marketing and social media.
Create and link the forms from the landing pages directly into the marketing platform with our workflow drop campaign builder. (this saves you a lot of time connecting lists and landing pages).
AB testing still in the pipeline.
Here is a brief preview video of the landing page in action.
This new addition to the Vbout suite sets us apart even more from other "fully integrated" marketing automation platforms, as we provide an easy to use builder, great designs and flexible integration with our existing tools. We also offer this added feature, as always, for a fraction of the price.
We are already in the process of deploying dozens of new great designs and enhancing the builder, based on our customer feedback loop. We look forward to offering you the best landing page tool alongside our incredible set of features.
If you are interested in trying out our landing page builder for FREE click here to signup.
Don't forget to share this article