New logo, Email Inbox Preview and Enhanced Analytics are rocking your dashboard while you might be planning an awesome vacation.
Here is a quick rundown of this HOT release:
We know that reporting is key to your success, we also know it can be time consuming, this is why we added the ability to create multiple reports, customize and personalize each, then deliver them to your inbox, to your managers or to your clients:
a- Ability to create multiple reports with different recipients and frequency.
b- More granular reporting by choosing specific channel(s), profile(s), email list(s), etc…. Ex: which email lists you targeted, social media profiles or landing pages.
c- Added conversion tracking, webhook execution and landing page performance in the reports.
d- Added custom signature in the report. This is particularly handy for agencies targetting multiple clients.
Successful email marketers know the way their content is displayed is critical for higher rates of engagement. The challenge today is that an email to 20 individuals could be displayed in 20 different formats! Vbout's Inbox Preview allows you to preview the email across multiple systems within minutes. Choose from over 50 popular email clients and keep retesting until your campaign is working perfectly. Each paid account on Vbout will get credit allowance that varies by plan and can be used for testing each email client.
After month of brainstorming and hundreds of concepts, we finally chose a logo we love! A great balance between simple typography, symmetry and positive impact. To view the story behind how we chose our logo, click here.
Below is a quick snapshot of our logo finalists.
AND THE WINNER IS…..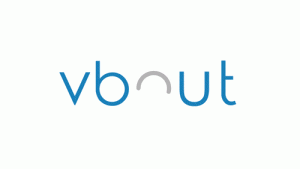 4. Emojis in Social Media Posts
Because people are addicted to Emojis we added the ability to insert them into your social media posts, directly from your post composer on Vbout.
5. Two New Landing Page Themes
Our landing page product is getting better each day. Between client feedback and our own backlog we got you covered. We launched 2 new themes to help you roll out a quick Product Promotion page or a simple Webinar/e-book Download page.
Don't forget to share this article