Data tracking is the best way to get user-driven insights required for efficient optimization of the site, fixing possible bugs, and running marketing campaigns. Formerly, the most popular approach in the context of ads generating was third-party cookies.
Advertisers track browsing activities to understand UX better and determine users' habits and preferences. In this way, user-tracking browser data helps detect the best and worst-performing website pages and archive new business goals.
Remember that website tracking is always about hitting the target with marketing campaigns, ads, conversion-driven landing page optimizations, higher CTR, and increased sales. It is necessary to collect valuable user-tracking browser data for proper decision-making. With high-quality browsing insights, you will be able to remarket any advertising material and customize other options for improved UX.
Let's dive into the question of customer data types and decide on which is the best for marketing purposes.
Difference between First-Party, Second-Party & Third-Party Data
It is worth noting that customer data can be presented in different forms and sizes. It can be collected through various channels. According to all the criteria, there are three types of data:
First-party
Second-party
Third-party
To build better experiences for customers, all three types of user-tracking browser data should be taken into consideration. Billions of data entries are collected by systems every day. It is important to understand the difference between 1st-party, 2nd-party, and 3rd-party data in order to use it efficiently for marketing purposes. Let's take a closer look at how the LOTAME experts define each type of information marketers collect.

First-party data is collected by the company directly from its audience (Internet surfers who visit the website, standing customers, followers on the social media accounts). These data entries are the most helpful, in comparison with other browsing information like third-party cookies. You get insights firsthand from the people your marketing campaigns are targeting.
1st-party data is a major source for making predictions, decisions, and forming future behavioral trends. Collect necessary first-party insights from your on-page surveys, social media profiles, CRM, and emails. Do not forget to keep track of customer feedback and user behavior patterns taken from the website (clicks, scrolls, shopping cart activities, etc.)
Marketers collect second-party data through partnering digital platforms. The company can sign an agreement with a reliable partner to exchange information. This way the partnering party will share user data with your company, and you will provide 2nd-party data entries for your partner.
It is a very convenient data tracking model for all parties involved. Each party gets audience insights that can be used for marketing campaigns and re-targeting strategies.
This data is collected from third-party resources. It means that insights are not unique (your competitors have access to the same researchers and interviewers as well) and far from precise. If 1-st and 2nd party data entries come from your audience, third parties can provide some poor and even disfigured results of surveys, questionnaires, etc.
It is not surprising that most advertisers are searching for third-party cookie alternatives to improve the quality of user-tracking browsing data. As cookies are the most popular way to get insights through independent web resources, it is better to replace this approach with more reliable alternatives.
Alternatives to Third-Party Cookies
What are third-party cookies? These are special-purpose tracking codes placed on the PC of the website visitor. Third-party cookies are generated by an independent web resource. They are used for advertising purposes and help to improve customer experience. Third-party cookies track user data and send it to the advertiser. They are created by another domain, not by the site a user is visiting, but by a third party (an independent advertiser, publisher).
Some examples of third-party cookies are:
ad retargeting services;
social media action buttons;
pop-ups (for example, live-chat services displayed).
It is worth noting that this form of user-tracking browser information is no longer an option for marketers. A range of regulations has forced the phasing-out of third-party cookies. For example, the GDPR rule requires that websites display a cookie banner to users for browsing.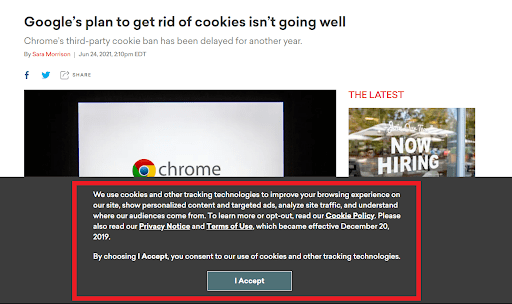 Some browsers have already withdrawn third-party cookies to meet the privacy requirements of today's Internet environment. Among them are Firefox and Safari. Chrome is the next browser that is going to block 3rd-party cookies. Google announced that phasing out (third-party cookies removal) is going to take place in 2023-2024. The removal of third-party cookies is gradual and will not ruin digital marketing campaigns and advertising business.
Nevertheless, it is worth picking sides with third-party cookie alternatives right now, to adjust one tracking approach to another. New restrictions are not going to affect 1st and 2nd party browsing data that is used for tracking information. The hot-topic alternatives in advertising should replace 3rd party data on a first-priority basis.
Let's take a closer look at four optional approaches to data tracking that are likely to become standard when third-party cookies become obsolete and go off the table.
1. Contextual Advertising
Contextual ads are generated according to the on-page content. As they are based on keyword targeting, it is necessary to use the competitor analysis tool to hit the target audience and perform better than the companies in your market niche. Marketers use in-game and in-video contextual advertising with a focus on the users' needs and interests.

But the most popular approaches in today's marketing are still native and behavioral advertising campaigns. As alternatives to cookies, these ads allow advertisers to arouse the interest of potential customers and increase conversion.
For example, native ads are used as a form of successful contextual advertising by Forbes. They post branded sponsored articles and publications that are extremely efficient for the promotion.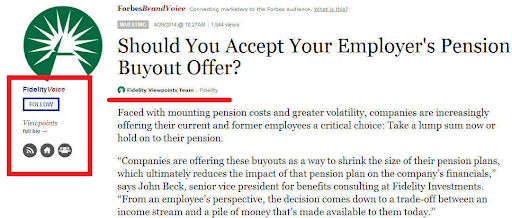 The idea is that the Forbes BrandVoice section is accepted by visitors as native content and is not at all like the intrusive ads Internet surfers see everywhere and are tired of.
A good example of behavioral advertising is the Neutrogena case. The key user behavior factor became the historic shopping cart data. The special-purpose advertising banners on Facebook were created according to different buying patterns.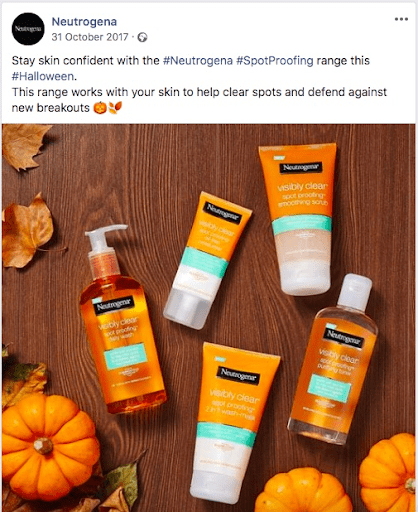 The potential customers were offered related products to the catalog items they added to the cart. Additionally, each ad was complemented with a coupon to warm up purchasing activities. An $8 ROAS became the sound result of the campaign where behavioral advertising played a significant role.
This is the marketing-friendly framework that allows website owners to establish a unique ID for every visitor of the site. The UID 2.0 version requires a single sign-on activity from users while an email address is specified.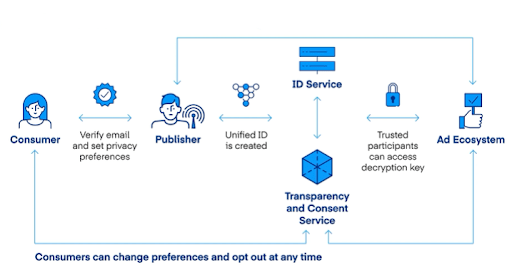 It is worth noting that Unified ID (so-called email cookies) is a good alternative to 3rd-party cookies for the anonymity and encryption of the framework. Users feel the transparency of the approach because all the information about their IDs is available to them.
Social media networks are the most suitable online environment for targeted adverts. To create catchy and highly-converted sponsor posts, it is necessary to take into consideration all the available insights on Instagram, LinkedIn, Twitter, and other profiles.
This way, tracking social media statistics like the age of users, demographic information, and other data entries can become an effective alternative to cookies in the context of user-tracking browser data collection.
Here is a range of recommendations for in-depth monitoring of these insights:
Dive into your audience's specifics. Pay attention to people's age, location, and other characteristics.
Group all your website visitors and customers in different categories according to the device they use to surf social media and visit your profiles, their demographics, etc.
Define the largest group of users that interacts with your social media accounts. Use dashboards and analytics of Instagram, Facebook and YouTube.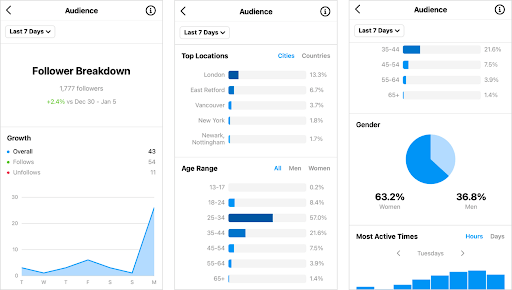 Focus on your target audience (the largest category of users). But do not forget about other groups when it comes to retargeting and paid social media ads.
Select the relevant social media channels for your business. For example, B2C companies can perform great advertising through Facebook, Twitter, and Instagram profiles. However, B2B projects should prioritize LinkedIn for increasing their networks and profitable partnerships.
It is worth noting that social media insights provide more SMM-friendly data entries than third-party cookies. The 3rd party data is about the list of visited sites by a certain user, while social media with their analytical background are helpful for competitors' pool identification. This way you can use the strengths of the top-performers in your niche and add them to your marketing strategy.
According to the hot-topic list of marketing trends presented by VBOUT, machine learning can complement the campaigns with a focus on the user-tracking browser data. More AI and predictive modeling brings a range of benefits for marketing performance — reduced costs, higher ROI, and in-depth analytics.
4. First-Party Data Collection
The most trusted information is obtained directly from your audience. Place emphasis on your first-party data. There are several ways of efficient collection to take into consideration:
Using lead generation forms in advertisements. Social media platforms provide almost unlimited lead-gen opportunities. For example, when the user signs up in Quora with the help of a personal email address, this data can be used for advertising purposes (email marketing campaigns) by marketers.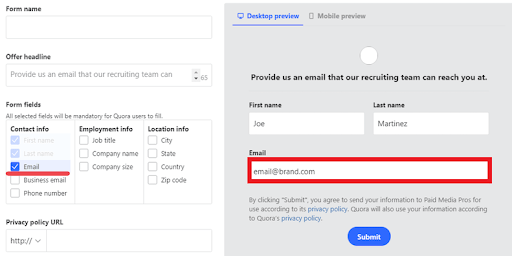 Using personalized questions in online forms. This approach kills two birds with one stone. First, with personalized questionnaires, you can hit some specific users who are easy-to-convert into standing customers. Second, this is a great way to undertake your website visitors' segmentation. Remember that while segmenting your leads, you can speed up their funnel diving.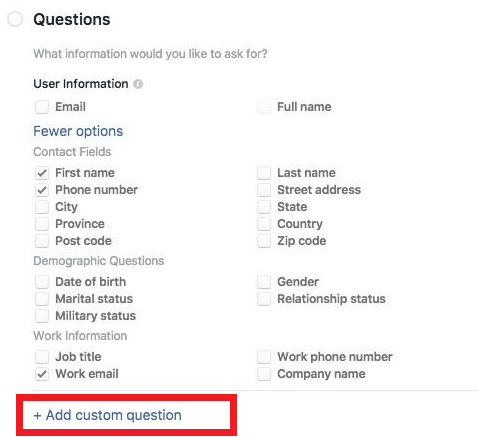 The more channels and media, the better. You may be surprised, but your audience is not limited to the Google browser and popular social media like Instagram and Facebook. It is better to explore all the possible networks and mediums right now when third-party cookies are still available for marketing purposes. Find unique targeting options on such dark horses as Reddit, Waze, NextDoor, etc.
A well-thought-out branding strategy is key. To collect more first-party data, focus on your brand identity and reputation. Brand-building is always the evergreen marketing strategy. Internet users would like to share information with reputable companies. It is likely that 80% of website visitors are not going to sign up for any promotions if the product or service provider seems unreliable to them. Make your brand well-recognized and trusted for your target audience so that it erases the users' fear of providing personal information to your company.
According to our research, the first-party data collection will take place more efficiently if the marketers strive to deliver clear real-time messages to the audience via omnichannel campaigns and map the end users' experiences and customers' journeys.
Kelly Breland is a Digital Marketing Manager at SE Ranking with experience in SEO, digital and content marketing. She is a persistent advocate of using content marketing to build a solid brand. In her spare time, she is engaged in gardening.
Don't forget to share this article