The word "abandonment" is a common term used in the ecommerce industry to identify a visitor who quits a web page before completing an action.
According to Shopify, out of every 100 prospects visiting your website, 67 of them abandon it without making any purchase. The reasons can be complications that your visitors found while they're checking out, low website speed, a sudden crash, or your prospects are not ready to buy.
However, this leaves a great opportunity for you to look for effective ways to convert these lost visitors. One of the good practices might be sending your visitors and customers automated messages reminding them to go back to their shopping carts and complete their purchases.
Although it's nearly impossible to convert 100% of them, but doing so allows you to minimize your abandonment rate to a large extent.
You can create an automation workflow that consists of multiple email reminders.
Sending a series of cart abandonment emails may increase the chance of having more sales. According to Experian, customers who receive several emails are 2.4 times more likely to complete a transaction than those who receive only one email.
At times, you should be careful not to bother your leads with excessive messages as this may also lead them to churn.
So how to build a cart abandonment automation to push your prospects to check out?
First, let's represent a sequence of cart abandonment emails that will help you create a successful automation workflow for your leads:
One of the best practices is to send your first reminder email a few hours after abandonment. This shows that you're paying attention to your leads and your accuracy in responsiveness and care.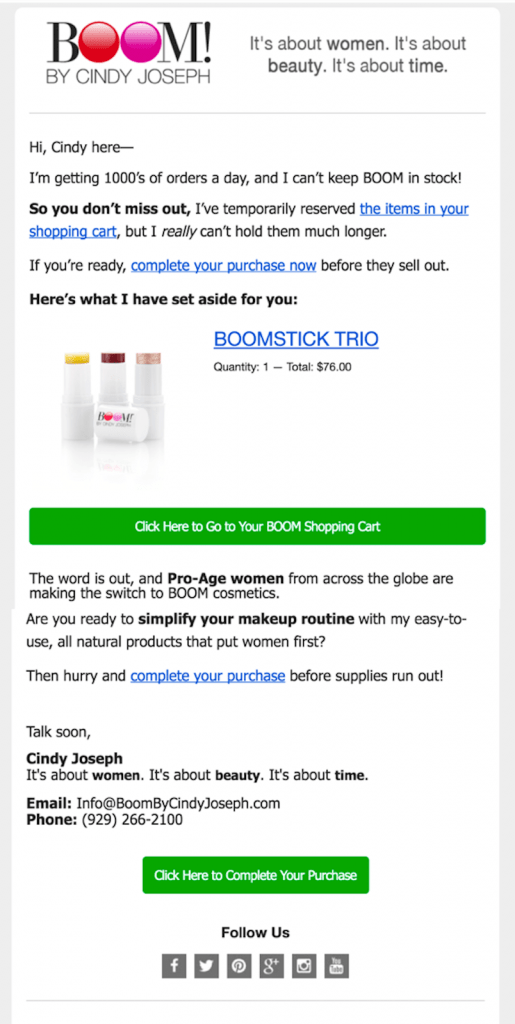 You can also target your abandoned visitors with browser push notifications such as this example:
To get your visitors to checkout and complete the order, you can create a sense of urgency. The email above did it well by saying to their shoppers that they have a limited time to finalize their transactions before the selected items are sold out.
This boosts the chance of increasing your sales while you win your customers back.
After you send your first email, you expect your customers to respond. If they respond, you can send them a thank you email with a series of other emails (product review, upsell/cross-sell, recommendation for other products, piece of content, etc…)
Here's an example of what a thank you email might look like:
Hi [Name],
Thank you for shopping with [Company-Name]! We can't wait for you to receive your purchase so we will let you know once it's dispatched!
Order: [Order-number]
Thank you for your patience.
This email can be triggered anytime once the customer converts, not necessarily after the first reminder only.
However, if your abandoned visitors don't respond, you should send them a followup email which will be shown in email reminder #2.
If your customers don't convert from your first email, It's good practice to send them a second email reminder, after one or two days, emphasizing on urgency that they should proceed as fast as possible.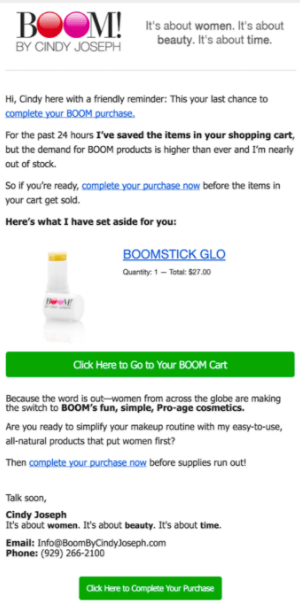 The second reminder email is similar to the first in that it addresses urgency. But it emphasizes to customers that it's their LAST chance to complete their purchase order.
Using keywords such as "Last" and "Now" would urge the customer to do the action immediately without postponing.
You sent out the first and second email, and customers are still not converting. What would you do next? Here's what you will notice in the third email.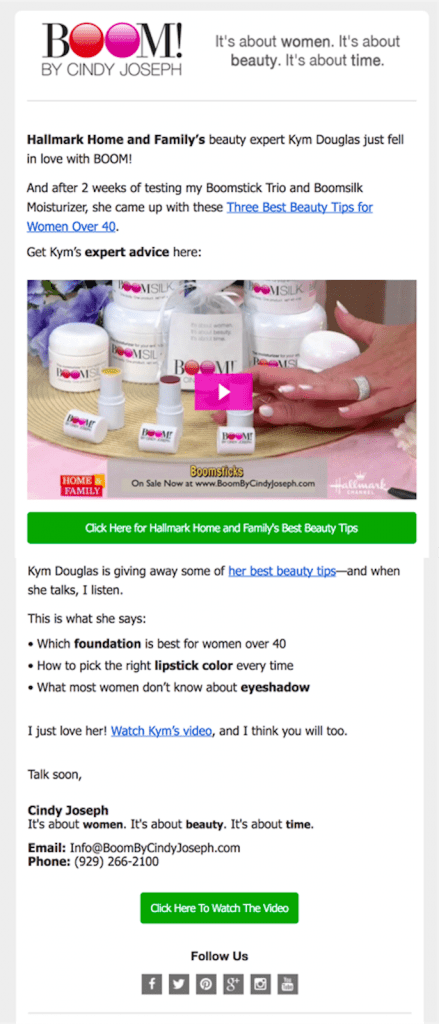 The above email's context is totally different from the first two emails. Instead of communicating urgency and scarcity, they provided a value proposition to their user, by focusing on social proof and educating them by showing how a third-party customer benefited after trying their product.
Also what's different in this email is that instead of linking their customers back to their abandoned shopping carts, they redirected them to a video on their site.
Depending on your objectives, you might send this email reminder after 24 hours from sending your second one.
If customers are still not converting after this email, you can either send them a final email or a few more emails but you should pay attention not to bother them with excessive messages.

As you notice, the 4th reminder combines 3 essential elements:
Urgency
Deadline
Discount
If you realize that your visitors are still not checking out, you might encourage them of a special discount with a deadline. The above email includes that if shoppers complete their purchases, they will get 10% off the products while alerting that this offer is only valid for 2 days. What's also creative is that the discount is also highlighted in the CTA button.
Excluding your visitors who may not be checking your emails, the above series of emails should play a significant role in converting a large number of your traffic that has abandoned the shopping cart. You might choose to continue the sequence with another followup email to try and engage those remaining lost visitors who haven't converted.
If you look at the email below, you will notice a second emphasis on social proof.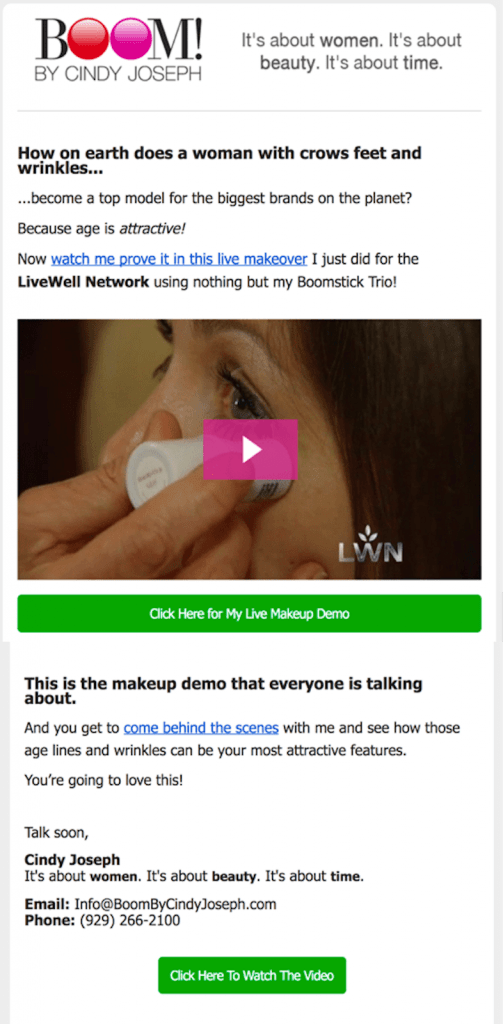 The above email communicates a value proposition but in a different manner than the third one. They wanted to show their abandoned users how another customer became a top model by using their product in a live makeup demo.
It has become obvious that the purpose for going back to such emails is to highlight their credibility and support their users in making a decision.
If you notice in your analytics that your conversion rate is still going below your expectations, and since you may have tried all the options possible to minimize your abandonment rate, you can give it one final shot as seen in the 6th, last email reminder.
Email reminder #6 - Final

To urge the customer to take action immediately, a smart strategy is to send a final email, notifying them that the offer expires today which is their last chance of claiming their 10% off if they're still interested. If they don't respond, you can stop sending them emails.
If you're not targeting your abandoned visitors with shopping cart abandonment messages you will be leaving serious money on the table.
Hopefully these emails have provided you a clear roadmap of how a successful sequence should be created to convert your ecommerce visitors.
To put these series of reminders into a powerful drip campaign, you can create an automation workflow in which you select the triggers and actions that you want.
Here's a screenshot of how a cart abandonment automation workflow may look like:

The automation above shows a short workflow and a combination of both email and browser push notifications. You can choose whatever type of automated message that you want but the thing is to allow at least 2 – 3 days between messages so that customers won't feel annoyed with excessive reminders while allowing them space to respond to your offer.
Note that you should make sure that any trigger and action in this automation doesn't negatively interfere with other ones in a different workflow. Therefore, we recommend that you go through all your automations and emails that your customers are receiving.
Don't forget to share this article