Every time you send an email campaign, you should look at the metrics captured by your email marketing system in order for you to fine tune your efforts and get better results. Here is a list of the most important data metrics you should look at when sending out an email campaign: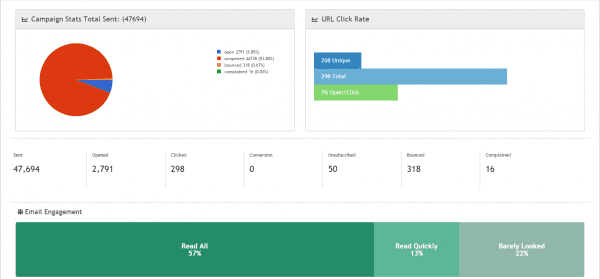 This is a direct indication of the quality of the list you are targeting. Single opt-in lists normally have lower open rates than double opt-in, where users have to confirm a link or open an email to be confirmed as a subscriber. Below is an industry benchmark on average open rate per type of emails sent: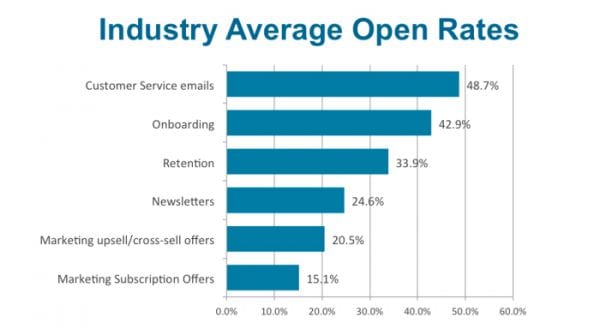 Click Through Rates (CTR)
This is the number of times subscribers clicked on links or call to action buttons inside your email campaigns to reach a destination page of your choice. Links are normally the entry points to a lot of tracking that comes afterwards, such as conversion, browsing activity per subscriber and more. Below is a bar chart showing you the total number of clicks (where one user could have clicked multiple times on the same link), unique clicks and how many of your subscribers who opened the email actually clicked on any of the links.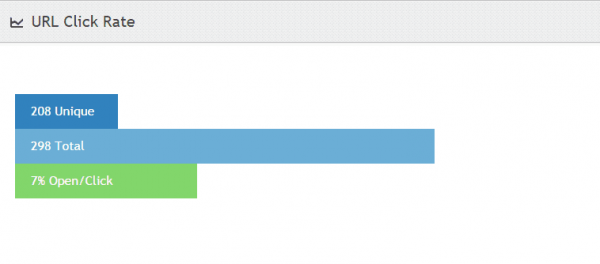 Having a high open rate is not enough to determine if your campaigns are performing well. Knowing how long your subscribers are looking at the content of the email is highly important. Ideally you'd want your users to be spending over 10 seconds reading through versus 2 seconds, which means they opened and immediately deleted it. Here is an example of an engagement map of one of my campaigns:

If the ultimate purpose of your email campaigns is to convert your subscribers into buyers or users or to achieve a certain level of engagement on your site, you should setup a conversion tracking pixel to track your goals. Conversion pixels are very easy to setup and they sum up the purpose of your entire marketing campaign. You could also take your tracking to another level and view the dollar amount per campaign you send like the example below:

Sometimes, subscribers might opt-out from your future mailings. It could be that they are not interested in your content or perhaps you have been sending emails too frequently. In any case, make sure you respect their unsubscribe and stop sending emails. Normally the system takes care of the logistics of not sending future emails. Low unsubscribe rate is expected across all industries. Here is a quick unsubscribe by industry chart: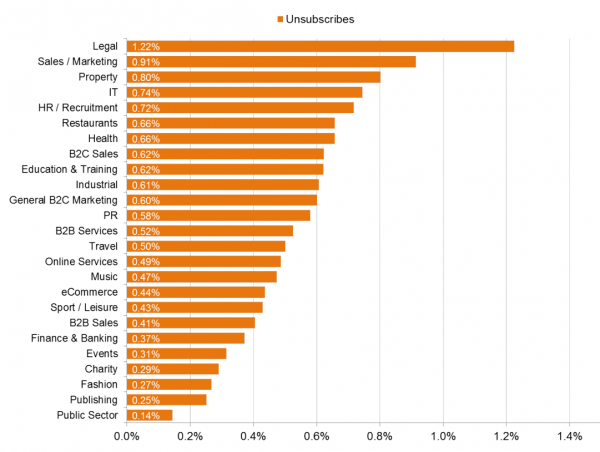 Sometimes emails do not make it to the recipient's inbox due to many reasons. When that happens, the system will record a bounce back with a particular return code. There are different types of bounces, some are soft bounce or temporary failure and hard bounce or permanent failure. Click here to get a full list of bounce codes and their explanation. To minimize bounce rates, it is recommended to use double opt-in for email signups, spam check when composing emails (check snapshot below) and continuously monitor the performance of your list. We built rules into our email marketing system to treat those bounces automatically. We immediately unsubscribe hard bounces while we have a third time is a charm policy on soft bounces. If the third bounce is still returned we flag the email as a hard bounce.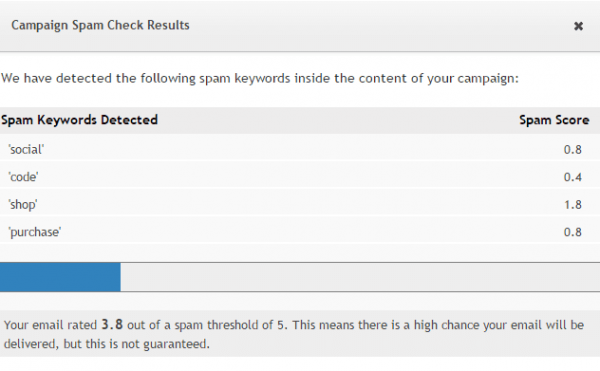 Technically, complaint is a type of bounce back. If you find spam complaint on your report, do not freak out! Spam reports rely on many metrics such as third party reputation services, server level spam filters and content scoring. If you find the number of complaints increasing you might want to consider evaluating your content for spam, using double opt-in or using a fresh SMTP values.
If you are using demographic targeting and segmentation, this metric is important for you. Knowing where your subscribers are opening their campaigns from could help you re-target your segments based on their local time and holidays. This might be a bit more advanced email marketing, otherwise it's only pretty information.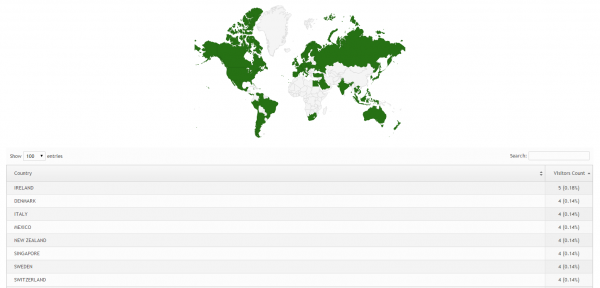 Tracking what devices your subscribers are using to open your emails will give you a better understanding on how you should structure your email templates. If the data is showing third of your open rates are from mobile, then you should be focusing on making your template mobile friendly.

Don't forget to share this article