Everyone's favorite photo-sharing app, Instagram boasts over 800 million monthly active users worldwide. Of course, this means a huge portion of your prospects are hanging out on the platform, ready to be marketed to!
The hitch? There are over 8 million business profiles currently active on Instagram as well. In this right, it's become increasingly important to not only have a presence on the platform, but working with an ironclad strategy that's ready to go is crucial as well.
Below, you will find an outline of how to optimize your Instagram strategy, to maximize your potential as a brand.
As with any marketing channel, it is integral to set goals that you wish to achieve. As such, your Instagram goals need to be properly fleshed out. Like with all marketing endeavors, the time and effort put in can get expensive, so justifying those expenses is at the core of a good strategy.
Companies can have a wide range of goals from showcasing products, growing your community, increasing brand loyalty, and of course, increasing sales.
No matter what your goals are, setting them beforehand will allow you to accurately measure your success down the line.
You have only an incredibly short amount of time to get your vision across to users online. As such, it is crucial that you make a good first impression with the content of your profile and your bio.
In short, it should explain what you do, appeal to the target audience, and do it all while using your brand voice.
Here's an example of a good bio:

You will also want to use a recognizable profile picture, this can mean a logo, or a mascot, or any other iconic branding images your business uses.
Build cohesive content themes
Being that Instagram is a highly visual social media platform, it may not exactly come as a surprise to you that building beautiful visual themes for your content is highly recommended.
Stick with your overall company branding, and share photos within a predetermined theme, and your feed will undeniably look gorgeous and cohesive!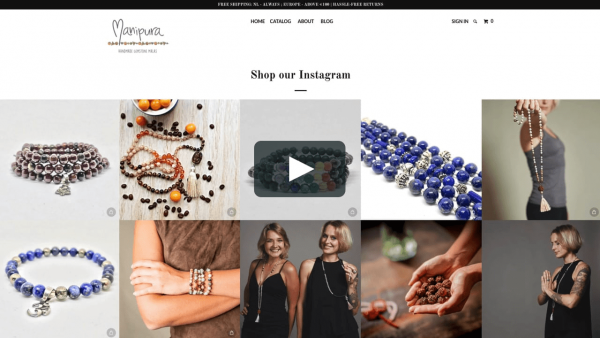 Of course, a huge part of being cohesive is being consistent– and keeping your content flow on a tight schedule.
(Pro tip: faces in photos garner more engagement!)
Keep your content calendar flexible
Hands down, one of the most important things you need to launch your Instagram marketing strategy is a content calendar. You can approach this one month at a time.
While it does help to have premeditated posts on the docket, it'll be key for you to leave some space for relevant and timely goings-on. For example: spur-of-the-month events, user-generated content, national tragedies, etc.
Do not use links in photo captions (Link in bio)
Instagram has existed since 2010. Unfortunately, almost 8 years doesn't seem like enough time for people to learn that links do not work in photo captions. It may seem rudimentary, but it bares repeating.
A user will not take the time to type out a URL you provide them with, no matter how interested they might be in what you have to offer. To combat this, put the link of whatever you are promoting at the time in your Instagram bio. Finish off your caption with those 3 magic words: link in bio.
Speaking of captions, this is another area in which your brand has the opportunity to use its unique voice. Make sure that the copy is in line with your values. You can keep it short, or lengthy– however, it's important to note that there is a 2200 character limit!
Create a business profile
It was recently announced that Instagram launched a few different business tools for brands to get a better grasp on their followings and engagement — to ultimately grow their business through the platform.
Once you've made the switch and learned how to create a business profile, you'll also be able to include additional information about your business on the profile such as a phone number, email, and address.
Utilize niche hashtags (30 of them!)
Hashtags are a wonderful way for you to index your content, make yourself discoverable to users, and garner more engagement. In fact, you can use up to 30 of them!
Here, it is advisable for you to venture beyond basic hashtags like #marketing or #branding. As of right now, there are 15,018,855 posts tagged with the word #marketing.
Niche hashtags refer to hashtags that are borne of niche internet culture. In this case, a niche hashtag would be #marketingvibes or #marketerlife. This will allow your content to appear in a smaller content pool. Of course, appearing in a smaller content pool means having less competition over other brands — boosting your visibility.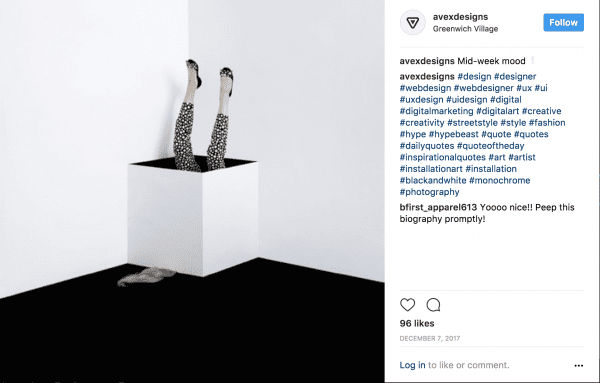 Pick one hashtag to promote
Many brands choose to invent their own hashtag to track their posts, gauge user engagement, and solidify their brand voice.
For example, home decor giant West Elm asks users to tag their posts with #mywestelm.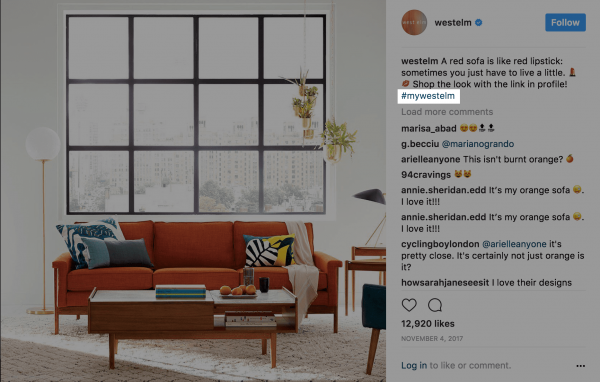 If you've spent any time on Instagram at all, you might be well aware of brands using influencer marketing. This is a form of marketing partnership that so many brands have been successful with.
Influencers are, in essence, Instagram power-users with a large audience of followers. Businesses partner with influencers that have an affinity with their brand, to share their brand message with their audience for compensation. These are mutually beneficial for both parties, as both can use the content going forward.
People are on Instagram to see real, relatable content. If your Instagram strategy is just to pop in with some content and go on your merry way, you may want to reconsider.
Stories are a great way to share your brand and your voice in a less filtered, more authentic way. Your audience will not only feel like they can relate to you on a closer level, but will also engage with your content more!
(Cheat code: you can post pre-made things on Instagram stories now! This can include any range of videos–including animations– and edited photos.)
Live videos are all about producing those micro-moments for users! This is another way to engage with your audience on a much smaller scale, but a much more impactful and meaningful way.
Social media has an immense impact on your ranking. In fact, if you google Britney Spears, you will see her Twitter account beat out her own personal website, followed by her Instagram page!
It's important to think about native searching within the Instagram platform. We know that users can search by name, username, hashtags, and places.
These search results are typically based on a variety of different elements, including the people your account follows, your connections, and the photos and videos you like.
SEO is a powerful tool, and harnessing it means you are setting yourself apart.
Embed Instagram content in your blog or website
Instagram also recently released a new embed feature for the web browser version of the app.
Due to the fact that you never know for certain who will see your shares on a social media platform, you can embed your photos and videos in your blog or website to further grow the reach of the video content you've created.
Instagram is a social media platform. So, take your Instagram strategy to the next level by slotting out some time to respond to comments, engage with your followers, like pictures, and follow more users.
This, of course, is a time-consuming endeavor to undertake. Using a marketing automation platform is a method of standardizing the engagement process. Streamline your interactions with your followers all on one simple dashboard to make the most of your time.
An optimal Instagram strategy will be an integral element to any well-rounded marketing strategy. Brand aesthetic and follower engagement are the fundamentals of a high-performing Instagram account.
Don't forget to share this article