Did you know that Instagram users spend an average of 28 minutes per day on the platform? That's a huge number, and it's no wonder businesses are starting to use Instagram as a way to increase product awareness, build their reputation, or strengthen relationships with their customers.
But you can also use Instagram Shopping to boost your e-commerce sales.
In this blog post, we will discuss 10 ways to leverage this Instagram feature to sell more products and increase your revenue.
We will also provide examples of businesses that are using Instagram in innovative ways to drive traffic and sales.
Let's get started!
What is Instagram Shopping?
The rationale behind the creation of Instagram Shopping is that approximately 50% of customers claim they use this channel for their weekly shopping.
Starting from this figure, Instagram wanted to make it easier for even more people to spend their money on the platform.
To access this Instagram feature, you must set up an Instagram shop. This virtual shop is perfect for e-commerce companies because:
You can set up a myriad of products and collections, basically creating your online store on Instagram.
You can connect with potential customers and other Instagram users, sharing your values, plans, and story.
What are the Advantages of Instagram Shopping?
Instagram Shopping comes with a slew of advantages for e-commerce brands.
Your Instagram Shop looks like an online store.
That means you can arrange your products in collections using specific themes. Therefore, people can get to the products they want faster and without getting lost in the Matrix.
Instagram Shops resemble the Amazon Page.
This intuitive design allows customers to read all the relevant information, such as product features, descriptions, and pricing, in a format they recognize. Besides, people know exactly how much each product costs. That helps them make the right purchase decision for their needs (and budget).
Easy checkout on Instagram.
People can buy your products directly on Instagram (for eligible US companies). That way, they don't need to follow up on your website, meaning you can get more conversions because potential customers have less time to change their minds.
Shoppers can find your products everywhere on Instagram.
Instagram Shopping features product tags that allow you to stamp your products throughout your Instagram – from your feed and bio to any reels, stories, ads, and lives you're doing. Thus, shoppers can simply tap on your products to get them.
You can target your potential customers right where they are.
Seeing unrequested ads can lead people to ignore them. However, on Instagram, this promotional content is not unrequested. Users see customized content in their feed; if they see you, chances are they're part of your audience. Even better, people can use the Instagram Shopping tab directly to visit your store. As a result, they become a captive audience with more chances of converting.
Instagram shopping looks good and is mobile-friendly.
Ease of use is the cornerstone of a successful online shopping experience. Luckily, Instagram has integrated that feature within its shops.
Potential customers get personalized recommendations using the Instagram algorithm.
That feature is essential because it can bring more qualified leads. These high-quality potential customers have more chances to become buyers than unqualified leads. Besides, these recommendations are crucial to getting back people who've abandoned their carts because the products they added weren't precisely what they were looking for. Instead, a more accurate recommendation using the Instagram algorithm can convince them to purchase from your store.
You can talk at length about your product and place it in the limelight.
People getting to your Instagram Shop are a captive audience. That means they will spend more time learning about your products and brand and interacting with your company. Again, the result is getting more qualified leads and increasing conversions.
You can create convincing ads.
Since this audience is already captive and interested in what you say, you won't have to tone down your promotional content too much. As such, you can create persuasive and direct ads.
You can get people directly on your website's product pages or other pages.
That leads to more interaction with your content and more access to your product range. The result is increased memorability and recall, plus more chances to make a purchase decision on your website.
How to Leverage Instagram Shopping
Firstly, you will have to create an Instagram Shop, and before you do that, you'll have to check the platform's Commerce Eligibility Requirements. Then you'll have to use the Commerce Manager, the Instagram app, or a supported platform to create your shop.
This is where the real fun begins.
To reap the best results, leverage the ten strategies below:
1. Place Your Product in the Limelight
In the past few years, social media marketing has transformed those traditional glam ads into ads resembling user-generated content as much as possible.
The reasons include an increased need for authenticity and for building rapport with customers. Of course, multiple studies showed that people trust traditional advertising and brand communication much less than their peers or influencers.
However, images and videos created by professionals have indisputable persuasive features.
Instagram Shops allow you to create posts and ads that bring your product back into the limelight. Since you have a captive audience, you can put your advertising budget to good use and:
Create desire
Elicit strong emotions
Build a specific atmosphere
Notice how, in the example below, the appetizing butterfly pea strawberry latte made with @shopcoffeebae's Bestie Roast takes the entire scene.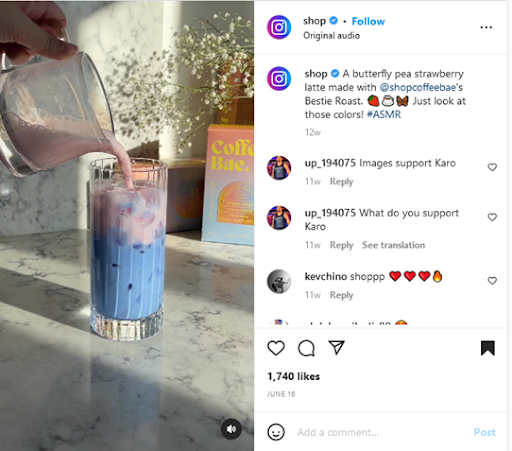 The colors and sounds combine in complete harmony to create an intense craving. That's the merit of the professional team behind this post; an inexperienced Instagram user or content creator couldn't have created this intense feeling.
Also, notice how the feeling of authenticity is still there.
That hand pouring the ingredients in the cup and the background look completely unedited. Therefore, this ad reaps the best of both worlds, combining glam and genuineness.
That brings us to the following point:
To create desire, you can use images that perfectly blend shiny ads and user content. Besides, you can power them up with quotes and visual descriptions that fit your brand's goals.
Notice how, with the Instagram Shopping feature, the emphasis is back on your goals.
In influencer marketing or UGC marketing, the accent is more on communicating with your audiences, outlining your values, and building rapport.
But since Instagram Shops are just like any online stores, you can be a bit more salesy.
That doesn't mean pushing your products towards a skeptical audience but instead allowing yourself and your team to focus more on the product's features.
In this example below, the first picture looks similar to what an Instagram user or influencer would post. The edits look minor to the untrained eye, thus creating that authenticity.
However, the team behind this image chose the right colors and proportions to emphasize the swimsuit. You can also notice a return to the original conception of how a model should look like. By comparison, UGC and influencer marketing have facilitated and leveraged the body-positivity movement to create authenticity.
In this case, the post's primary goal is to create desire.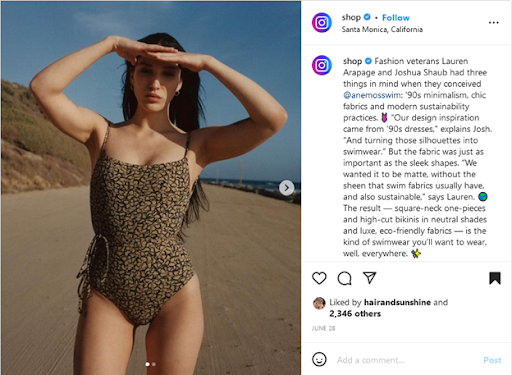 The second image does an even better job at creating that desire: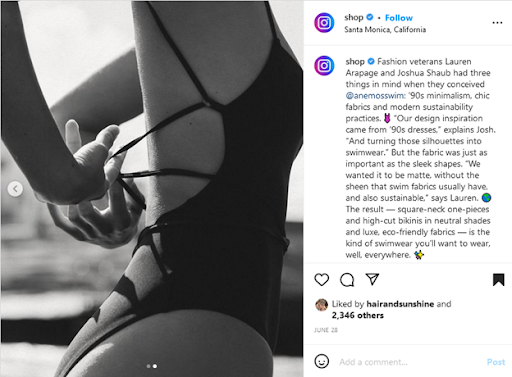 Also, notice the lengthy text on the right side of the screen. The brand creates even more desire, outlining its values (sustainability), high-quality materials, inspiration, and story.
Again, they can focus so much on the brand because they have a captive audience who are there to purchase their products – or very similar ones.
Another example of creating desire is this fast-paced video below: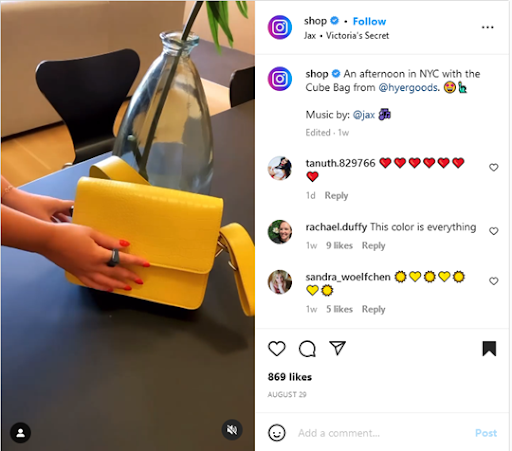 The creators have put together a desire-eliciting ad that looks like UGC. The vibrant yellow purse stands out from the crowd, and the entire video focuses on it.
However, the video creators also focused on shoppers' needs, showing how they could use this purse.
You, too, can use Instagram Shopping for high-quality ads that create desire efficiently. A professional team will know how to make your product shine while focusing on your audience's needs.
3. Uniting Forces with other Brands
You and other companies can create shared content. Presenting your products together:
Gives you access to a larger pool of customers
Allows you to discuss your offers at length
Shows your brand from another side, that of a collaborator
Helps you focus on your customers' needs by showing how your products can complement (or be complemented by) another company's products. After all, people use multiple items from several retailers in their daily lives
And while all those steps will help you reach your goals seamlessly, you must stay relevant and avoid being too salesy when presenting those products.
But just like in the example below, you can show your customers more offers, giving them all the relevant details they need to make a purchase decision.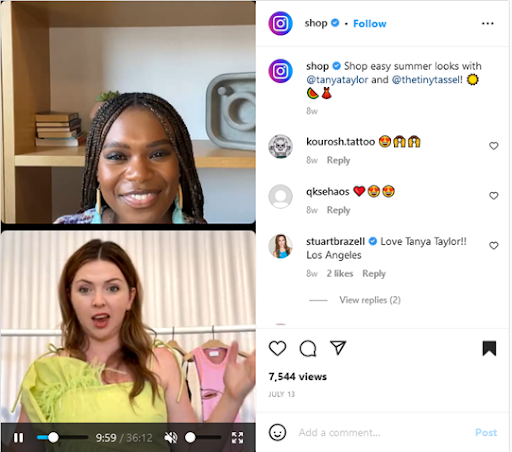 Another advantage of this strategy is building credibility by highlighting your expertise and showing customers you're interested in their needs. The results are multi-fold, from increasing product recall to getting more sales.
4. Show your Products in Action
Showing your products in action entails presenting what those products would look like in real-life scenarios to create desire, FOMO, or both.
Why would that work?
Let's analyze the example below: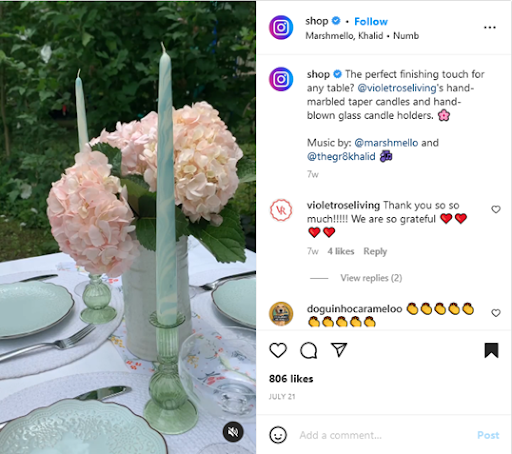 This fast-paced video shows people how beautiful an outdoor dining table could look with the company's hand-marbled table candles and hand-blown glass table holders.
These two products are typical examples of what most people consider beautiful but unnecessary.
E-commerce stores selling these types of products cannot rely just on product images, stories, or customer reviews. They must help their potential customers understand why they should buy those items, not just admire them from afar.
If your goal is attracting a new pool of shoppers, these real-life scenarios are a potent tool.
A good example of a longer video using this strategy is the one below, showing people how to make delicious tacos using seasoning from Spicewalla.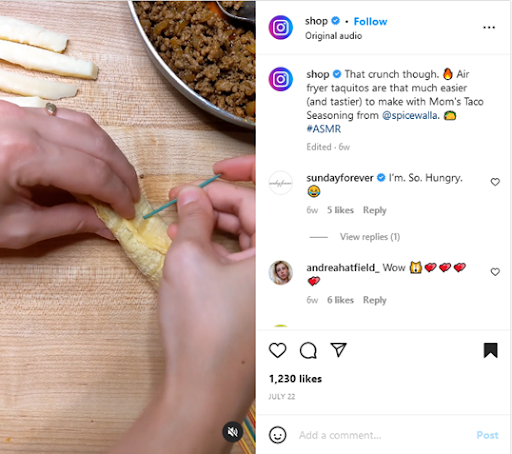 5. Explain how People Should Use your Products
If your e-commerce store retails a consumer goods product (CPG), your competition is tight. Your competitors are all very likely to deliver high-quality products too.
So your chance of standing out from the crowd is to show your audience why they should buy from you.
One way to do that is by coming up with a unique advantage and respond to one of the people's most frequent questions.
Bolden Skin Care does precisely that in the video below: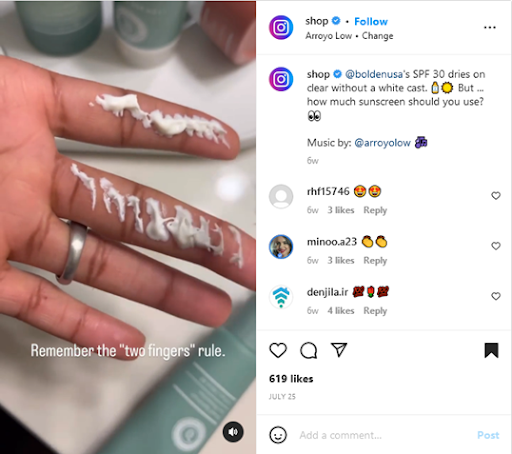 The description highlights the unique advantage: their sunscreen dries on clear without a white cast.
The video makes it easy for people to understand how much sunscreen they should use: the equivalent of a teaspoon, which is roughly two fingers' worth of sunscreen.
Alternatively, you can explain how your products work by doing a "Dos and don'ts" video or infographic. This format works best for:
Skeptical audiences
Intricate products
Extremely versatile products with a lot of confusion surrounding their uses
The Gua Sha fits in the third category. LANSHIN aims to dispel confusion with this video below: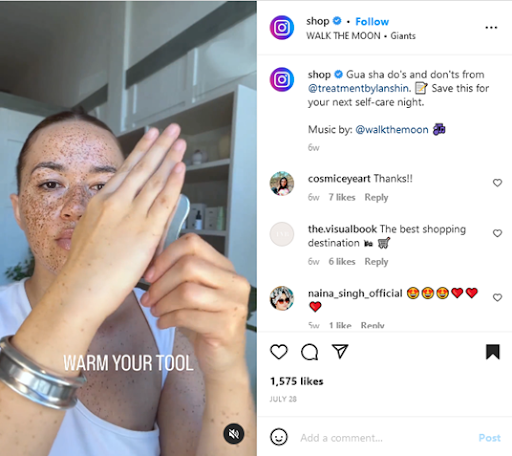 Notice how both these videos, compared to the examples we've given above, employ UGC-like content to deliver their messages.
Your Instagram Shop is still on Instagram, and that means knowing when to use polished content and when to use authentic content.
As a rule of thumb, polished posts and ads are best for eliciting emotion or creating a strong impulse. By comparison, UGC-like posts are best for building credibility and ration-based arguments.
Remember: Test different strategies to ensure you find the right one for your audience. Use an Instagram engagement rate calculator to see how your posts are performing and to optimize your plan accordingly.
6. Show Behind-the-Scenes Footage
People want to feel involved in the brand's life and community. A standard e-commerce online store won't offer you many chances to involve your audience, making them part of your story.
The Instagram Shopping feature can, though.
Although Instagram Shops are just like usual stores, they can leverage the channel's features, functions, and advantages.
Those include:
Creating connections
Building a community
Engaging with your Instagram followers
Presenting your own story to build rapport
Showcasing your values
And more
Also, remember that Instagram Shops allow you to juggle between UGC-looking content and more polished posts.
Good examples include:
1. "How it's made" videos show potential customers all the care, attention, and hard work behind making a product or delivering a service. Disclosing this information makes people feel like part of your story. JOOLZ by Martha Calvo manages to do that in the video below:
You can notice how tiny details add up to create desire and make people feel part of the JOOLZ family:
The tiny workshop
The oversized parka
The painter's nails and attention to detail
The laidback atmosphere and music
2. Alternatively, you can let people in by sharing a story from the brand owner's past. Apart from raising curiosity, this strategy allows people to feel part of a small inner circle.
As a result, they will feel more loyalty and recall your brand more easily, thus leading to more chances of buying your products.
The example below is also from JOOLZ by Martha Calvo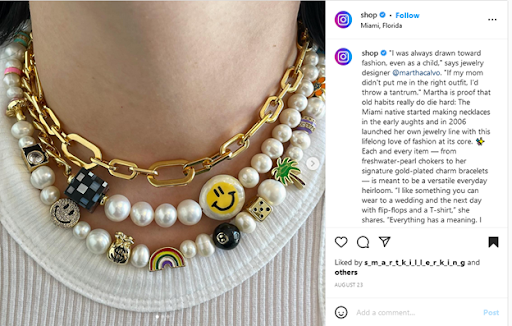 The image on the left neatly complements the story on the right. Notice how this image showcases the beautiful necklace with minimal airbrushing of the model. You can see skin texture, pores, and fine neck lines.
Why is that important?
For the story on the right to feel credible, the image on the left must be as authentic as possible, too. Either way, the discrepancy would lead to less trust.
7. Connect with your Customer's Values
Showing your customers that you share the same values is essential to:
Create a unique selling point, aka a strong reason to buy your products
Differentiate yourself from the competition
Help them remember your brand
Kalani and Wolf is a clothing brand that makes its mission clear. Operating under the "never apologizing, never conforming" aegis, the company promises to deliver sustainable items made by empowered humans.
The post below presents the store's values: inclusion and sustainability. The strategy is sharing the story of founder Joanis Duran, showing how her dreams and activity intertwine with those values.
The goals are appealing to an audience with the same aspirations and getting their support to materialize via their purchases.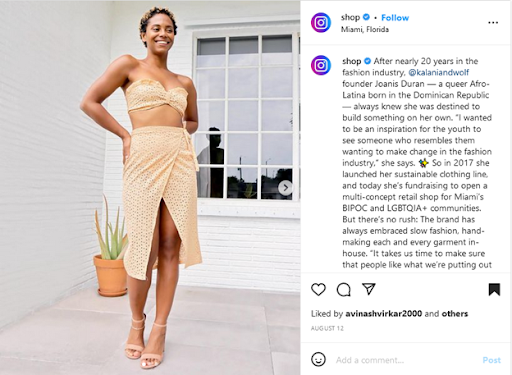 8. Connect with People's Needs
Instagram Shopping allows e-commerce stores to boost sales by connecting to their customers' needs. One way to do that is by showcasing how your brand solves that need, just like in the example below where Rel Beauty shows its customers it understands the feeling of finding the perfect lip balm: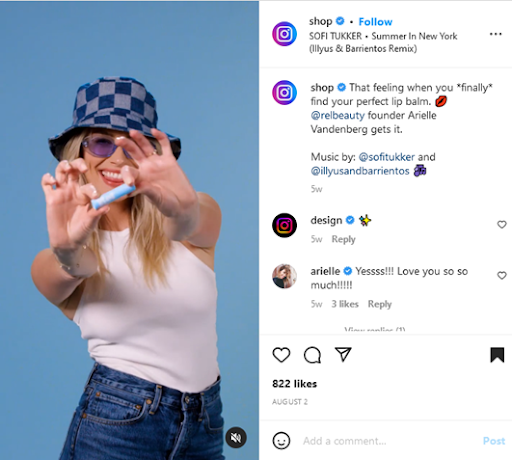 That strategy is pretty self-explanatory.
Why would you need Instagram Shopping to do it, though?
Instagram is already used as a way to browse content and products. Users will feel free to interact with the content they see from your brand because that's the norm.
Besides, these users see your posts based on personalized recommendations, meaning they're more likely to trust and remember that content.
And they're more likely to have that need your video solves right when they're watching that content.
If you integrate Instagram Shopping with your posts, videos, and reels, you can tag your products. Therefore, your potential customers can click to purchase those items immediately if your message has convinced them.
9. Showcase Multiple Products
Showcasing multiple products has several advantages because you can:
Keep people hooked
Give them more options
Create more desire
Coco Shop does that in the post below, taking viewers through five summer dresses they could purchase.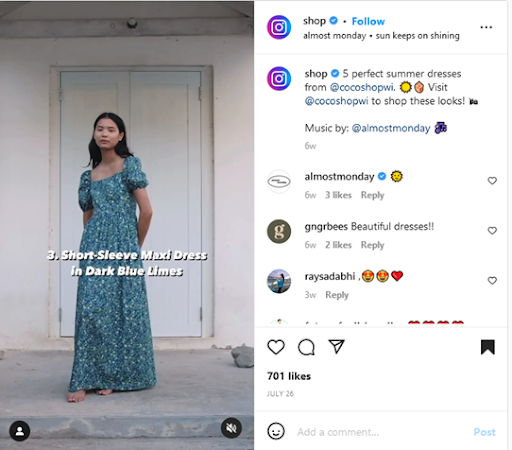 It's not enough to present your offers, though. This type of post may also require a more UGC-like look to convince people.
Authenticity is one reason, but fashion-interested Instagram users are already used to watching specific fashion videos. These videos are created using certain trends, music, and transition effects.
Incorporating these familiar features has the advantage of suspending reason for the duration of your video.
As such, people's minds will no longer strive to find arguments against buying your products. And if you've allowed viewers to purchase by clicking directly on those products on Instagram, your sales will increase even more.
That brings us to the following point:
10. Allow People to Buy with a Click
We've discussed this strategy's benefits multiple times above.
Some products are impulsive buys, especially if they fit in the "wants" category and are affordable. In this case, customers may change their minds if they have to get to your website to finalize the purchase.
However, businesses outside the US using Instagram Shopping cannot use this feature.
The next best thing is tagging products on Instagram to get people directly to the product page.
Pro tips:
Don't flood customers with too many details. They shouldn't have to endlessly scroll down before reaching the "buy now" button.
Make sure the checkout process is as streamlined as possible so that your potential customers finish buying that product. That means you have to offer clear steps and avoid asking people to input much information.
Don't show too many additional options on this page because people might change their minds.
The Instagram Shopping feature can allow you to increase your sales considerably. However, you want to establish a clear action plan with defined goals and strategies adapted to those goals and your values.
Remember that A/B testing is essential before finding something that works, and optimizing is always critical for your campaign's success.
Also, don't be afraid to use Instagram Shopping to its fullest potential. Reap the benefits of traditional-like ads, UGC-like content, and the platform's shoppable design.
About the author
David Morneau is the co-founder and CEO of inBeat, a hybrid micro-influencer marketing SAAS/agency that helps brands scale their marketing efforts. He has helped over 200 DTC brands to date.
Don't forget to share this article