There's no doubt that Instagram is one of the hottest social media platforms right now.
But why talk about marketing strategies for Instagram Reels?
Instagram Reels is the latest social media platform that has been gaining traction amongst marketers given its high reach, views, and engagement rates.
No wonder then that small to large businesses are perfecting their marketing strategies for Instagram Reels to showcase products and increase followers.
You can too.
Stay with me while I cover 7 of the best social media marketing strategies for Instagram Reels that will grow your account.
What Are Instagram Reels?
Launched in 2019, Instagram Reels are a new way to create short, entertaining videos on Instagram.
Originally restricted to 15 seconds, Instagram now allows users to create up to 4 IG Reels, each of 90-second duration.
Here's how you can create an Instagram Reel.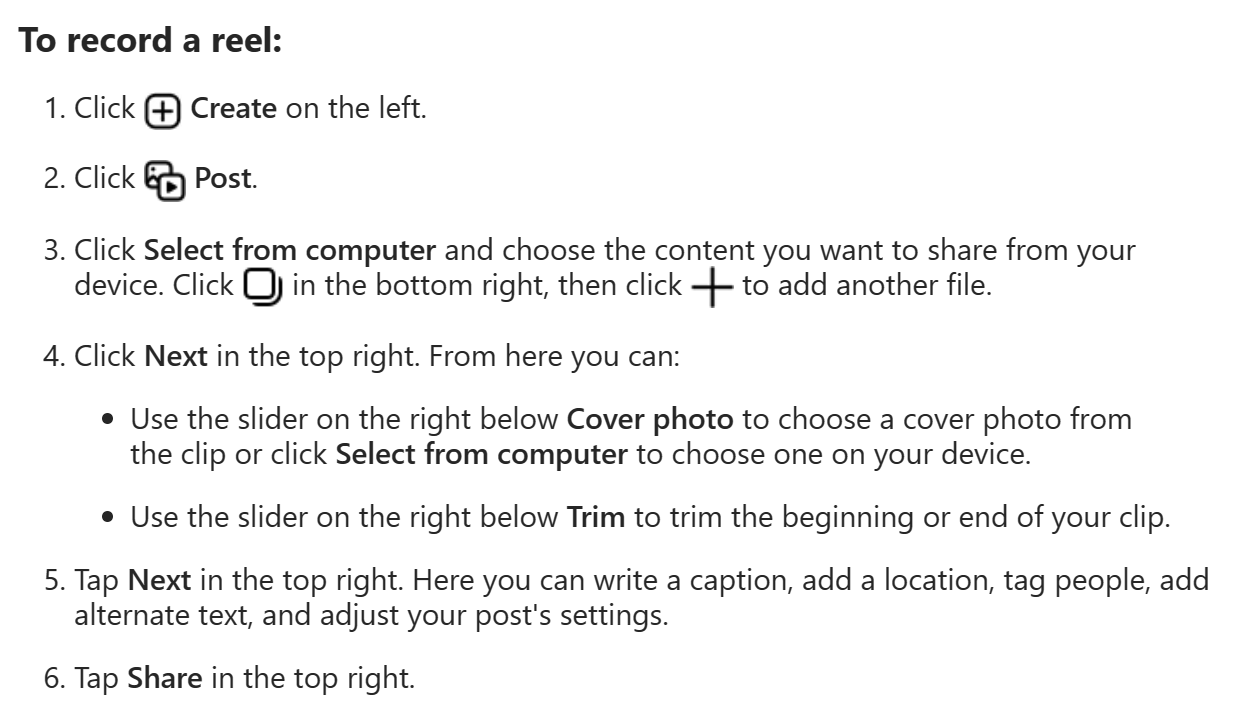 Now, for the promised Instagram Reels marketing strategies.
The Top 7 Marketing Strategies For Instagram Reels
These 7 marketing strategies for Instagram Reels will help you get stellar results.
Showcase behind-the-scenes footage of your business, your company's work culture, sneak peeks of new products, or just have some fun with your employees.
Here's how Zendesk optimizes SaaS digital marketing strategies by putting Instagram Reels to good use.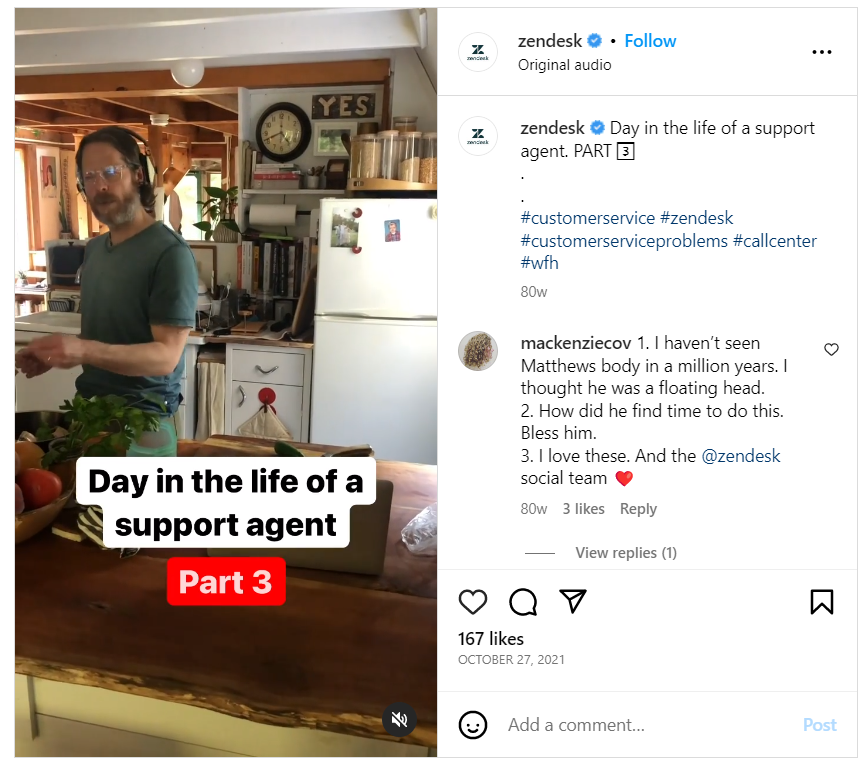 Or, like Google Pixel, you can use Instagram Reels to show off the different features of your new product.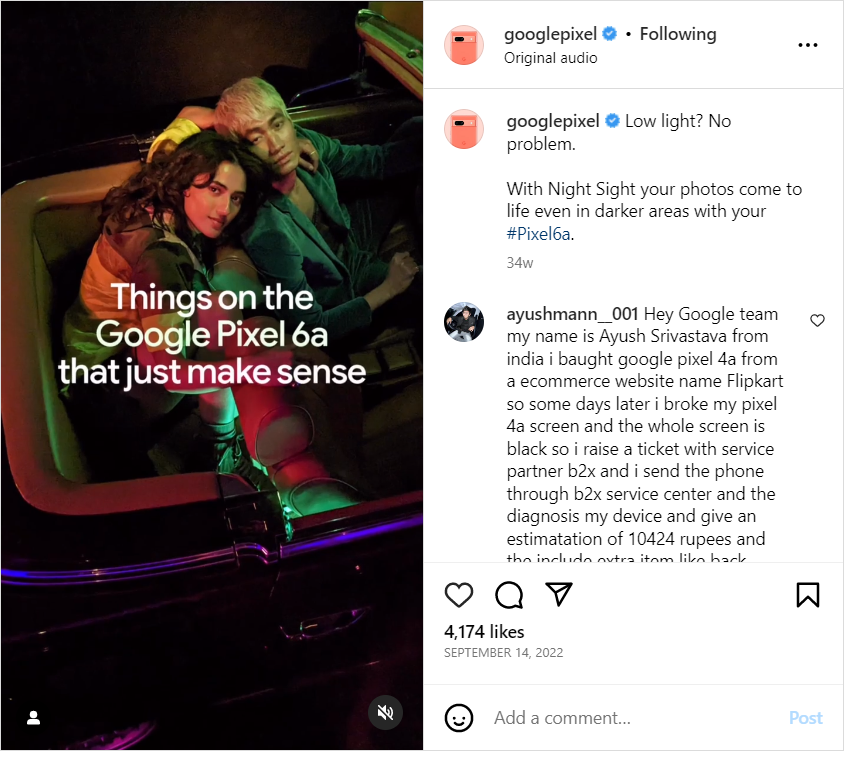 2. Include "How-To" Guides
One of the smart marketing strategies for Instagram Reels is to create "how-to" guides that show your audience how to do something related to your business or industry.
"How-to" guides help you stand out from your social media competitors and position you as an expert in your field.
When done right, it can also be a valuable part of your B2B lead generation strategy as B2B buyers are more likely to consider your product or service as an option when they see you as a niche expert.
This is how Google Pixel uses Instagram Reels to show how to use the Magic Eraser tool.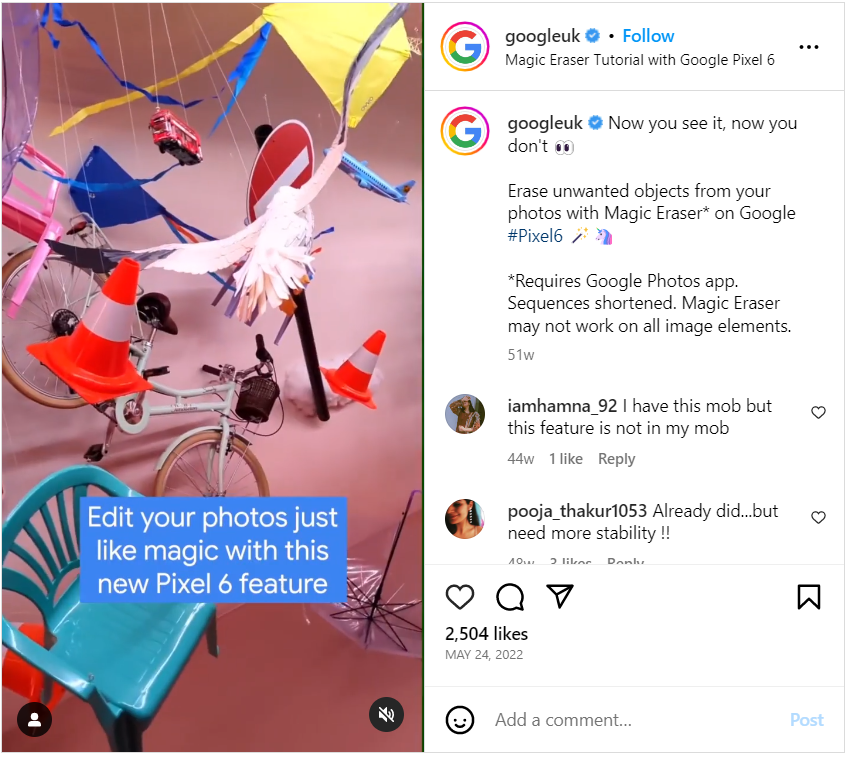 SaaS companies like Zoho also use Instagram Reels to highlight the features of Zoho book accounting tool.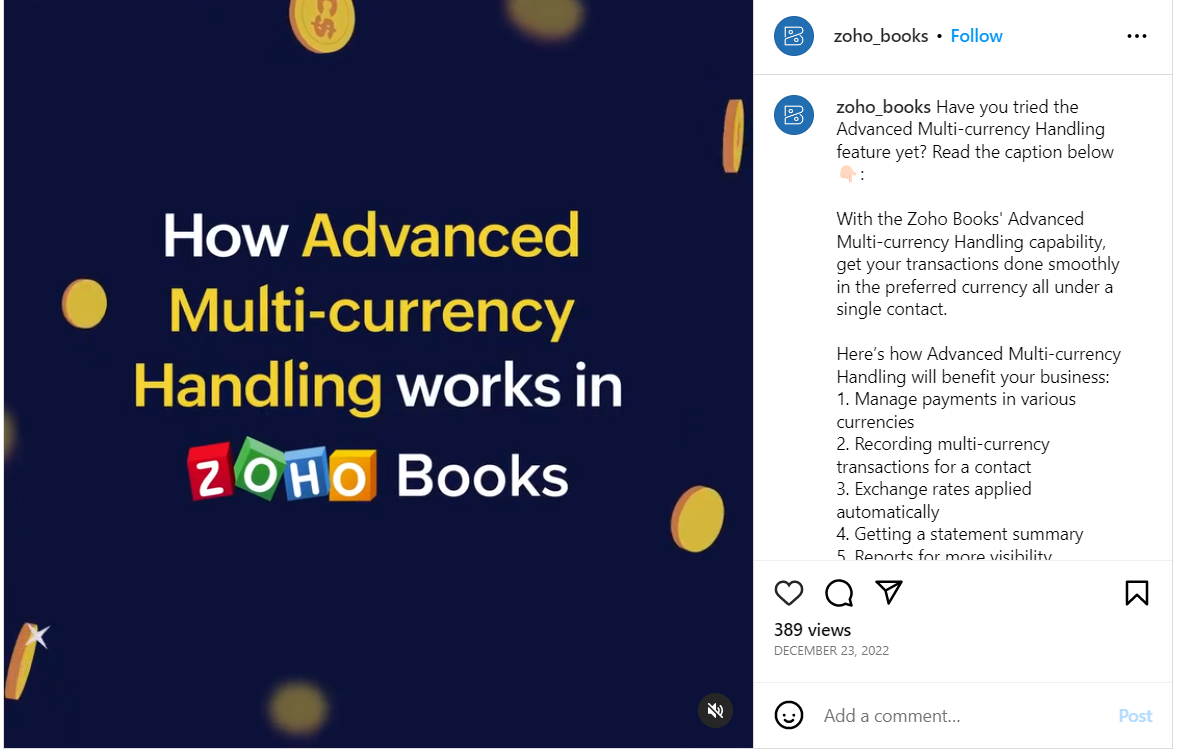 3. Leverage User-Generated Content (UGC)
There are many ways to leverage UGC in your Instagram Reels marketing strategies.
Feature Customer Testimonials and Reviews in Your Instagram Reels
You may have already added a Google review widget to your website to add social proof, which is great. In this way, your website visitors will also visits your IG accounts and it help you boost outbound sales via your Instagram account.
You can strengthen your social proof by including customer testimonials, reviews, or even just creative content as part of your marketing strategies for Instagram Reels.
For example, Roen Beauty, a beauty brand, features a lot of UGC with the hashtag #RoenBeauty.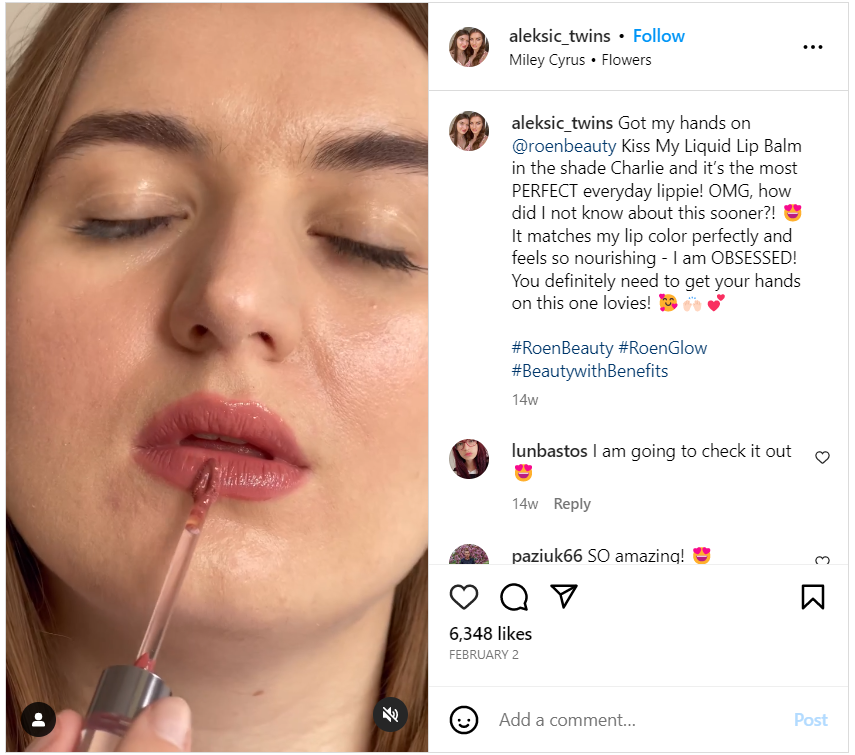 Create a Branded Hashtag and Encourage UGC
Another great way to collect Instagram UGC is to create a branded hashtag and encourage your followers to use it.
Nike is a great example of how UGC and a hashtag campaign can work well together. The campaign #justdoit was launched in the 1980s. It has continued to grow into one of the biggest movements on social media.
Another way to use UGC in your Instagram Reels marketing strategies is to just share the videos created by your users, as Jot has done.
Note that the brand doesn't forget to give the credit to the original creator.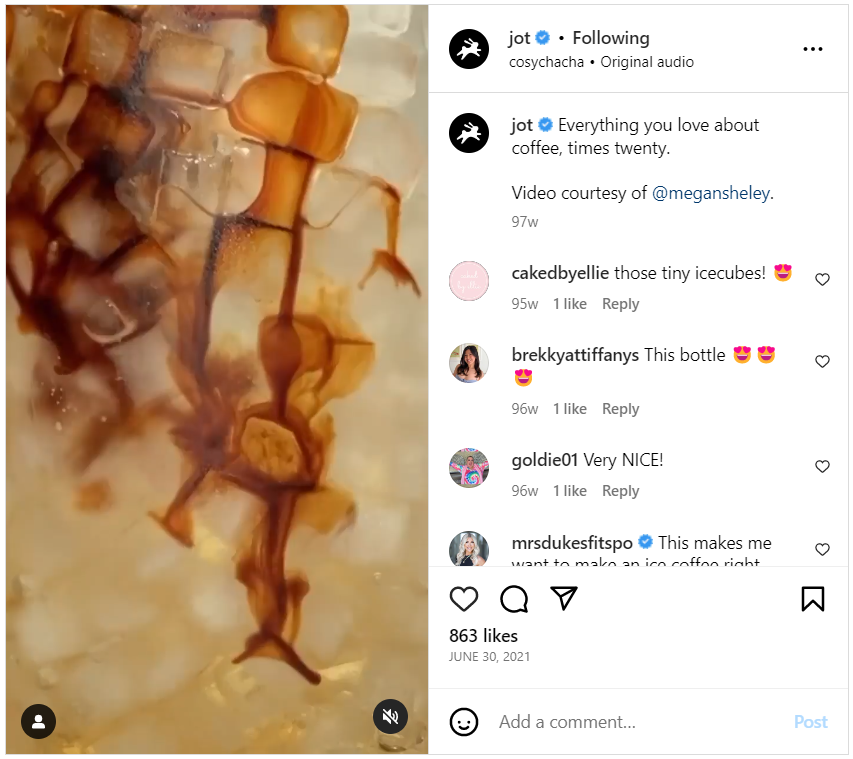 4. Make The Most of Instagram Reels Features
From sound effects to voice filters, Instagram Reels is loaded with features that you can use to create compelling videos.
Music: From email personalization to in-store experiences, brands are competing to offer unique UX.
You can do the same by adding trending music to your Reel by selecting a song from Instagram's music library.
Beatleap, a sound library that offers sound editing tools, uses music in its Instagram Reels to boost views and engagement.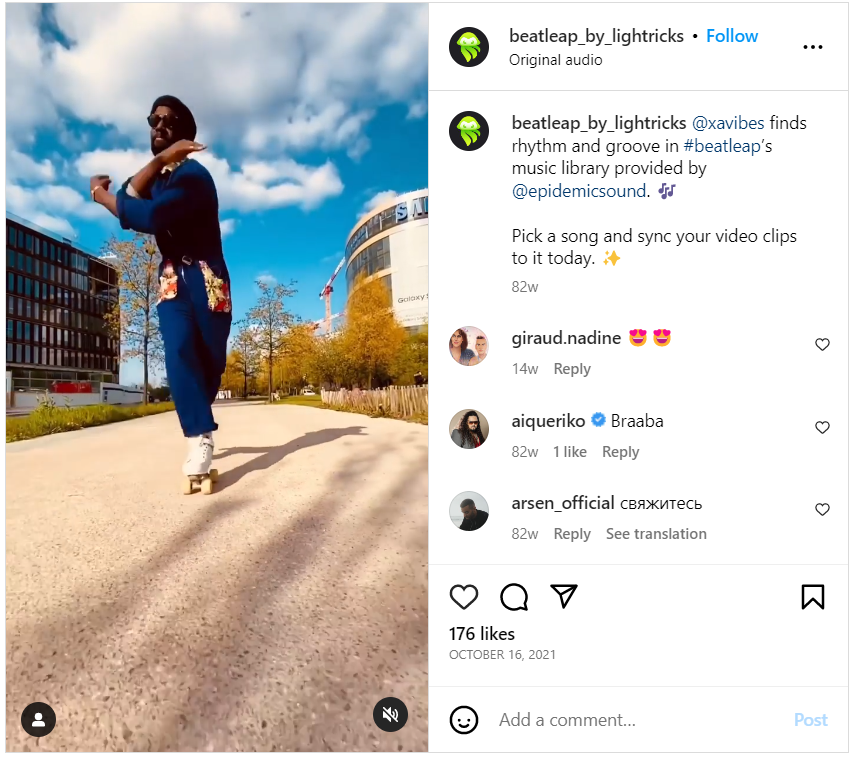 Transitions: There're plenty of transition options you can use in your clips, such as fading to black or adding a graphic overlay.
Other features: Instagram Reels also offers a variety of other features such as text overlays, emoji, and effects such as filters and lenses.
5. Collaborate with Content Creators/Influencers
Collaborating with other influencers can help you reach a larger audience and get more people interested in your content. Plus, if you want to appeal to a specific niche on a tight budget, consider working with micro-influencers.
In fact, the latest ambassador marketing trends show that many brands are leveraging their loyal fans to promote products and services.
A case in point is how Adidas partnered with over 50 creators in the fashion/style niche as part of its Instagram Reels marketing strategies to promote its new product.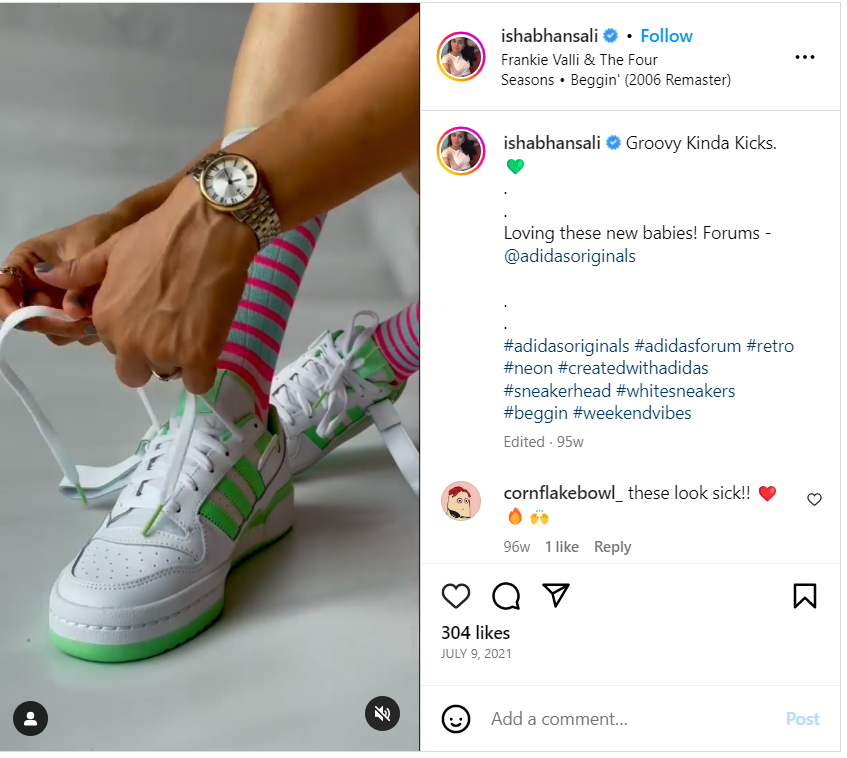 In the initial weeks following its launch, the campaign reached 7.6+ million people and helped Adidas increase engagement rate and gain followers.
6. Find the Best Time to Post Reels
The best time to post Instagram Reels will vary depending on your audience, geolocation, and type of content you are sharing.
Tap into Instagram analytics to get audience insights and to know the pattern of engagement with your previous posts.
To give you an idea, Adobe's latest study shows these are the best times to post Instagram Reels.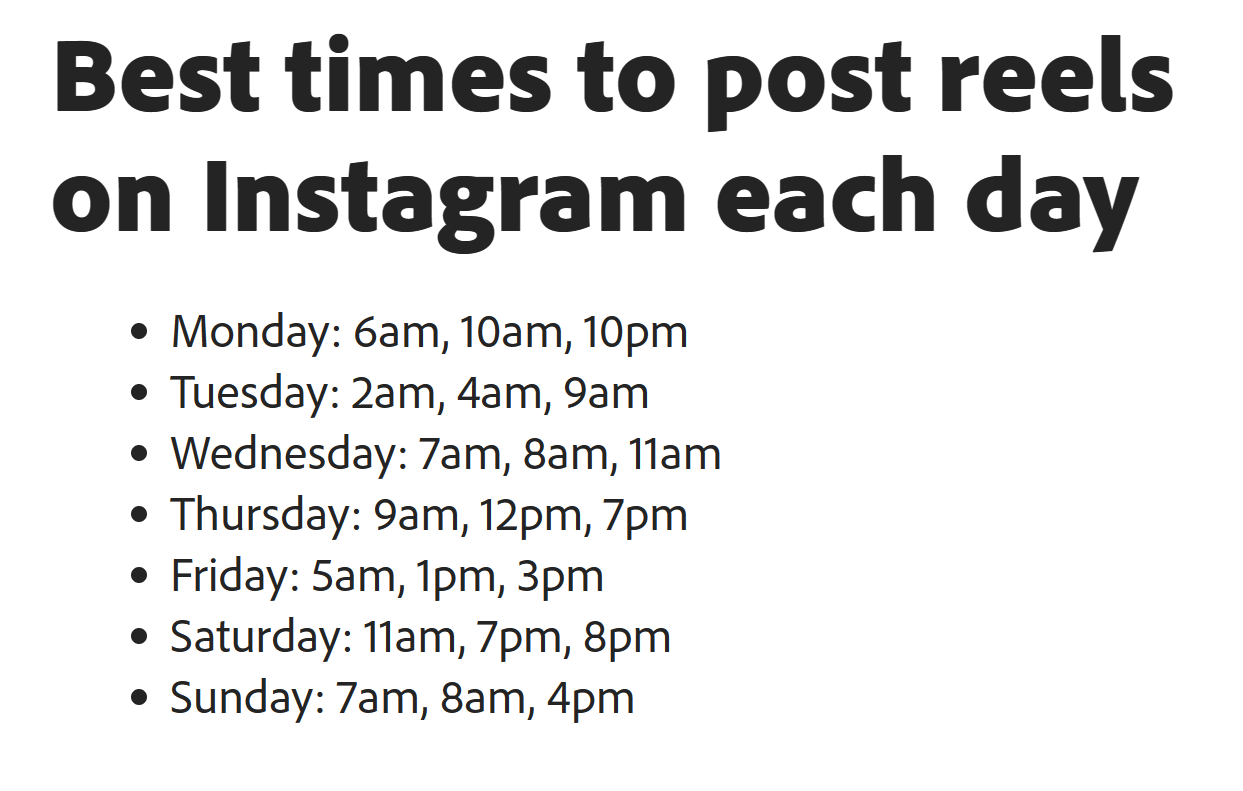 However, if the content is time-sensitive and newsworthy, you'll want to post as close to the event as possible.
7. Track Insights and Fine Tune Your Instagram Reels Strategy
To get the most out of your Instagram Reels marketing strategy, keep track of your Instagram marketing results and fine-tune your approach.
You can view the analytics for each Instagram Reel and also get an overview of all your Instagram posts including Reels.

In addition to the number of likes, saves, comments, and shares, you can also view the number of unique accounts your Instagram Reels have reached and the number of plays.
There are plenty of other social media analytics tools you can also use to get deeper insights.
By understanding these key insights, you can adjust your Instagram strategy as needed and keep it on track to ensure maximum impact.
Instagram Reels can get your brand noticed and give it an edge.
With the right Instagram Reels marketing strategies in place, you can create compelling content that engages viewers and increases followership.
From choosing the right visuals to coordinating with influencers, explore different marketing tactics. Keep refining your strategies to maximize the potential of this feature and reap its rewards.
About the Author
Gaurav Sharma is the founder and CEO of Attrock, a results-driven digital marketing company. Grew an agency from 5-figure to 7-figure revenue in just two years | 10X leads | 2.8X conversions | 300K organic monthly traffic. He also contributes to top publications like HuffPost, Adweek, Business 2 Community, TechCrunch, and more.
Don't forget to share this article