The COVID-19 Pandemic made a lasting change to everyone's shopping behaviors around the world. As a result, the ecommerce industry achieved a decade's worth of growth in just three months.
However, the sudden growth has forced all ecommerce stores worldwide to revamp their marketing strategy, especially their email marketing game.
Believe it or not but ecommerce email marketing is one of the best channels to stir up engagement & conversions.
In this article, we'll look at the eight ecommerce email marketing trends and discuss how you can take advantage of them in the best way possible.
Importance of Email Marketing in Ecommerce
Ecommerce email marketing has been around for decades and unlike most other marketing tactics, it remains a powerful technique to promote your ecommerce brand, build loyal customers, and increase sales.
According to a HubSpot study, email marketing has the highest ROI compared to other tactics.
This is mainly because of the extended space for storytelling, high-engagement probability, and opportunity to stand apart from the competition that the email marketing channel offers.
In fact, the same study also revealed that 86% of online shoppers love to receive promotional emails from stores they buy products from on a monthly basis. 15% of them even expect daily emails from their favorite online stores.
The point is, emails are also the quickest way to share updates like sale announcements, company-related updates, etc. with a large number of your customers.
However, just like everything else in digital marketing, email marketing trends evolve with time. So, keeping up with the up-and-coming ecommerce email marketing trends is not just important but necessary.
The top eight email marketing trends for ecommerce you should consider using.
1. Use Personalization to Beat Competitors
According to a survey, an average person receives about 121 emails per day. That's way too many emails for anyone to read. So, most people are likely to scan the majority of emails they receive, while reading only the ones that are either important or interesting.
The point is that if you'd like your emails to generate any kind of engagement, you need to embrace personalization in your email marketing campaigns.
Personalized emails tend to generate positive results compared to standard emails. In a survey, 80% of online shoppers have admitted that they would spend more if the experience is personalized.
The lesson here is that if you want to beat the other 120 emails and stand a chance to get your emails read by your customers, you need to start creating and sending hyper-personalized emails.
2. Create FOMO Using Scratch Cards and Countdown Timers
FOMO is short for Fear Of Missing Out. It's a unique tactic that focuses on leveraging the power of natural human psychology to generate profits.
Today, FOMO is deeply embedded in social media platforms. For example, every one of us has probably experienced anxiety stemming from assuming that our friends, family, and others are having better experiences and better times than us.
Now, FOMO has slowly and quietly snuck into email marketing as well. With the help of scratch cards and countdown timers, for example, you can easily embed FOMO into your email marketing campaigns and maximize conversions in your ecommerce store.
Aside from that, you can also insert FOMO elements into your emails by announcing a limited period mega-discount sale, and access to insider online events like product launch webinars, flash sales, etc.
3. Take Automation into Consideration
Email automation is another trend that's gaining popularity among ecommerce stores.
While most ecommerce owners automate only the best time to send email to a mass audience. But, if you combine analytics with email marketing automation, you can create hyper-personalized emails that are based on your customers' behavior.
Specifically, the following are some of the email marketing automation tactics we highly recommend using:
Welcome email series
Birthday and anniversary emails
Transactional emails
Emails based on website activity
Better yet, you can let your customers decide the type of information and the frequency of emails they would like to receive from your ecommerce store.
4. Conduct a Survey to Know Customers' Delivery Speed Expectations
Another email marketing trend that's gaining traction among ecommerce stores is conducting a survey to understand their existing customers' delivery speed expectations.
Although, multiple surveys have already been conducted on the matter and discovered the following findings: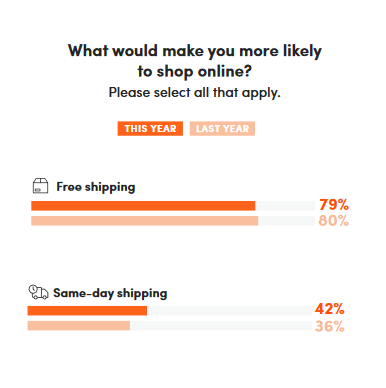 While these findings are extremely insightful, many ecommerce owners around the world are taking it to the next level.
The idea is to conduct an email survey among their existing customers and learn about their delivery speed preferences & expectations.
And if you find out that the majority of your customers would like a faster delivery option, then you must look at your existing delivery options and consider offering a faster delivery option such as air freight express that fulfills their expectations.
5. Make Mobile Optimization Priority
We live in an era of smartphones where the majority of emails are opened and read on smartphones — 81 percent, to be precise!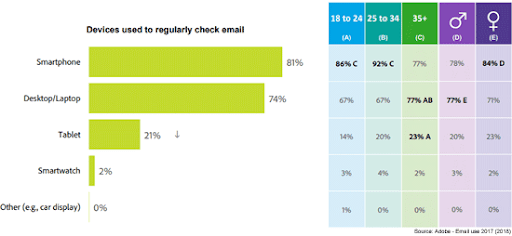 And do you know what people do when they receive emails that aren't optimized for mobile? – They delete it. In fact, 80% of them delete it immediately.
Similarly, if your emails aren't properly optimized for mobile devices, they're likely to end up in the trash.
To prevent that from happening to your emails, create mobile-friendly emails. It will allow your customers to interact with your marketing emails easily, which will directly result in increased engagement & conversions.
6. Use Segmentation Based on Recent Purchases
Segmentation is a powerful & proven email marketing tactic that you personalize your marketing emails on a deeper level.
Though there are many different ways to segment your emails based on your customers' age, gender, location, interests, etc. But nowadays, segmentation based on recent purchases has proven to work wonders for ecommerce owners worldwide.
The idea is to create segments of your customers based on their recent purchases, the number of purchases they made, and the average order value of all their purchases. The insights obtained from this segmentation will help to create hyper-personalized emails that significantly boost engagement.
7. Embed Storytelling Using GIFs and Other Rich Multimedia
Although the use of GIFs, images, videos, and other rich multimedia content is quite common in marketing emails. But using them as a part of storytelling in marketing emails is something totally new and is gaining a lot of attention among ecommerce owners.
Here's how JetBlue engages their email subscribers with storytelling.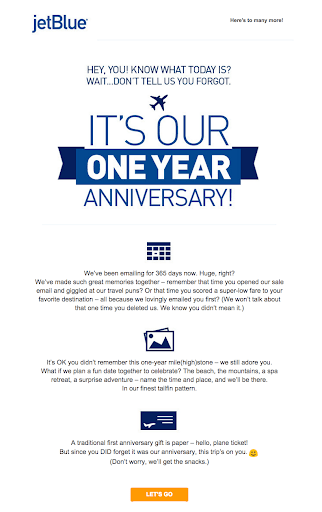 The idea is to connect with the existing customer base and turn them into super-engaged, loyal fans of your brand by leveraging storytelling embedded with rich multimedia elements in your marketing emails.
While most ecommerce stores use rich multimedia elements to simply showcase their products from different angles, the elements can also be used for a greater role in email marketing campaigns & maximize engagement and conversions.
Like fashion, the trend of simplicity is coming back in email marketing.
For instance, text-only emails were a norm back in the old days. They were considered both trustworthy and authoritative, making them an ideal choice.
Recently, we observed a sudden rise in the number of text-only emails during the COVID-19 Pandemic years.
Below is an emailer from Move that perfectly leveraged simplicity and even added a realistic signature at the bottom to boost its overall appeal: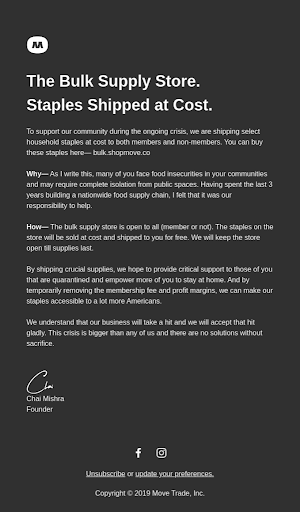 Besides text-only emails, companies are also bringing back gradients in their email marketing campaigns. Ever since iOS and Instagram introduced gradients style, it became quite popular a few years back.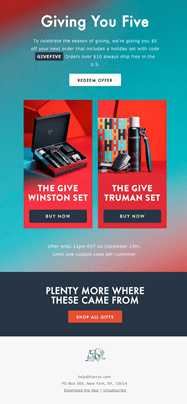 Today, the gradient style is considered one of the simple yet best design trends that can garner you traction when you're out of ideas in your email marketing design.
Although this email design trend might never become mainstream. But it's definitely worth using once in a while, especially for sending certain occasional messages that need to look unique from your regular emailers.
Ecommerce email marketing trends are evolving faster than ever, and if you want to remain competitive, you must incorporate the latest email marketing trends in your ecommerce store.
So the next time you plan an email marketing campaign, be sure to adapt these trends and experiment with various techniques to figure out which works best for your ecommerce store.
Oliver Thyra is the head SaaS copywriter and content strategist at Your Marketing Digest. His intense passion for marketing and his engineering background in software engineering has made him a guy who understands how to sell software subscriptions with words. In his free time, Oliver enjoys quality time with his pets (he has got 4 golden retrievers!).
Don't forget to share this article