Given the ever-expanding nature of digital marketing alone, businesses must continuously strive to adapt. Between that and a turbulent year-and-a-half of COVID-19, this need is arguably more pronounced than ever before. In this regard, there are as many options to entertain and endeavors to consider as there are businesses. One such option, tried and tested over the 2010s, is white label marketing – and, by extension, white label marketing automation. Indeed, this practice can yield notable benefits for businesses of all sizes and irrespective of one's scope. To support this argument, let us first explore white label marketing automation itself, and then delve into noteworthy prominent platforms.
What is white label marketing?
Initially, let's define the term. White label marketing is, put simply, outsourcing the production of products or services and then rebranding them as one's own. That is, one may use the products or services of an agency and rebrand and sell them as their own. Hence the term "white label"; the product or service bears no label until branded to be resold or reused.
In the context of marketing specifically, white label marketing may include products or services related to an array of practices. These may include:
Email marketing
Landing Page Optimization (LPO)
Ecommerce marketing
Finally, such practices may find themselves automated; that's where white label marketing automation comes in. In brief, then, white label marketing automation will refer to the practice of white labeling marketing automation solutions.
What are the benefits of white label marketing automation?
This is, of course, a practice with demonstrable merits, as its continued existence itself may prove. To be specific, however, let us highlight its most notable benefits.
Perhaps the most self-evident benefit of white labeling marketing automation is, frankly, efficiency. Initially, let us cite the statistics reported by Startupbonsai as regards marketing automation itself:
"76% of marketers see a positive ROI within a year".
"80% of marketers report an increase in leads due to automation".
"77% of marketers report an increase in conversions due to automation".
"Automated lead nurturing converts 15-20% of customers to sales".
"Marketing automation improves productivity by 20%".
"80% of marketers credit their success to marketing automation".
These are mighty impressive results, by all means. However, many businesses struggle to implement automation, as statistics from the same source continue to show:
"16% of marketers think creating quality automations is their number 1 challenge[.] Other top challenges included integrations (14%) and content creation (10%)".
"20% of agencies struggle to find the right marketing automation tool".
"55.6% of companies that don't use automation cite a lack of expertise as the reason".
White label marketing automation addresses these challenges by simply assigning the task at hand to qualified external partners. They will handle the process of development, beta testing, and improving the final product before handing it to you. In turn, you will be able to focus on marketing and branding, in accord with digital marketing trends, addressing the purchasing inhibitors of your clients more effectively. Finally, especially if your agency offers customizable white label solutions, you will be able to onboard clients more easily, addressing their concern over expertise.
#2 A streamlined sales funnel
All of the above do, of course, converge into a broader benefit to your sales funnel. Using white label marketing automation yourself, you may update it by using different data acquired through such means as:
Email campaign analytics
Remote visual support tools
Customer analytics tools
In doing so, you may enhance various practices throughout your sales funnel's phases, such as:
Discovery phase; SEO, Pay Per Click advertising, etc…
Research phase; landing pages, retargeting, etc…
Consideration phase; your personal pitch, Conversion Rate Optimization (CRO), etc…
Post-purchase engagement; customer service, social media engagement, etc…
An additional benefit of white label marketing automation is that white label agencies will, typically, offer priority support. This will help ensure that your platform will seamlessly integrate with your existing workflow before reaching your clients. This offering may vary from one platform to the next, so due research is highly advisable.
#3 Reduced costs and increased confidence in your brand
Benefits to your sales and marketing funnel aside, white label marketing automation manifests into reduced overall costs. In this regard, consider the following:
Reduced labor and staff costs. By effectively outsourcing production, you will not need to expand internally to meet production demands. In turn, you won't need to recruit, onboard, and train new employees to expand your business offerings. Moreover, you will also not bear the ongoing costs of training and re-training your employees for each new offering. Instead, your agency will typically offer quality training and ongoing support, minimizing the cost on your end.
No production costs. Similarly, white label marketing automation effectively nullifies production costs. Since qualified professionals will hand you a complete product, you will only need to pay their nominal fee. Therefore, you will only need to budget for maintenance and support costs depending on your agency and platform. You will not need to design, redesign, program, test, and fine-tune your platform over time; your white label experts will do so for you.
Better risk mitigation. Finally, doing so will effectively serve as risk mitigation. Namely, you will not need to worry about inexperienced in-house developers making costly mistakes. A complete, tried-and-tested white label marketing automation platform will typically run flawlessly from the start. Should it not, that is still not an endeavor you will need to take up yourself.
All of the above will converge into increased confidence in your brand, by virtue of you offering an excellent product. Realistically, to consider white label marketing automation, your teams likely cannot readily produce impeccable products or services. However, consider how crucial marketing automation platforms are, and in turn, how imperative it is to accrue trust. The aforementioned statistics aside, the 2 main reasons B2B marketers use automation, according to Statista, are:
To increase revenue, and
To generate higher quality leads.
Combined with the above, it should be clear that your clients will often settle for nothing short of the best. White label marketing automation allows you to deliver on their expectations, while also building trust through product excellence.
5 of the best white label marketing automation platforms to consider
With the above in mind, we have gathered 5 of the best white label marketing automation platforms for your consideration. To do so, we will be using data from our platform comparison chart and data provided by these vendors. For the purposes of this article, we have excluded vendors whose solutions do not offer white labeling in any capacity. Finally, as highlighted above and in the comparison chart, we always advise verifying details with individual vendors to ensure accuracy.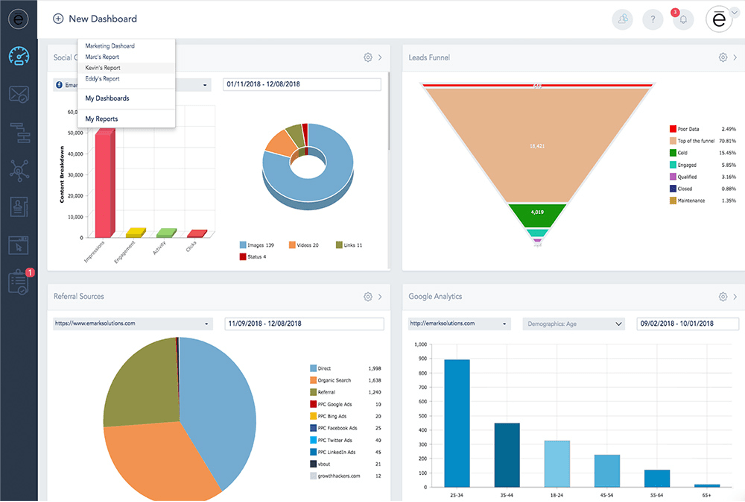 Starting with our very own, VBOUT is an all-in-one marketing automation platform. With its simple interface, drag-and-drop landing pages, and wealth of features, it caters to businesses of all types and sizes.
VBOUT offers an array of features, including:
Marketing automation. A visual workflow builder offers automation tools for marketing tasks and cross-channel communications.
Lead scoring and management. A marketing lead database enables lead segmentation through filters and interaction tracking.
Email marketing. VBOUT's email marketing features include automated email responses, personalized messaging, and dynamic email creation. You may also set custom triggers based on lead scoring criteria of your choice.
Social media management. VBOUT allows you to manage all your social media channels in one place, and facilitates social sharing and listening.
Landing pages: VBOUT has drag and drop, ready-made templates to help create your landing pages in minutes or build your own from scratch. A useful feature that adds value to your landing pages is dynamic content as it allows you to provide a better-personalized experience for your leads and boost conversions.
Analytics. Finally, customizable web analytics and lead insights allow you to further inform your strategies. The platform also includes a revenue tracking widget, monitoring Monthly Recurring Revenue (MRR), Click-through Rates (CTR), and more.
VBOUT's Enterprise and Agency plans offer full white label options. You may thus rebrand the platform and offer all of its features as if it were your own.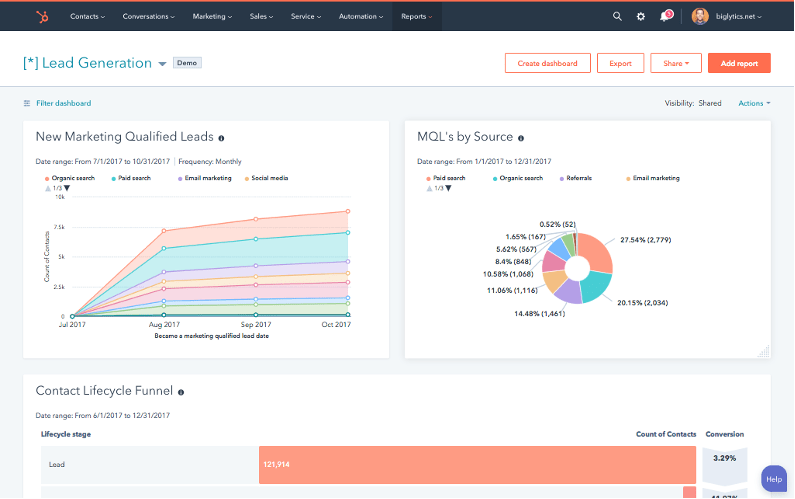 One of our strongest competitors, and for good reason, HubSpot is a well-established name in the digital marketing industry. It offers a feature-rich marketing automation platform which seeks to address all business needs at once, regardless of size.
Faithful to its name, HubSpot offers 4 different "hubs" of products, each with its own focus and pricing. As regards the former, these are:
Marketing
Sales
Service
CMS
In the context of white label marketing automation, we will focus on the features of its marketing hub. These include:
Marketing automation. Automate recurring marketing tasks through a dedicated, thorough workflow manager.
Lead scoring and management. Segment and score your leads for optimal marketing outreach efficiency.
Email marketing. Automate personalized emails based on lead scoring, and inform your outreach through advanced segmentation options.
Social media management. HubSpot offers social media management tools for Facebook, Twitter, Instagram, and LinkedIn. It also integrates with Facebook Messenger for easier communication.
Analytics. Finally, HubSpot's customizable reports provide a clear overview of your campaigns' effectiveness. Through its dashboards, you get access to an array of analytics that can inform and refine your campaigns.
Keep in mind, however, that certain features will be locked to specific plans. For example, email marketing and list segmentation are available in the Starter plan, while additional scoring, automation, and reporting features are available in the Professional plan.
Finally, as regards white labeling, HubSpot is not technically a fully white label solution for many reasons. That is, your clients will have some visibility into who manufactured the software. However, HubSpot's Agency partner program offers some white label options through direct services to your clients.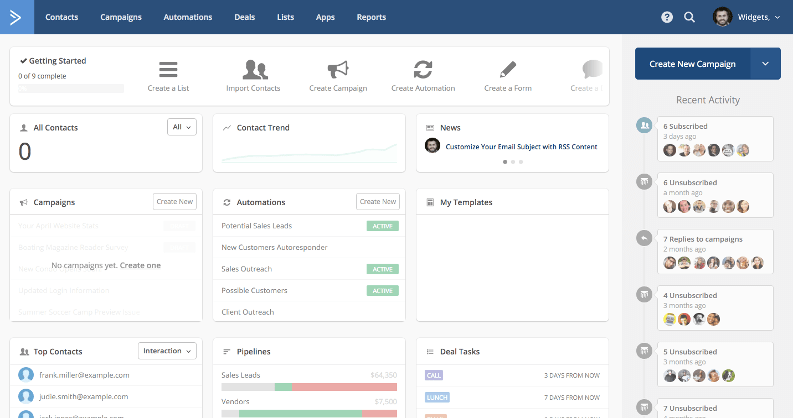 Another notable competitor, ActiveCampaign is a great white label marketing automation solution to consider. Initially an email automation platform, it has since developed into an all-in-one automation platform with an array of features.
ActiveCampaign's platform offers a plethora of features, including:
Marketing automation. ActiveCampaign's automation workflow templates, or "recipes", offer an excellent automation foundation. Even outside of them, its automation builder is easier to use than many.
Lead scoring and management. Similarly to its competitors, the ActiveCampaign platform offers deep lead management and scoring options to inform your marketing efforts.
Email marketing. Arguably its strongest point, ActiveCampaign offers a wealth of email marketing features. Those include email autoresponders, triggered, scheduled, and targeted emails, and more.
Integration with Facebook Custom Audiences. For additional insights, the platform integrates with Facebook Custom Audiences to let you track crucial campaign metrics.
Analytics. Finally, the platform's analytics features allow you to track every interaction across your app, website, and other online portals.
ActiveCampaign strongly advocates for white labeling and thus supports white label marketing automation through its Agency Partner program. However, do note that white labeling is available on Enterprise-level accounts.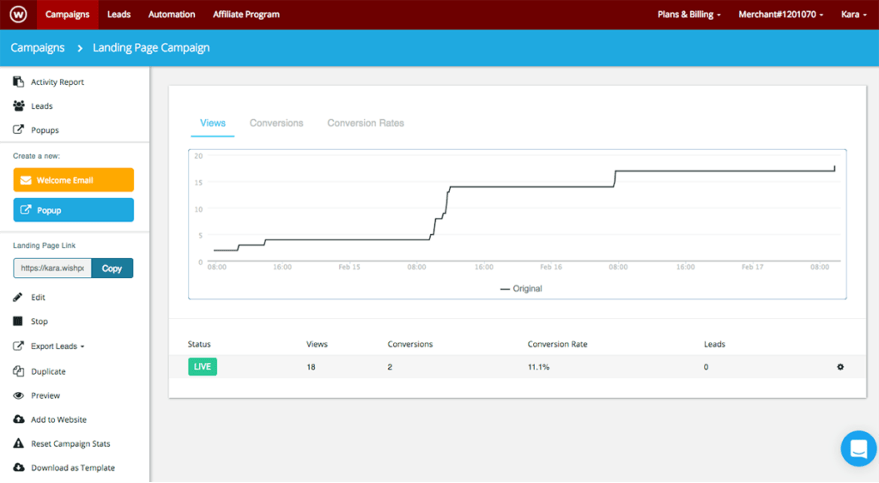 Another notable entry on this list, Wishpond is likely among the most affordable white label marketing automation options available. With a strong focus on small-to-midsize businesses (SMBs), it leans on simplicity and cost-efficiency.
Despite alluring price tags, varying from $49 to a modest $199 a month, Wishpond still offers an array of features. Those include:
Marketing automation. Wishpond's marketing automation assets may be relatively lacking in 1-to-1 comparisons with its competition, but they don't underperform. From sales team alerts to custom event triggers, it offers the usual benefits of marketing automation.
Lead scoring and management. Like its competitors, Wishpond offers lead management capabilities. Its visitor tracking feature also adds to the scope of your insight acquisition and assists in lead generation.
Email marketing. Through personalized email campaigns informed by lead activity, you may optimize outreach timing and automate follow-ups.
Integrations. Wishpond offers a notable 40+ native integrations, and "connects with 1000+ other apps". It will thus most often synergize perfectly with your existing workflow assets.
Call tracking. Wishpond also offers call tracking from your sales page, email campaigns, and even your AdWords extensions. Monthly call reports will add to your insights and inform your efforts.
Website popups. Finally, the platform also allows you to create different types of popups through a drag-and-drop editor. You may use these for opt-in forms, limited offer proposals, and other popup types that drive conversions.
As regards white label marketing automation, Wishpond offers full white label options through its Agency plans, with the aforementioned benefits.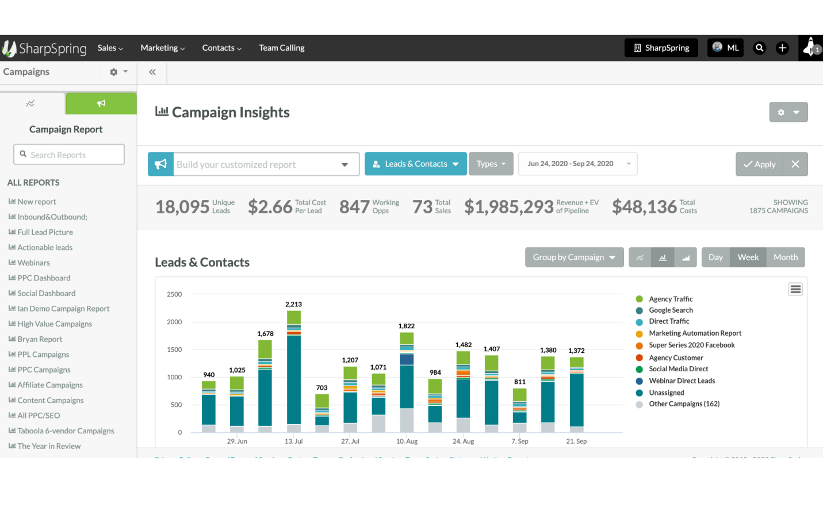 Rounding up this list with another of VBOUT's strong competitors, SharpSpring is a noteworthy white label marketing automation solution. With a focus on B2B and SMBs, it offers a powerful platform with little to be desired.
SharpSpring is an expansive, yet comprehensive platform. It offers multiple features, including:
Marketing automation. SharpSpring's builder allows for marketing automation workflows through its intuitive interface. Its branching logic allows you to pinpoint pain points across the customer journey and adjust your strategies accordingly.
Lead scoring and management. Through its built-in capabilities, SharpSpring allows you to effectively segment, score, and manage leads.
Email marketing. In addition, its Smart Mail app offers standard email marketing features, including autoresponders and triggered emails.
Analytics. Following on its email focus, SharpSpring offers extensive email analytics. Through its dashboard, you may track such key metrics as opens, CTRs, and bounces versus successful deliveries.
Visitor ID tracking. Moreover, as regards analytics, the platform offers to track visitors' IP addresses. In doing so, it tracks time on page, browsing behavior, traffic sources, and other insights you may use.
Integrations. Finally, the platform offers multiple integrations with third-party assets and CRM solutions.
As regards white label marketing automation, SharpSpring also offers full white label options through its Agency programs.
In closing, there are a plethora of benefits to white labeling in general, and white label marketing automation specifically. Whether it is reaping the benefits of automation yourself or offering a full-fledged, complete platform to your clients under your name and logo, it has demonstrable merits for all parties involved. Simultaneously, there are more such options now than ever before, as our list and comparison tool show. Hopefully, this article will serve as a starting point toward embracing the practice to continued success.
About the author
Andrew Hudson is a digital marketer, copywriter, and CRM enthusiast. His keen interest in the relocation industry yielded him a partnership with MoversTech CRM, where he authors content on the merits of CRM for the industry and other adjacent subjects.
Don't forget to share this article