If marketers have all gone through a similar experience at least once in their professional lives, it's dealing with a limited marketing budget.
And when times are tough, we all lean on our creative prowess to ensure our campaigns are successful.
And what more can be done? After all, the sky ain't the limit!
Or is it? In this article, we'll share a few simple ideas marketers can use to master email marketing on a budget. The best part is you can easily score up to $45 in revenue for every $1 spent on email marketing.
So are you ready to learn more?
Let's dive in.
1. Free tools are a lifesaver
If you're just starting with email marketing, there's nothing better you can do for yourself and your budget than utilize free tools.
So, what tools can you use? Here are our recommendations:
To develop email and send emails, you'll need email marketing software.
These solutions include capabilities like templates, designs, automation, integrations, targeting tools, AI support, and analytics:
VBOUT
MailChimp
Moosend
HubSpot
Sendinblue
MailerLite
If there's one thing almost every engaging email has, it's the strategic use of visuals and graphics.
In fact, most email strategists suggest that emails follow the 80-20 rule, where 80% of the body of the email is text, and the remaining 20% includes visuals.
Here are a few free image tools you might like:
Freepik (you can filter images based on categories and types of photos, projects, assets, and free vector graphics)
Canva
Unsplash
Pixlr
Crello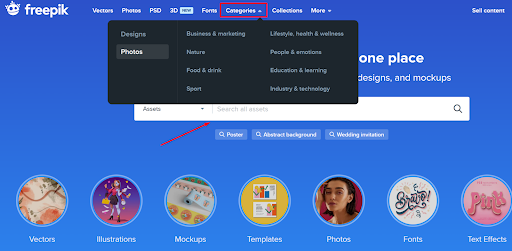 There's no better tool than Picsart to drum up some inspiration for graphics or visualize email drips and analytics. This free online tool has thousands of design templates for all social channels, and users can filter solutions based on use cases.
Once you have your design template picked out, learn how to create emails with these free tools:
VBOUT
Beefree.io
Stripo.email
HubSpot
Template.net
2. Reuse, recycle, and repurpose content
Ross Simmonds, CEO of Foundation Marketing and a marketing strategist, is a big believer in creating once and distributing forever. According to him, you can turn one podcast into multiple Reddit threads, LinkedIn posts, blogs, and more.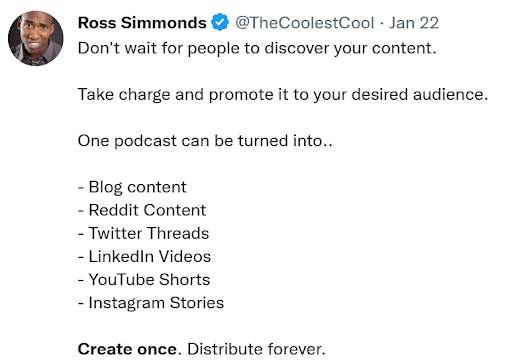 Using the same philosophy, you can just as easily recycle or repurpose the same content you published six months ago.
For example, if you review HRIS software, you can add highlights from your blogs and link to the original review pages to build website traffic.
Similarly, you can hire a copywriter if you don't want to just copy-paste content from your blogs to your emails. Or, with a limited budget, an AI writing tool like Jasper.ai or a Jasper alternative can create a new spin on your existing content.
3. Unleash the power of personalization
Personalization of email is one quick way to improve your click-through and conversion rates. In fact, according to Adobe's research, 89% of marketers agree that personalization produces a positive ROI for email marketing campaigns.
While leadership books and podcasts lead you to believe that email personalization would require a lot of effort and money, you can start small.
For example, you can directly ask your customers what they want to read about or which industries they belong to and create email lists to send content based on their interests.
Take a look at how Netflix offers new shows, movies, or docuseries based on each profile: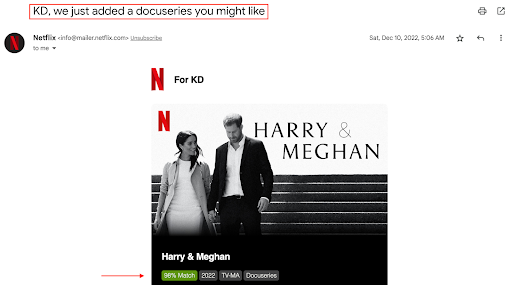 Or, for example, if you operate in the pet policies space, you'd have ready information on what kind of pets your prospects have (e.g., cats, dogs, parrots, hamsters).
Based on that information, you can send them curated information or value-add content, such as "best dog-friendly cafes in XYZ location," "tell-a-tale signs your cat might be unwell," or "how to train your parrots."
We're trying to say that you don't need to be hyper-personalized to show your customers you know them and their needs. You can start small. And if your budget allows sometime later, you may try out hyper-personalization for your email list.
4. Make the most of best email practices
Best practices exist for a reason — and they show effective results. So, what email practices should you keep in mind? Here are our few recommendations:
Keep emails short and get to the point fast (this is something Neil Patel does exceptionally well).
Here's a screenshot of a Neil Patel email to serve as inspiration: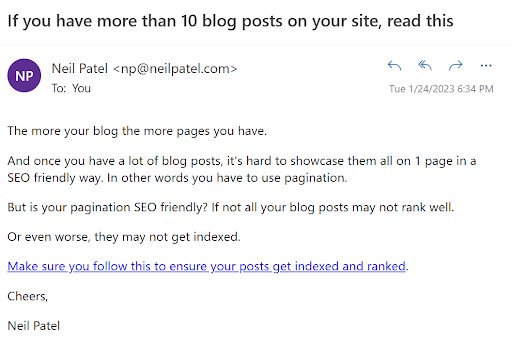 Maximize preview texts and email subject lines (your recipients will read your subject lines and preview texts before they read your email, so make sure you tell them exactly what the email will offer you).
On that note, don't oversell. You don't want to create clickbait content.

Don't overcrowd content. Keep your paragraphs short and ensure that you give the reader plenty of line breaks.
Also, strategically place your images. For example, ensure that the eye gaze of the person is placed at the biggest value proposition in the email because your readers will likely follow wherever the eye gaze leads.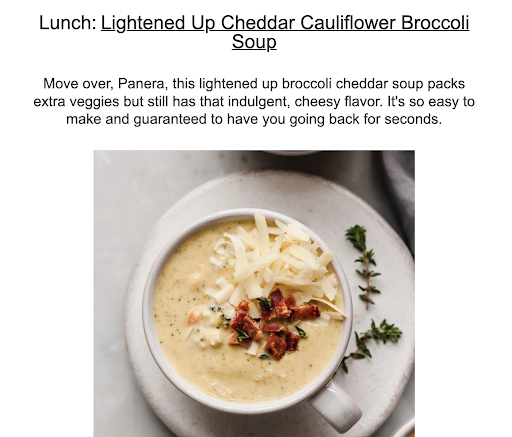 Create clickable CTAs. Looking at the example from ButcherBox, you'll see that the email tells the reader exactly what users can get once they click on it. Similarly, ensure that your CTAs communicate what users can get if they click on them.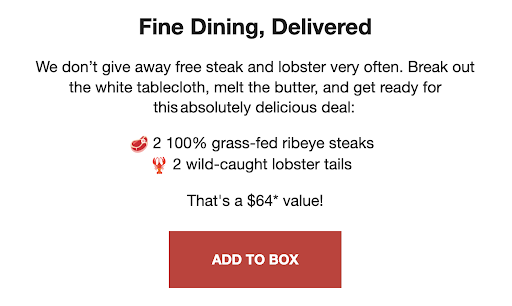 Create email lists so you can personalize content, and cut those email content short periodically to remove inactive or uninterested subscribers.
And finally, A/B test strategies to see what works and what doesn't! It's a no-brainer.
Deciding on the next steps
Email marketing is no simple task, but once you master it, you can build genuine and powerful relationships with your customers.
Once you master email marketing on a budget, the next step is to unleash the full potential of email marketing by investing in an affordable solution.
VBOUT's's email marketing solution, although priced affordably, allows you to:
Create campaigns in minutes
Access an extensive library of templates
Automate emails
Analyze results
Improve delivery and performance
A/B campaigns for various metrics
Reduce risks
Bulk send mails
And do lots more
Learn more about our solution here.
Shane Barker is a digital marketing consultant who specializes in influencer marketing, content marketing, and SEO. He is also the co-founder and CEO of Content Solutions, a digital marketing agency. He has consulted with Fortune 500 companies, influencers with digital products, and a number of A-List celebrities.
Don't forget to share this article