The money is in the list.
That's how marketers sometimes refer to an email base as the most important source of revenue. The same applies to all clients. Existing customers spend more money and are easier and cheaper to retain than new ones.
Customer Service Statistics and Mckinsey's research say that:
61 percent of customers leave after one negative experience.
59 percent leave after several bad experiences.
That's why poor customer experience is the worst thing that can happen to a business.
While the best way to retain customers is to prevent poor experiences, you still need to have a clear plan of action when they happen. Only this way, you turn unhappy customers into satisfied ones.
In this post, you'll find four customer retention strategies for B2C and B2B companies just for that.
How to Start Retaining Customers The Right Way
One thing to keep in mind before the start: you need to act as fast as possible if your customers had a negative experience.
There are two major reasons why.
The first is an obvious one: you can lose a loyal customer. As we already know, it might take only one bad experience to make them go to your competitor.
The second is that an unhappy customer can quickly share their experience with others. With social media giving unlimited power to publish information, they can write a negative review.
A lot of people will see it, and the whole thing can result in you losing even more potential customers (and having your reputation compromised).
Now, let's talk about what you can do.
1. Send an apology email with an incentive
A fault confessed is half addressed, they say.
That's why writing an apology email is a good first step to try saving the customer who had a bad experience.
Here are the tips for writing that email:
Express sincere apologies. This is how you need to begin your letter. Say that you're sorry because bad experiences aren't something why you run your business.
Acknowledge your mistake. Getting defensive is the worst thing you could do. Instead, own your mistakes and admit that you were wrong.
Offer a simple explanation. Chances are that the customer doesn't know what went wrong and why (and they might be very interested in finding out).
Ask for forgiveness and say you're ready to make it right. Don't just apologize, offer a plan of action to win the customer back (a discount, an extended free trial, or some other incentive).
If done right, the apology email can be a factor in the customer's decision to return.
Important: Have an email template that you can quickly customize to speed up your response in case something happens.
2. Follow up on abandoned carts
Abandoned carts are something that happens to every online business regularly. If we take a look at the major reasons why customers leave mid-purchase, we discover that a lot of frustration is involved.
According to Baymard, customers do so because of these.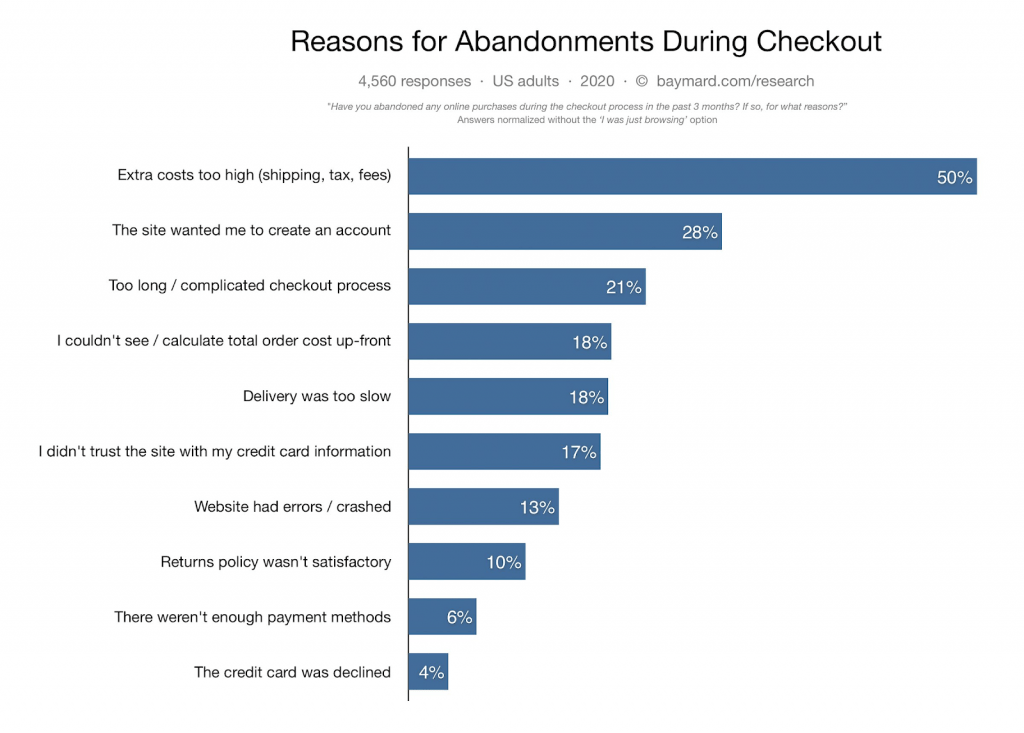 Source: Baymard Institute
Extra unexpected costs, mandatory account creation requirement, slow delivery… Every reason on the list can easily cause customer frustration.
Chances are that your website also has some of these issues, so you need to follow-up on every abandoned order.
Using email marketing automation is the best strategy here.
It sends cart abandonment emails automatically, so you don't have to do it manually (depending on the size of your business, the manual option could be simply unreasonable).
Here are the most effective techniques to recover sales with emails:
Offer free shipping.
Give a 10 percent discount for the next order.
Compliment the customer on their choice of products.
Promise to hold the product for 48 hours in the cart (then you remove it, so it's available for other customers).
Have a few automated emails ready for different situations.
Also, configure your email automation tool to follow-up within the first hour after the cart has been abandoned. Timing, as we mentioned, is critical.
The full guide: How to create an automation to convert cart abandoners
3. Re-engage "lost trial leads"
"Lost trial leads" are those people who haven't signed up for your services after trying a free trial or participating in a product demo. There's a good chance they had a bad experience, which prompted them to leave.
In fact, here are common reasons why they haven't converted:
Your service didn't meet their expectations. This might not be the case because they're not familiar with all features, etc.
They didn't fully understand the value of your services. You need to demonstrate that!
Your communication with them was poor. Maybe your customer onboarding messages went to spam, and you need to improve your email deliverability.
Your communication wasn't personalized. Hard to believe, but many companies still choose a one-size-fits-it-all approach, but personalized customer experience is critical to customer retention.
They're a good bet to get more customers – they've shown the interest in your services, after all – so you need to ask if a poor experience was the problem.
Send them a personalized, simple email asking why they haven't signed up. It's called an "end-of-trial" email, and its purpose is to find out the problem so you could resolve it.
"We found that many of our customers wanted to know how to address specific problems but often forgot to do it," says Ron Black, a content specialist from BestWritingADvisor.com. "When we introduced an end-of-trial email, our trial conversion rate was up by 6 percent."
So, write a simple email asking if the trial leads had any problems or frustrations. In many cases, you might discover they simply haven't figured out your product or service.
The full guide: How to win back your customers with re-engagement automation
4. Manage online reviews effectively
Do you think that people trust you enough to become your customers?
We know pretty well that positive online reviews are a major reason why 84 percent of customers trust businesses. Similarly, negative reviews are a sign that a company might not be able to deliver on its promises.
But the worst thing is a lack of responses from the business to negative reviews. The fact that a business has chosen to ignore their customers' concerns means a lack of respect for them. Who would want to buy from a company like that?
The websites where customers can write negative reviews are numerous. Yelp, Google, Facebook, Trustpilot, and many others.
That's why you need to manage online reviews. "Managing" means:
Responding to negative reviews. Thank the customer for their time, apologize, and offer to make it right. Add contact details to every reply, so others see how serious you are about going the extra mile for customers.
Respond to positive reviews. Saying a simple thank you goes a long way. Besides, it's another opportunity to let a satisfied customer know about a similar product they might like.
Encourage happy customers to write reviews. Send an email after the customer has made a purchase, asking them to rate their experience. Include a link to your business's profile on a review site or social media to make it easy for them to do it (see the email below).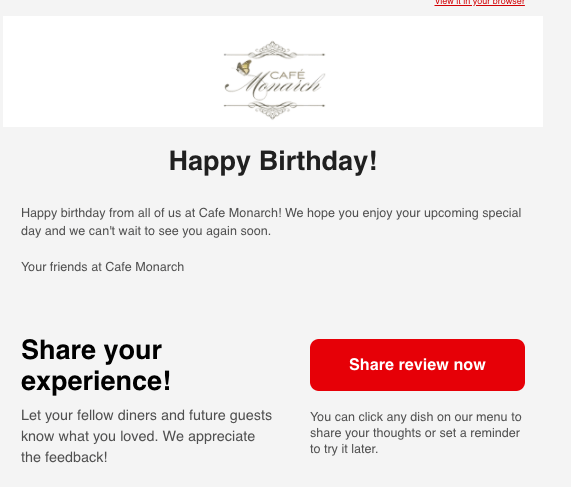 Doing these three things can make a lot of difference for your business's online reputation. Just remember to manage reviews every day to avoid missing something.
Pro tip: Monitor Your Reputation with Emails
You thought we're going to forget about the rest of your customers?
Of course not.
You need to regularly ask for their opinion about your business. One of the best ways to do it is to send automatic emails asking them to rate your business, product, or service on popular review sites.
Here's a simple example.

The way you write that email is absolutely vital to getting more reviews. Here are some tips for doing it right:
Never address the recipient with "Dear customer." That or any other impersonal greeting will result in the customer deleting the message. Use their first name, always.
Thank them for their business. Your customers are the most important thing that keeps your dream business alive. That's worth giving a huge "thanks" for, agree?
Emphasize how important their feedback is. There's no point in giving feedback if it's not really important.
Make it easy to leave the review. Add a link to the page where the customer can write their review.
Make sure to send these emails regularly to monitor your reputation. It's really easy with an email automation tool.
Read the guide below to know how to send automatic emails and avoid spending tons of time doing the same thing repeatedly.
Automation guide: How to Create an Automation to Get Customer Reviews
A large share of customers leaves after having even one negative experience. You can't be absolutely perfect 100 percent of the time, so you need to have a few customer retention strategies in place.
Remember, your existing customers are where your revenue is, so going the extra mile to make them happy is something you really need.
About the author
Helene Cue is a content writer, editor, and guest blogger. "I use my copywriting and communications when I need help writing an essay, blog article, or other content," says Helene when asked about how she writes her content. Indeed, her articles are always well-researched and presented, which helps Helene to get published on high-authority blogs.
Don't forget to share this article